Regina's Raquel Vigueras is a Chilean-Canadian whose career recently took a saucy, spicy turn. This year, she left her full-time career as a formally trained graphic designer to turn attention to her side hustle: hot sauce. Today, she is proud to present 7 hot sauce flavours from Pueblo Chili Co.
The concept for Pueblo Chili Co, her hot sauce brand, came from a project Raquel worked on while studying at Vancouver's Visual College of Art and Design. Once the project was over, she kept the idea in her back pocket… just in case.
Pueblo Chili Co. all started with homemade sauce at a house party
The "just in case" happened to be a dinner party Raquel hosted two years ago. Moments before guests arrived, she realized she didn't have anything for them to snack on with their cocktails and took a panicked peek into her fridge.
"I saw jalapeños and other ingredients, and I threw them into the blender," Raquel recalls. Her resourceful creativity was met with fanfare. "It was everyone's favourite part of the meal — the homemade hot sauce."
News of Raquel's irresistible hot sauce spread like wildfire. Restaurants and boutique food shops approached her in hopes of filling their shelves with her creations.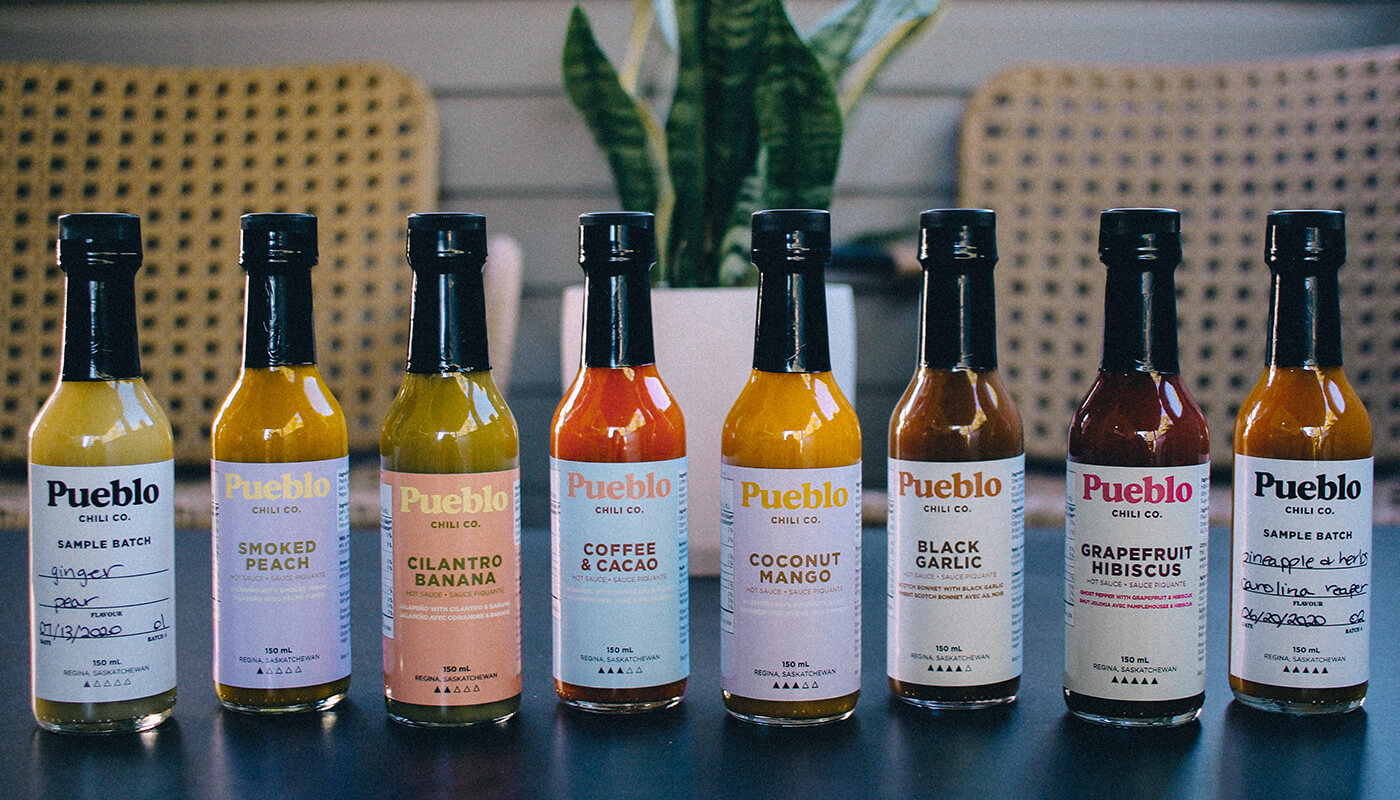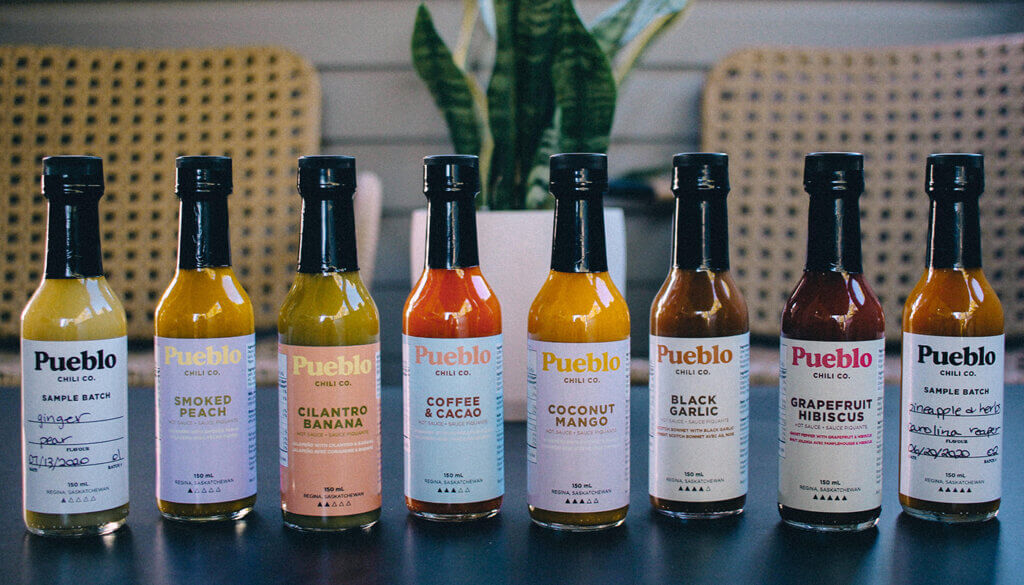 "I would always have to turn them down. Only being able to rent a commercial kitchen on Saturdays, I would spend eight hours [making hot sauce], but then spend Sunday and Monday shrink-wrapping and labelling everything," she explains. "When you get home from work at 6 p.m., it's difficult to get everything done at home in one night, and then still be able to make sales and run social media. I mean," she says with a laugh, "I could have done it if I only wanted to sleep two hours a night."
The demand was the push Raquel needed, and Pueblo Chili Co. became her full-time focus. Now, she offers seven mouth-watering (and hot!) flavours of picante perfection. Among them are the savoury, umami-inspired Black Garlic with scotch bonnet peppers; the earthy, habanero-spiked Coffee & Cacao, and the mild, jalapeño-based Smoked Peach, for when you want a little sweet with your spice.
Owner Raquel Vigueras designed the labels for Pueblo Chili Co.
Pueblo Chili Co. hot sauce doesn't just taste good; it also looks good, thanks to Raquel's design background which guides her recipe creation as much as it does her label design.
"I had colours in mind [for] the hot sauce, then I figured out which vegetables and fruit I needed to add to it to make it [the] perfect colour," she adds. "I also love to cook, and I've always been an experimental cook. So, I want my ghost pepper hot sauce to be dark purple [or] bright pink — what do I add to it? Hibiscus! It either starts from whatever flavour I want to accomplish or a colour I want to make."
With all sorts of flavour and colour alchemy happening inside the bottle, Raquel's eye for detail ensured there was also something special happening on the outside.
On Pueblo Chili Co.'s eye-catching, colourful labels, you'll find a powerful phrase that salutes Raquel's Chilean heritage.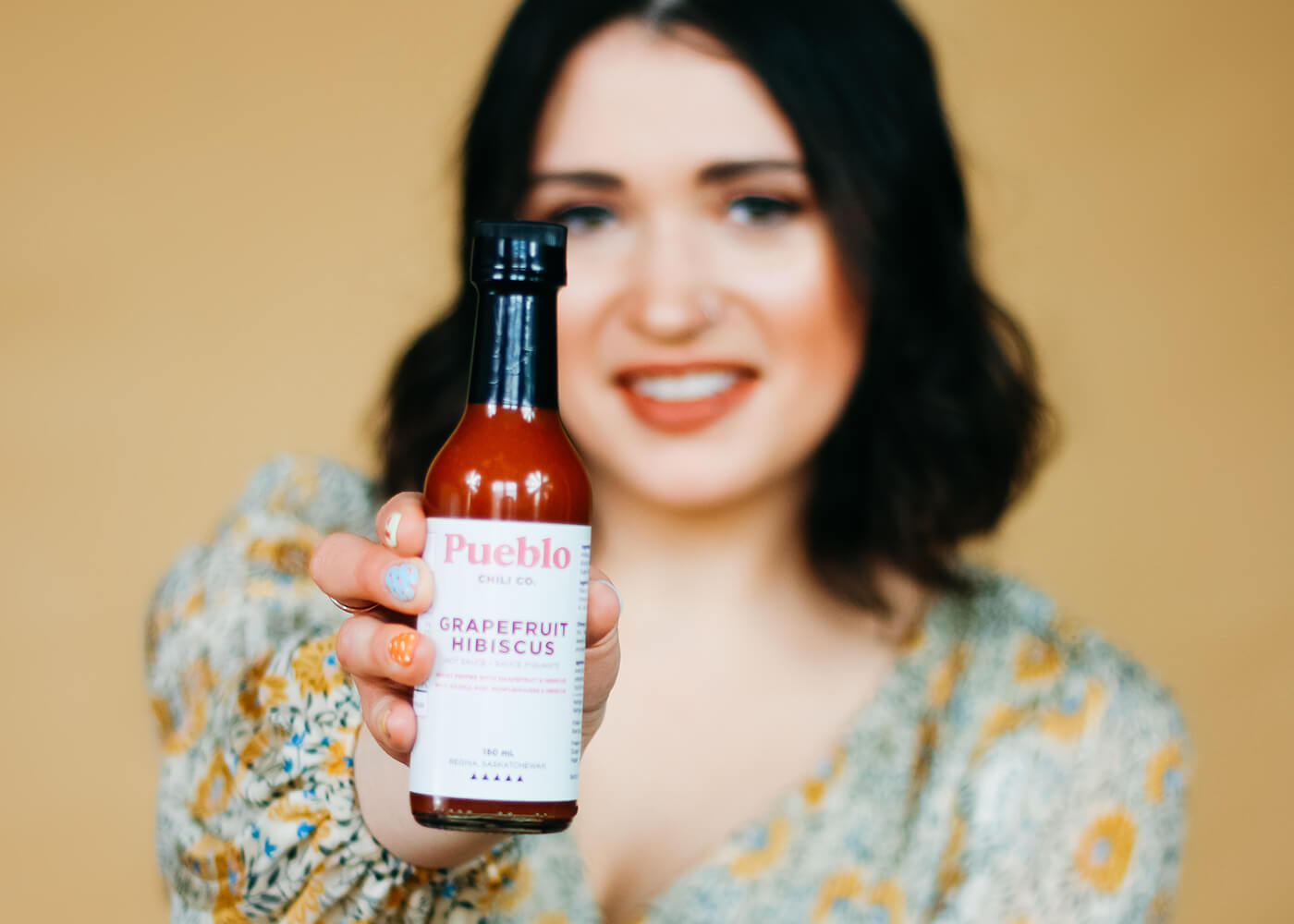 El pueblo unido jamás será vencido translates to "the people united will never be defeated." It's a phrase that comes from a song of the same name that was recorded in 1973 by Chilean folk group Quilapayún. The song was a rallying cry for the Chilean people during Augusto Pinochet's regime in Chile from 1973 to 1990, and it was sung at protests against the dictator.
The strength of the phrase is echoed in the actions of Raquel's father, her hero and the brand's namesake, who immigrated to Canada in search of a better and safer life. Together, these two meaningful nods pay tribute to the devotion and determination that runs deep in Raquel's roots.
Pueblo Chili Co. is set for growth and opportunity
What's next for Pueblo Chili Co.? It's all about growth and opportunity. Raquel is streamlining the production process to ensure perfect consistency with each batch, as well as taking on more collaboration opportunities that showcase not just her culinary expertise, but also her artistic flair. Recently, she partnered with The QC Nail Bar in Regina to design some eye-catching, extra-spicy chili-pepper nail art.
For now, Pueblo Chili Co. only delivers within Regina, but Raquel plans to offer cross-country shipping soon. In the meantime, find Pueblo Chili Co. at Lakeview Fine Foods and Sprout Catering in Regina or at Olea Oil and Vinegar Tasting Room in Swift Current.
Try a side of Pueblo Chili Co. hot sauce with your next order at Schmitty's Smoked Meats and Malinche in Regina and Railway North Social House in Swift Current.
Follow Pueblo Chili Co. on Instagram @pueblochili.co and online at Pueblo Chili Co.
Photos by Lauren Neumann: @lornecalvs and https://www.laurneum.com/)
Do you like spicy recipes? Try this 10 Ingredient Veggie Curry