Without a doubt, some of my old favourite ice creams had tasty chunks of goodness in them; why not do the same with some tasty raw ice creams? The variations are really limitless, this is one of my personal favourites.
Ingredients:
(serves 1 – 2)
7 frozen bananas (1 3/4 lb – 805g)
2 fresh bananas (1/2 lb – 230g)
3 Medjool dates (.13 lb – 60g)
Instructions:
Peel and freeze the first 7 bananas overnight. Peel and slice the 2 fresh bananas 1/4 inch thick and optionally place in the dehydrator for 8 hours, flipping and drying an extra 2-4 hours to create banana "chips". Pit and roughly chop the 3 Medjool dates, mix with the banana "chips". Break the frozen bananas into 4-6 pieces and place them into a food processor or a high powered blender such as the Vitamix. If using the Vitamix use the tamper to push the bananas into the blades at high speed until smooth and creamy. At the very end before serving add all of the bits into the blender or food processor giving one or two pulses to help mix in. Serve promptly and enjoy in the sun! (Approx 1,080 calories)
Paying it forward, Chris offers some of his e-books and services on a by-donation basis. Learn more at TheRawAdvantage.com.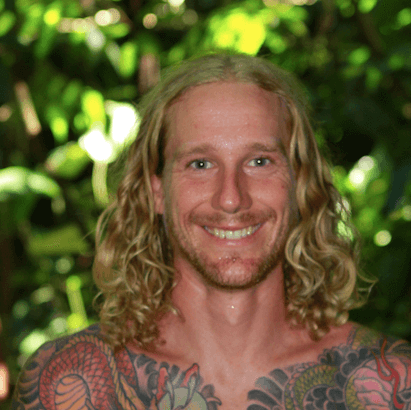 Chris Kendall earns his "bananas" flowing as a Registered Holistic Nutritionist (RHN), 100 per cent Raw and Transitional Lifestyle Coach, Kendalini Yoga Creator and Raw Food Chef. A 16-year raw vegan, Chris shares the abundance he has found through running retreats, via in-person/online consultation services, sharing/chefing/teaching yoga at festivals, raw recipe e-books and his free raw recipes app. His budding vision — the TRA Dream, a non-profit 501 c(3) charity — is focused on creating donation-based holistic healing, yoga, permaculture, and educational retreat centres around the world. Paying it forward, Chris offers the bulk of his e-books and services on a by-donation basis. Learn more at TheRawAdvantage.com.