Once again, Brit's Picks hits the highlights with these Saskatoon events in February.
Tied in Knots – one of many Saskatoon events in February             
Feb. 12 – April 9, Online
Lead Photo Credit: Tied in Knots / Burnt Thicket Theatre
Burnt Thicket Theatre in Saskatoon has taken a turn into the world of audio drama. Every two weeks, the company will release a new audio play from Saskatchewan and Alberta playwrights. The first is Tied in Knots by Jeany Van Meltebeke. This story featuring real-life couple Joshua Beaudry and Angela Christie follows a couple as they set out to rekindle their marriage. With each release, the team at Burnt Thicket are making suggestions on how you listen to this play. With The Kindling Box they are suggesting you listen as you walk with your partner to a local coffee shop. Next up is D.I.N.K.S. by Curtis Peeteetuce to be released February 26. The company will continue on until mid-April.
---
Under Milk Wood is one of many Saskatoon events in February
Feb. 11-13, Online
For the first show of the season, the University of Saskatchewan's Greystone Theatre is performing Dylan Thomas' drama Under Milk Wood. The story follows the residents of a small Welsh fishing village. It's a look at their passion, remorse and hidden secrets. This performance is part of the performers and designer's theatre education and of course, the pandemic has put an enormous strain on them so they are hoping for a big crowd. Under Milk Wood will be live-streamed through Zoom and YouTube 8 p.m. nightly and tickets are $10.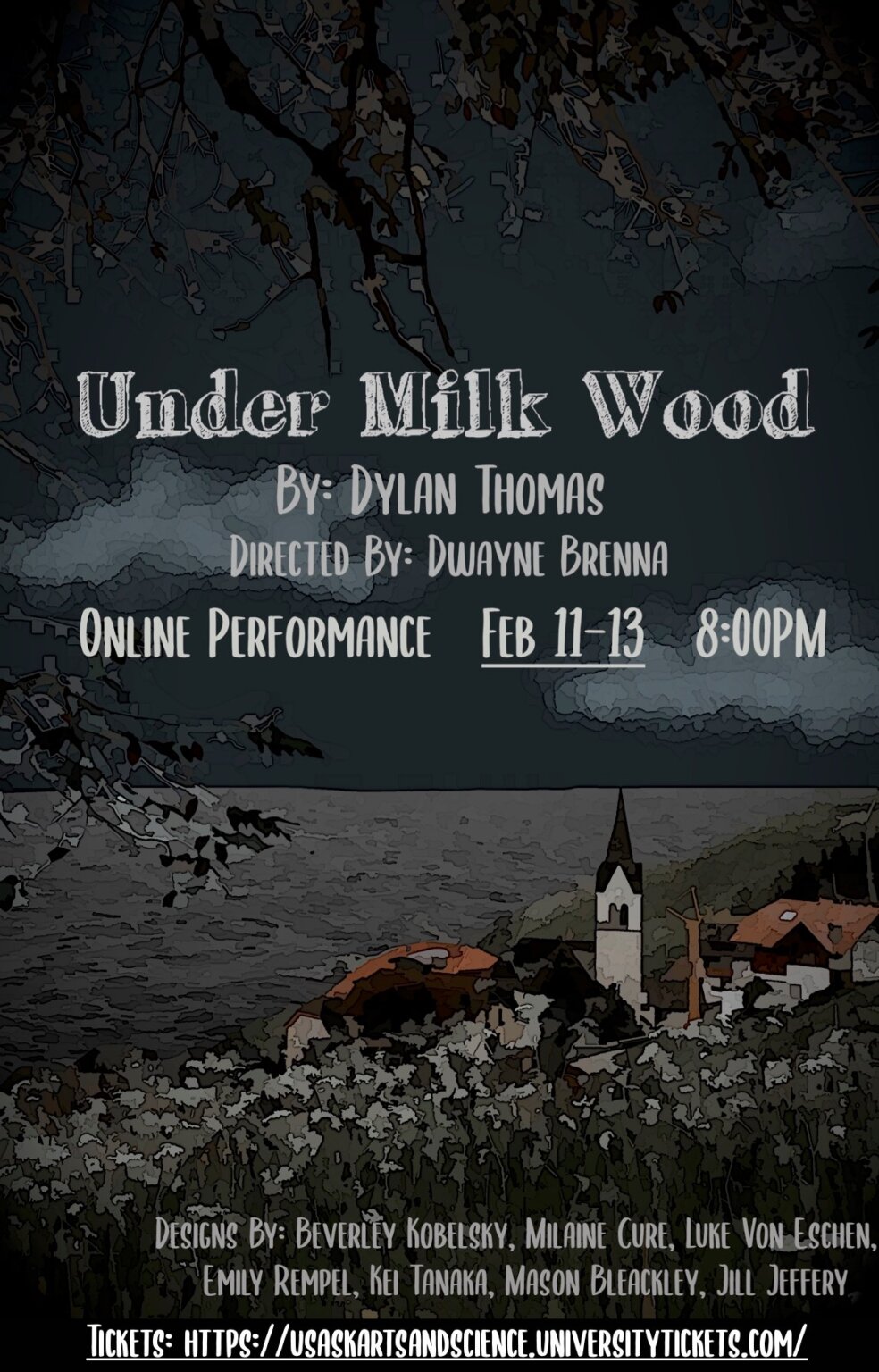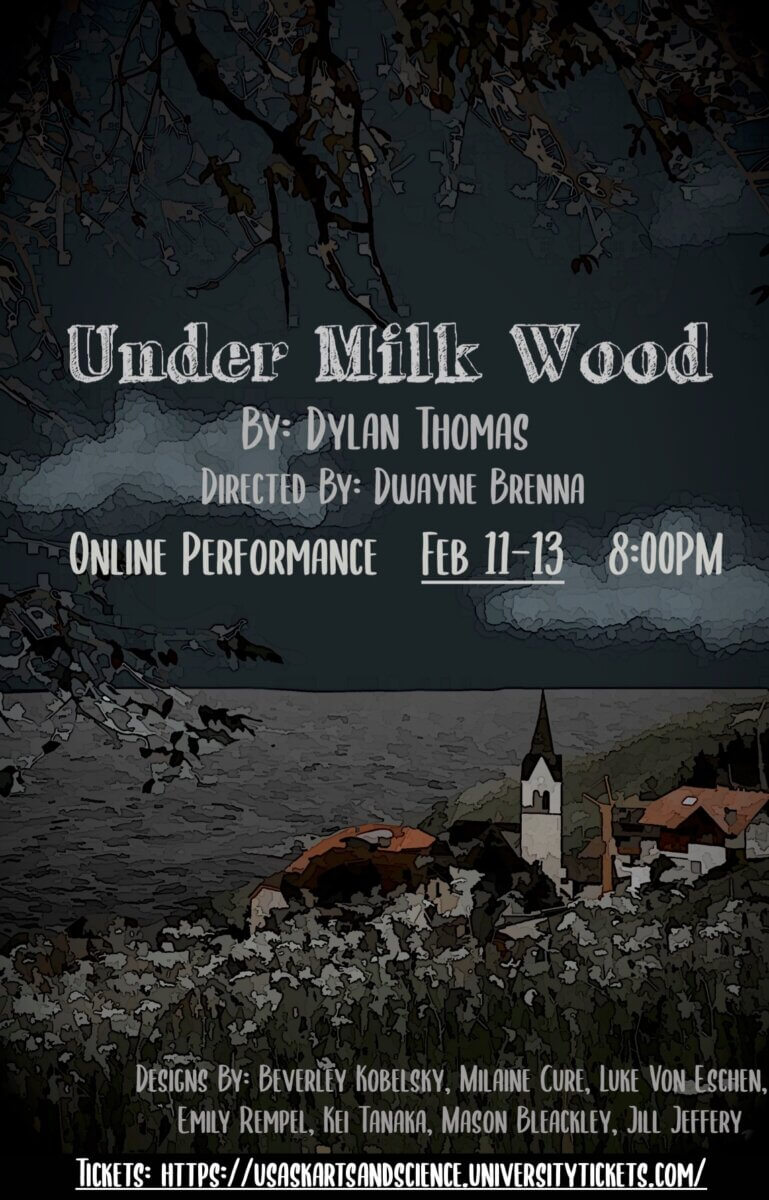 ---
La Dolce Vita is on the list of Saskatoon events in February
Feb. 13, Live Stream
Romance is in the air this weekend, so why not plan a date night for two with the Saskatoon Symphony Orchestra. The SSO presents La Dolce Vita this Saturday night. The show is a musical tour through Italy. This is a Pops concert so you are sure to know the music. Greatest hits like O Sole Mio, Con Te Partiro and O Mio Babbino Caro, along with love themes from Puccini and The Godfather will make you an offer you can't refuse. Soprano Kateryna Khartova and tenor Spencer McKnight are the guest vocalists and Leslie Dala will be guest conducting. The SSO is partnering with La Cucina Restaurant on a special take-out menu and Ingredients Artisan Market has the wine pairings set. All you have to do is order and pick up before the performance for a perfect romantic evening.
---
Nutrien Fireworks Festival
Feb. 13, Virtual
It's a late-summer tradition that couldn't happen because of the pandemic, but the show must go on… even if it's a bit late. This year, the Nutrien Fireworks Festival is going virtual; onsite viewing is not allowed. No denying it's a bit strange to watch fireworks from home, but look at the bright side (pun intended); you're warm inside and the view is going to be spectacular. There will be two fireworks shows choreographed to music; 6:30 p.m. watch Love Me Do, fireworks with a Valentine's theme and the second display at 8 p.m. called It's a Family Affair. In between the shows, there will be live stream performances by Katelyn Lehner, Graham Dyck and Jay Semko. The shows are free, but you have to register online to get the link.
---
Shred Kelly – Virtual Festival Tour
Feb. 13, Facebook
If you are missing music festivals, alt folk/rock band Shred Kelly has just the ticket. Every Saturday in February, the band is holding virtual concerts from Fernie playing songs from the group's recent album Like A Rising Sun. The five-piece band is giving back at the same time partnering with local music festivals to make sure the music keeps going. This Saturday night, the band is partnering with the Ness Creek Music Festival. There's a suggested ticket price of $8, but there is also a pay-what-you-can option.
---
Nutrien Wintershines is one of the Saskatoon events in February not to be missed
Feb. 15 – 21, Virtual & Live Events
Wintershines is back for another year and like all the other live, community-driven events, it's going to be a little different this year. There is a combination of live and virtual events scheduled over the course of a week. Each day, Virtual Igloo Fest boasts educational activities online like Ag Home & School Day (Feb. 17) where kids will get to learn about agriculture and Creative Day (Feb. 18) where sessions will include lessons on making taffy, bannock, and dream catchers. You do have to register for these free sessions to get the link. There will be online performances by groups like Saskatoon Salsa Dance Co. and Fly Studios YXE. There are also a couple of live events you may want to take in, such as the Family Challenge Obstacle Course, or check out the Ice Blossom display and the Synergy lighting and music display. Both of those events run all week and you have to register to attend. They are also free.
VIDEO: https://www.facebook.com/wintershines/videos/1866534143376383/