Thanks to a live stream leap of faith, the Saskatoon Symphony Orchestra soars today. In a world full of no's thanks to COVID-19, the Saskatoon Symphony Orchestra (SSO) would not be satisfied to sit and wait. "In April I told staff, we have to innovate or disappear," says Executive Director Mark Turner. "Never once did we discuss closing; it was always about adaptation."
The orchestra had been considering integrating video into its performance for years, but with COVID-19 restrictions in place and its 90th season looming, the risk suddenly became its only way forward.
"We just couldn't fathom putting our season on hold. It would have risked the livelihood of our musicians and their ability to play at the highest level. Pressing pause meant losing years of experience and training in a matter of months," says Turner. "The live stream was its own gamble. We needed equipment, a full-time videographer, staff needed to be retrained, ticketing and websites needed to be rebuilt; it's a massive learning curve."
Live stream a "happy accident" as Saskatoon Symphony Orchestra soars in viewer numbers
With all that preparation, the orchestra still did not know how its audience would respond. Would fans used to the ritual and fellowship of in-person performances tune in online? The answer was an enthusiastic "Yes." Since September, more than 30,000 viewers have logged on. Subscriptions for the live-streamed season have reached 700 and single tickets for its Candlelight Christmas crescendoed to more than 700 households. The orchestra was flooded with pictures and messages about people holding watch parties and gathering around their screens to enjoy the music. The Saskatoon Symphony Orchestra soars with continued support.
"None of us could've predicted the appetite for these performances. It's not just about our Saskatoon audience," Turner explains. "People want to access our performances no matter where they live. People in rural and remote areas, family of our musicians that live across Canada and ex-pats who live abroad; suddenly, we started a completely new era for the symphony. It was a happy accident."
As anyone who has switched to working online this year has discovered, technology does not always transpose. "During the Octoberfest concert, the internet crashed more than 10 times. It felt like an eternity and one of our staffers had the stress plainly displayed on her wrist," jokes Turner. "In those 22 seconds, her Fitbit recorded 20 minutes of cardio!"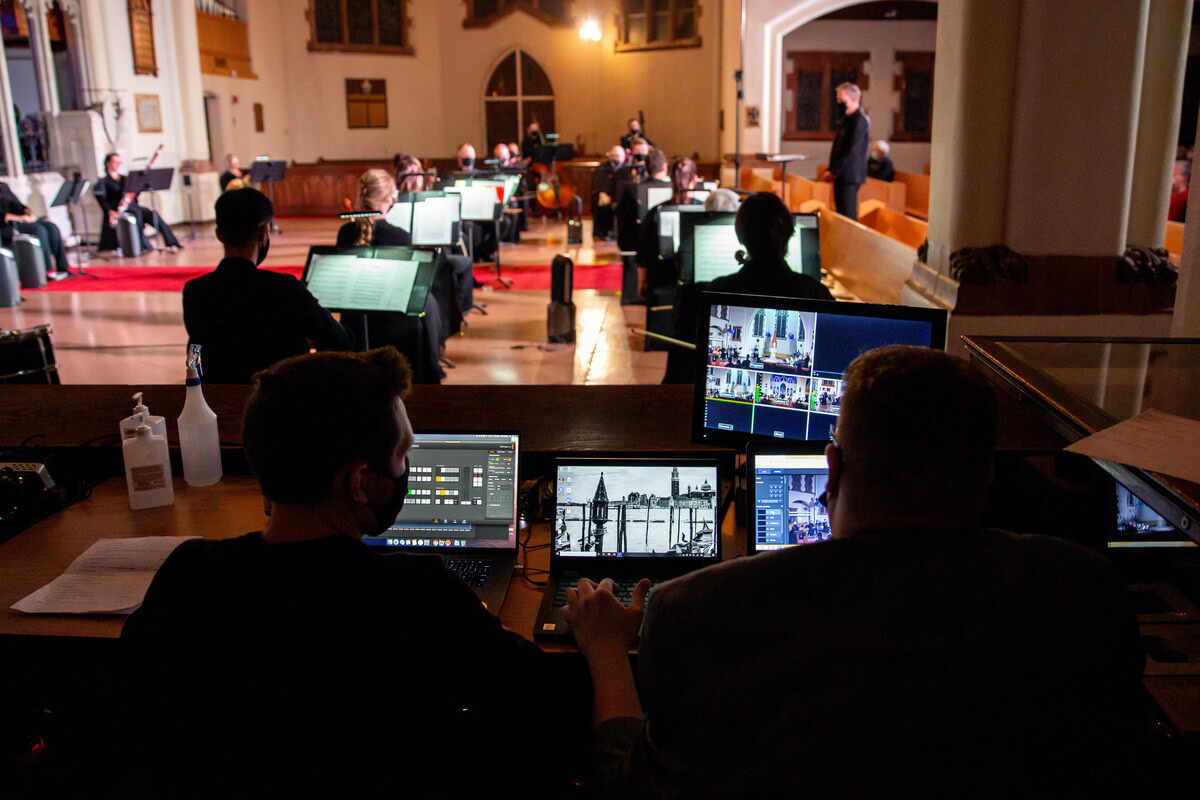 Sharing live stream lessons learned to keep the arts alive
As the Saskatoon Symphony Orchestra soars with live stream events, it is now sharing what it has learned with others across the country — fielding calls from arts organizations and providing details on equipment, precautions and setup required and how to pull it off.
"We learned by calling colleagues around the globe and are building on that body of knowledge," says Turner. "We have to make sure the arts and artists survive. No one knows how quickly people will return once the restrictions are lifted. The New York Philharmonic has records showing it took four seasons before audiences returned to "normal" after the 1918 pandemic."
Saskatoon Symphony Orchestra soars with live stream events that are here to stay
Still, the orchestra is pushing forward. There are 10 online performances remaining in the 2020/21 season and two aimed at children this spring. The SSO knows for certain live stream video will now always be part of its future.
"It's connected us in ways we never dreamed," says Turner. "This pandemic has given us the chance to share our love of beautiful music and put positive energy out there in the middle of these very weird times."
Photo credits: Julie Isaac Photography
SSO's Upcoming Performances:
Jan. 16 – Mozart in Prague
Jan. 30 – Postcards from Buenos Aires
Feb. 13 – Valentines in Italy
Feb. 27 – Postcards from the Carnival of Venice
Mar. 13 – St. Patrick's Day in Dublin
Mar. 27 – Postcards from a Cruise on the Atlantic