Free-roaming dogs and strays don't have a voice, but one advocate is speaking up for them and ensuring they're taken care of on reservations in Saskatchewan. Leah Arcand, a Cree Saulteaux woman from Muskeg Lake Cree Nation, is the founder of Save Rez Dogs — an Indigenous-based grassroots initiative and call to action for communities to gather resources and develop their own dog management plans.
"I've always loved animals," Arcand says. "My auntie, uncle and Kokum role modeled responsible pet ownership."
Save Rez Dogs Sparked by Need for Advocacy and Education
In 2016, Arcand was teaching a land-based education program to Grade 7 and 8 students on Thunderchild First Nation. It broke her heart to see stray and free-roaming dogs who didn't have anyone looking out for them.
She decided to teach her students how to respect and take care of the dogs. What started with providing food and water for the friendly dogs that hung out around the school turned into an advocacy and education platform.
"I wanted to role model responsible pet ownership for my students and teach them our cultural values and respect all living things," she says. "My students and I were always looking out for the rez dogs around the school."
Save Rez Dogs Takes Care of and Rehomes Dogs
She started the hashtag #saverezdogs to rehome stray dogs. She used donations to buy food and pay for vet expenses.
While she was on maternity leave in 2019, she continued to receive messages from people who wanted to help dogs in the community. Arcand decided to start a Facebook page to make it easier for people to get ahold of her and have one central place for Save Rez Dogs.
"By then I was building a reputation in various communities being a dog person," she says. "It clicked for me our community members don't have anyone to go to for anything animal-related."
Arcand says in addition to taking care of the dogs who need help, she's also motivated by being a good role model for those in her community: "I've grown to be very passionate about the issues we face as Indigenous peoples towards education, whether it's teaching about residential schools or missing and murdered Indigenous women and girls. So, Save Rez Dogs has been something very dear to my heart because there's not a lot of action in our communities."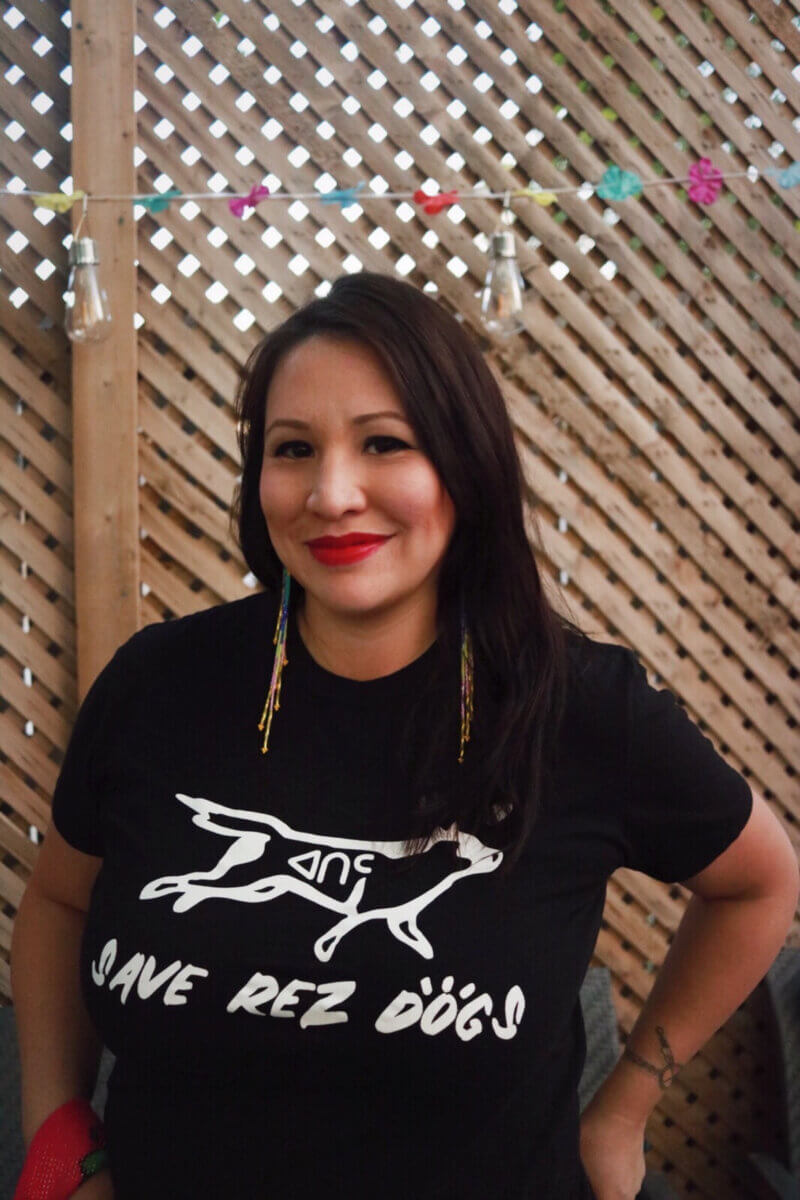 Improving Animal Welfare in Indigenous Communities
Arcand talks to young students, pre-veterinary medicine students, Chief and Band Councils and frontline rescues about how to improve animal welfare in Indigenous communities.
"It's about trying to get people to think more proactively than being reactive," she says. "Most often people won't do anything until something bad happens and then dogs get such a bad rep because we are not paying attention and being neglectful."
Arcand says in many cases, dogs are removed from the community instead of addressing the root issue: "When there were dog fights or these traumatic things would happen to dogs, there was no consequences for the people who hurt the dog and the consequences for dogs was that they had to be tied up. That was a huge eye-opener for me because that's not role-modeling responsible relations for our dogs."
Through Save Rez Dogs, she advocates not only for better treatment of animals and education on the responsibilities of being a pet owner, but also for implementing ethical animal control bylaws and animal management plans to keep communities healthy and safe.
How to Support Save Rez Dogs
Arcand says the best way to support the initiative is to buy their merchandise — all of the proceeds go towards their mission and to various animal rescues she works with.
She's grateful for all the support she's received so far, especially from community members who have stepped up to help stray and free-roaming dogs.
"I want to thank the people who are paying attention because the biggest challenge is the people who aren't paying attention in my own community," said Arcand. "It gets really tough so thank you to those who are doing the work in their community because I have seen those changes."
Another grassroots initiative that looks after dogs is ElderDog, which provides free dog care support for older adults living at home who need a bit of extra help with taking care of their furry friend.