Don't tell the team at Sum Theatre it can't be done. The company is taking its annual Theatre in the Park tradition and blowing it up into its first-ever rock opera The Other Side of the River July 2-30, 2021. Composer and musician Amanda Trapp says there was simply no other way to do it.
"Rock has always been this guttural protest, it's direct, in-your-face and you just can't ignore it," she explains. "That made it the perfect medium for a story that helps us reckon with racial inequality."
Sum Theatre's First-Ever Rock Opera Tells Story of Two Communities Divided
The Other Side of the River tells the story of two communities divided until circumstances force them together and they discover they're not so different after all. It was inspired by the international effort towards racial equality and anti-racism that came out of Black Lives Matter and Indigenous Lives Matter protests.
"This whole year has been about how we are with each other, how we extend a hand to each other when the world is in chaos," says playwright Yvette Nolan. "The truth about stories is, that's all we are. When we see a story about reaching across, bridging differences, we think, 'I can do that!'"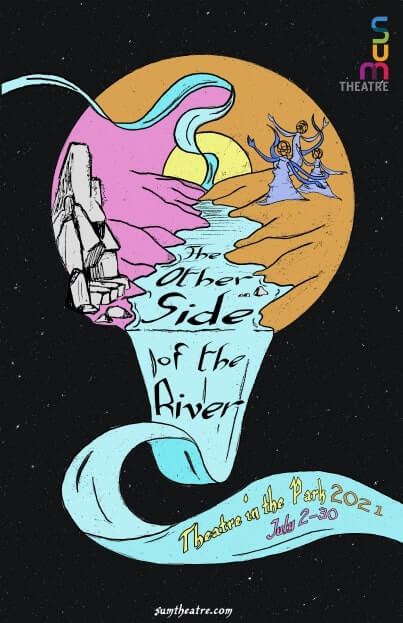 Theatre in the Park Helps to Connect Community
Along with the original music and story, this family show will keep all ages entertained with larger-than-life puppets, sets and costumes that audiences know and love. A few changes have been made to keep everyone safe. Tickets are still free, but you must reserve your spot through the website. Audience members must wear masks and will be seated in a socially distanced hula hoop within the viewing area.
COVID-19 has shown us how much we value being together. There's a real need out there to have reasons to come together in a good way," says co-director Joel Bernbaum. "It's our hope that Theatre in the Park makes our community a little bit stronger, a little bit kinder and a little bit more connected."
Sum Theatre Will Take This Rock Opera Across Saskatchewan
For Trapp, that connection means a chance to share a message of inclusion with young and old. "We knew in this summer of return we needed to go bigger than we ever had before. In the songs we are exploring how fear manifests itself and divides us," she says. "I hope people go home humming the songs and having conversations about the lyrics long after the show ends."
After the Saskatoon run in July, Theatre in the Park will also tour to several other Saskatchewan cities. Head to sumtheatre.com for the full schedule.
Check out more fun things to do in Saskatoon this summer.