Raw brownie recipes are a dime a dozen and getting one that tastes amazing and is also nut-free can be a bit tricky. I really enjoy this one on occasion, usually splitting the recipe into two or three portions, enjoying with some whole sweet fruit or smoothies and greens.
Ingredients:
Makes 2 – 4 Brownies
10 Medjool dates (1/2 lb – 230g)
2 dried figs (.1 lb – 45g)
dried golden mulberries (1 cup – 160g)
raw carob powder (3 Tbsp – 21g)
Instructions:
You may prefer to use a food processor for this one, although the Vitamix, or even a knife and lots of chopping can work in a pinch. Pit and pre-soak 4 of the dates and both of the figs for 4 – 6 hours in pure water. Pit the rest of the dates and pulse blend starting with the pre-soaked dates and figs, adding the dry dates until they are mixed together very well but not quite completely smooth. Add the carob powder and continue pulse blending until thick and crumbly. Add the mulberries and pulse a few times leaving some little mulberry bits. Form into your favourite brownie shapes and enjoy with a friend. These pair really well with raw Banana "nice cream" but heck what doesn't! (Approx. 1,130 calories)
Paying it forward, Chris offers some of his e-books and services on a by-donation basis. Learn more at TheRawAdvantage.com.
Facebook | Twitter | Instagram | LinkedIn | YouTube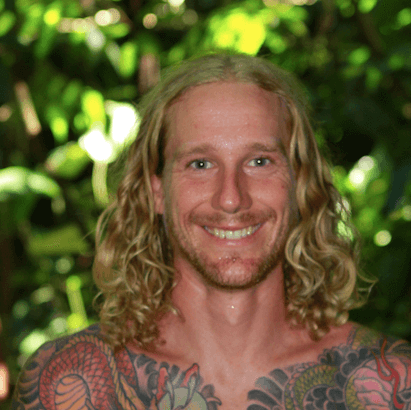 Chris Kendall earns his "bananas" flowing as a Registered Holistic Nutritionist (RHN), 100 per cent Raw and Transitional Lifestyle Coach, Kendalini Yoga Creator and Raw Food Chef. A 16-year raw vegan, Chris shares the abundance he has found through running retreats, via in-person/online consultation services, sharing/ chefing/teaching yoga at festivals, raw recipe e-books and his free raw recipes app. His budding vision — the TRA Dream, a non-profit 501 c(3) charity — is focused on creating donation-based holistic healing, yoga, permaculture, and educational retreat centres around the world.