Located about 40 minutes outside of Saskatoon is Bluebell Bison Ranch – an environmentally sustainable bison ranch that's 100 per cent powered by the sun and wind. Since 2016, Luke Levesque has lived on the off-grid ranch with his wife Erin and their eight children. The couple met as Commerce students at the University of Saskatchewan and married in 2007.
Luke entered the bison business after working as a bank manager and a home builder. "It was not an easy decision to leave our careers in the city and to build an off-grid home, but we wanted to put our family first. The land has been in my family for generations, but for born-and-bred Saskatoon city kids it's been a steep learning curve," he says.
With 160 acres of land to homestead, the couple set out to build a beautiful, light-filled 2,000 square foot home with two greenhouses integrated into the living space. Ultra-insulated 20-inch thick exterior walls help to maximize the solar power and natural building materials were used as much as possible.
After acquiring the second quarter of land, the Bluebell bison herd has grown to 70 animals, including four "saintly" bulls (named Francis, Martin, Isidore and Samson). The herd genetics are actively managed and include some pure Plains bison cows and some certified pure Wood bison bulls from Elk Island National Park.
"Bison are wild animals – they can be behaviouralized but they can't be tamed. It's essential to always have an escape plan when dealing with bison. They keep you on your toes. Their fencing and handling systems are more intensive and expensive, compared to what's used for cattle. Our bison at Bluebell Bison Ranch live on grasslands free from human interference such as herbicides and pesticides," explains Luke.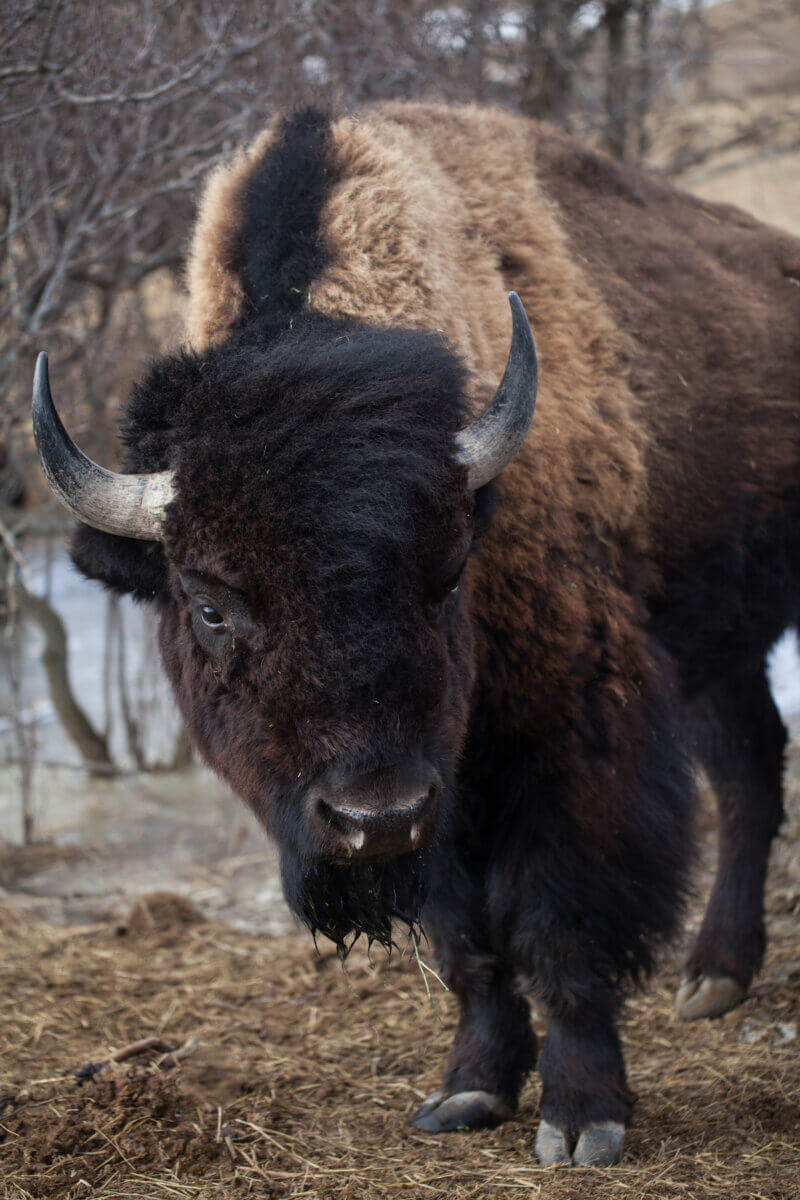 Bluebell Bison Ranch seeks to support the local economy by selling bison meat to local restaurants
Interestingly, 95 per cent of the North American bison population of approximately 500,000 animals is held by private ranchers like the Levesque's. Sadly, the bison population went as low as approximately 1,000 animals toward the late 1800s due to overhunting by humans. "We're looking to sell bison meat locally and to restaurants to increase both the health of our customers and to further the success of the bison re-introduction story. Bison live and breed up to three times longer than cattle and eat 30 per cent less," says Luke.
Bison meat has many advantages including high amounts of iron, B vitamins, zinc, selenium and antioxidants. It is also lower in fat and cholesterol than conventional red meat. Luke adds, "our customers believe that their bodies are worth investing in."
The Bluebell Bison Ranch herd is happy, free-range and grass-fed. Bison products for sale include sides and quarters, ground meat, roasts, steaks and specialty items like sausages and jerky. Butchering is done by Model Meats in Watrous. And, Bluebell offers convenient weekly pick-up points in Saskatoon. Other products that Bluebell sells include delicious honey from their own beehives, farm fresh eggs, chicken and pork. You can learn more about the Bluebell Bison Ranch by following them on Instagram or Facebook.