Music. Lots of it
ACL Festival features a diverse lineup of acts every year with 8 stages, more than 125 performances – and best of all, two weekends.
Best Bites in Town
Tacos, brews, vegan options and more. The ACL Eats Food Court at ACL Fest offers the most delicious festival food, drinks and sweets from Austin and the surrounding area's favorite restaurants.
More to Explore
There's plenty to do in between sets, including a mini-fest for kids, photogenic spaces, sponsored giveaways and merch to bring home with you.
Buy tickets here.
Festival Dates and Hours
ACL Festival Weekend One takes place October 1-3, 2021 and ACL Festival Weekend Two takes place October 8-10, 2021 at Zilker Park in Austin, Texas. Festivals hours are:
Friday: 12PM – 10PM
Saturday: 11AM – 10PM
Sunday: 11AM – 10PM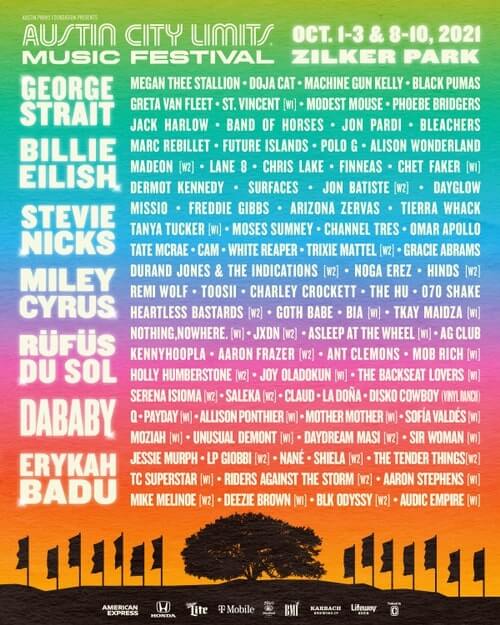 For the past 15 years, ACL Music Festival and Austin Parks Foundation have worked together to improve Austin's nearly 300 parks, trails and green spaces. Through the ACL Music Festival Grants Program, community-initiated park renovations and improvements in parks across the city have been funded.
ACL Fest contributions have also gone into signature park improvements and redevelopments all across Austin with targeted investments in underserved communities. In 2019 alone, ACL Fest fans contributed more than $6 million to APF through a percentage of ticket sales and other revenues. Thanks to their generosity, hundreds of volunteer events and signature programs are hosted in parks each year.
Image credits Austin City Limits Music Festival.