Described as "the most powerful activist in America" by Politico, Ady Barkan's ALS diagnosis propelled him to fight for healthcare reform.  
The Diagnosis That Changed Everything 
In 2016, Ady Barkan was a young father, husband and lawyer. Just one year later, his entire world was turned upside down when he was diagnosed with ALS, a progressive neurodegenerative disease. At the time, he was only 32-years-old.  
After his diagnosis, Bakran felt mistreated and neglected by the healthcare system in the United States. He required a breathing machine, which his insurance company refused to pay for, deeming the device "experimental". 
Faced with large medical bills, he was inspired to take action; Barkan embarked on a national campaign for healthcare reform to change his future and the lives of others facing similar challenges.  
"I have found great purpose and meaning in this struggle," Barkan told NPR in 2022. "It has brought me so many relationships and so much joy. It has been worth it, even though the victories are too rare." 
The Video That Went Viral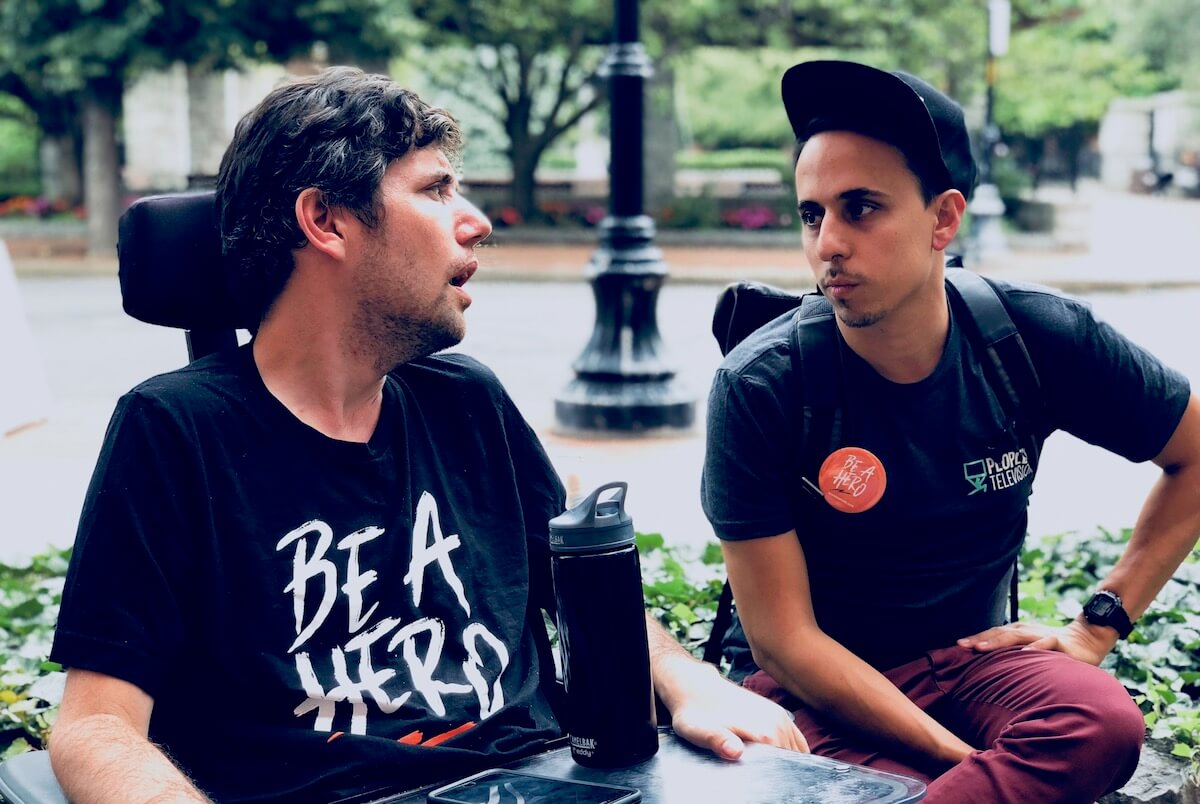 Ady Barkan came to national attention after a video of the activist confronting a senator on a plane went viral in 2017.  
Barkan asked Arizona's Republican senator Jeff Flake to "be a hero" and vote no on Trump tax cuts, which Barkan was concerned would restrict access to health care for people with disabilities like him.   
The exchange was captured on video by another activist. At one point, he says to the senator: "What should I tell my son, or what should you tell my son, if you pass this bill and I can't get a ventilator? You can be an American hero. You could save my life."  
Starting a Political Movement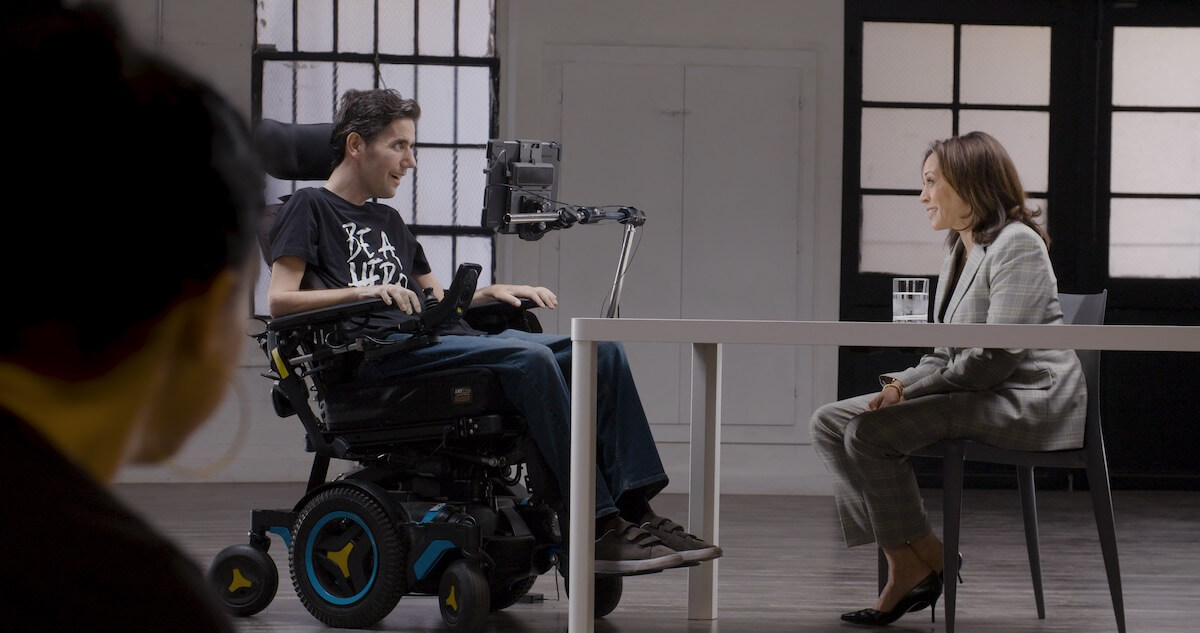 In 2018, Barkan and campaign strategist Liz Jaff co-founded Be A Hero, a national progressive organization that "works tirelessly to advocate for a more fair and just healthcare system in the United States" according to their website. The organization has helped shape the dialogue for healthcare advocacy and accountability in America.  
In 2019, Barkan testified at a Capitol Hill hearing on Medicare for All. Addressing the House Rules Committee through a computer system that tracks his eye movements and then converts text into speech, Barkan shared his own experiences: "Every month since my diagnosis, my motor neurons have died out, my muscles have disintegrated, and I have become increasingly paralyzed," The Guardian reported. "I am speaking to you through this computer because my diaphragm and tongue are simply not up to the task. Although my story is tragic, it is not unique."  
Mounting Medical Bills  
Despite what he described as relatively "good" health insurance, Bakan was still left with a $9,000 monthly bill for home care. The alternative would be leaving his wife and children and moving into a nursing home.  
"We are cobbling together the money, from friends and family and supporters all over the country. But this is an absurd way to run a healthcare system," he said during his testimony.  "GoFundMe is a terrible substitute for smart congressional action." 
"Like so many others, Rachael and I have had to fight with our insurer, which has issued outrageous denials instead of covering the benefits we've paid for," he continued. "We have so little time left together, and yet our system forces us to waste it dealing with bills and bureaucracy."  
The Fight for Healthcare Reform 
Barkan has spent the last several years fighting for a home health care bill for the disabled and elderly.  
"The knowledge that I was dying was terrible but dealing with my insurance company was even worse. I wanted to spend every moment I had left with my family, then Congress came after our healthcare," Barkan says in a MSNBC video posted on Dec. 14th, 2021. "I couldn't stay quiet any longer."  
His activism has gained the attention of politician and activist Alexandria Ocasio-Cortez, and democratic candidate Kamala Harris. He also appeared in the documentary Not Going Quietly, which was released in 2021 and follows his journey across the country to bring attention to the issue, while ALS took away his ability to walk and talk.  
Ady Barkan Is 'Not Going Quietly'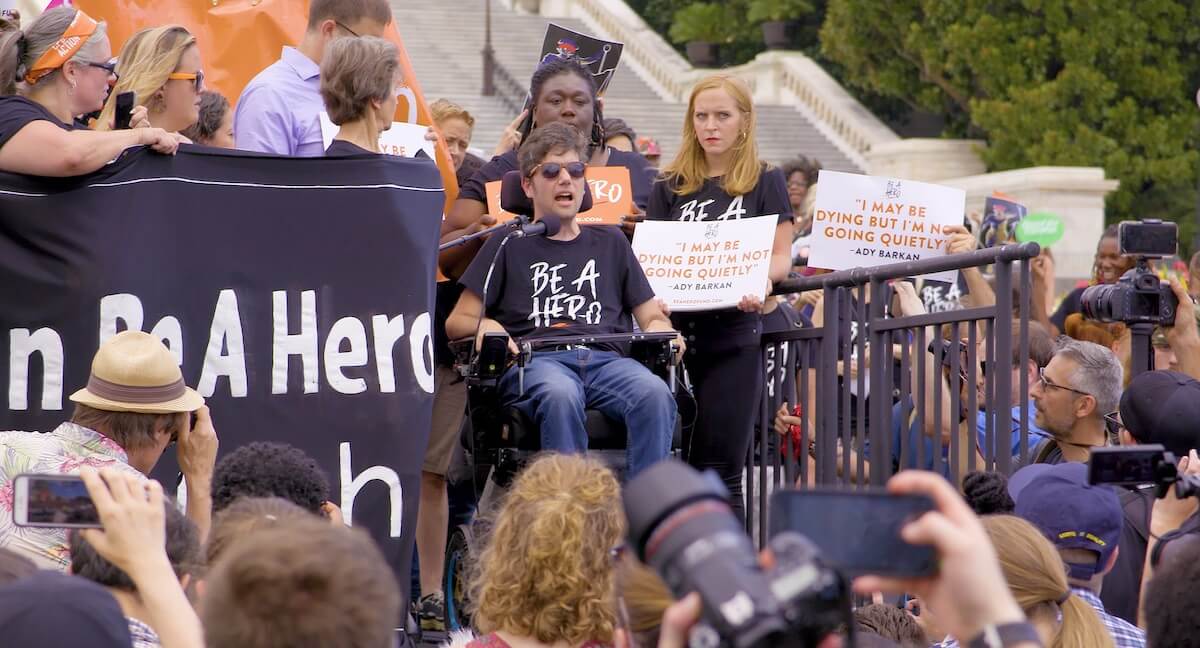 The documentary Not Going Quietly was directed by filmmaker Nicholas Bruckman, who initially met Barkan to film a fundraising video for the Be A Hero campaign and was instantly struck by the activist's personality. "Ady is this incredibly funny, self-deprecating, pot-smoking, joyous activist who is infectious with hope and energy," Bruckman told toast.  
In toast's conversation with Bruckman in September 2022, he said Barkan is still alive and working to advance democracy and healthcare justice in the United States: "And he's doing this all with his eyes because Ady is now fully paralyzed, from head to toe, and he uses an eye gaze technology, which tracks his pupils to communicate, but he's very active on Twitter and he is very active organizing the "Be A Hero" movement. He has the ears of many of the most progressive and powerful politicians in the United States and he uses his platform and his voice – his artificial voice – to make a better country."  
As Barkan once told USAToday, "The paradox of my situation is that the weaker I get, the louder I become." 
Where to Follow Ady Barkan  
You can follow Ady Barkan's advocacy on Twitter, Instagram or through Be A Hero. For Barkan, dying is no reason to stop fighting, and he's going to use every last minute to campaign for free and equal healthcare for all.   
Lead image credit: Photo of Elizabeth Warren meeting Ady Barkan by Elizabeth Warren is licensed under CC BY 2.0.