This summer, why not infuse your reading list with a little true north, strong and free? There are so many incredible Canadian authors who are making a splash in the publishing industry.
Incredible Books by Canadian Authors
Here are five books to check out to support Canadian authors and soak up the country's culture:
1. Every Summer After by Carley Fortune
At once a charming coming-of-age tale and authentic love story, Every Summer After by Toronto-based author Carley Fortune is the perfect Canadian novel to read this summer. Set in both Toronto and Barry's Bay where the author grew up, the novel tells the irresistible story of Percy and Sam, who fall in love as teens and go through all the trials and tribulations of growing up together. It's guaranteed to be your next unputdownable beach read.
2. People Change by Vivek Shraya
People Change, a non-fiction book by Vivek Shraya – the Calgary-based author of I'm Afraid of Men – explores the concept of human change, including why we're afraid of it, why we're drawn to it and what it means on a deeper level. Over the past few years, humanity as a collective, and we as individuals, have experienced so many changes on a macro level and a micro level, so this is an interesting read if you're hoping to do some inner reflecting.
3. Jameela Green Ruins Everything by Zarqa Nawaz
Jameela Green Ruins Everything is a novel by Zarqa Nawaz, the Canadian producer, author, speaker, journalist and creator of "Little Mosque on the Prairie." In the book, Nawaz pulls the reader into the world of Jameela Green: a woman who seeks spiritual guidance at her local mosque in the hopes of one day seeing her memoir on the New York Times bestseller list. The story that ensues is at once touching, meaningful and darkly hilarious, and one that you won't be able to put down before it's finished.
4. Burning Questions by Margaret Atwood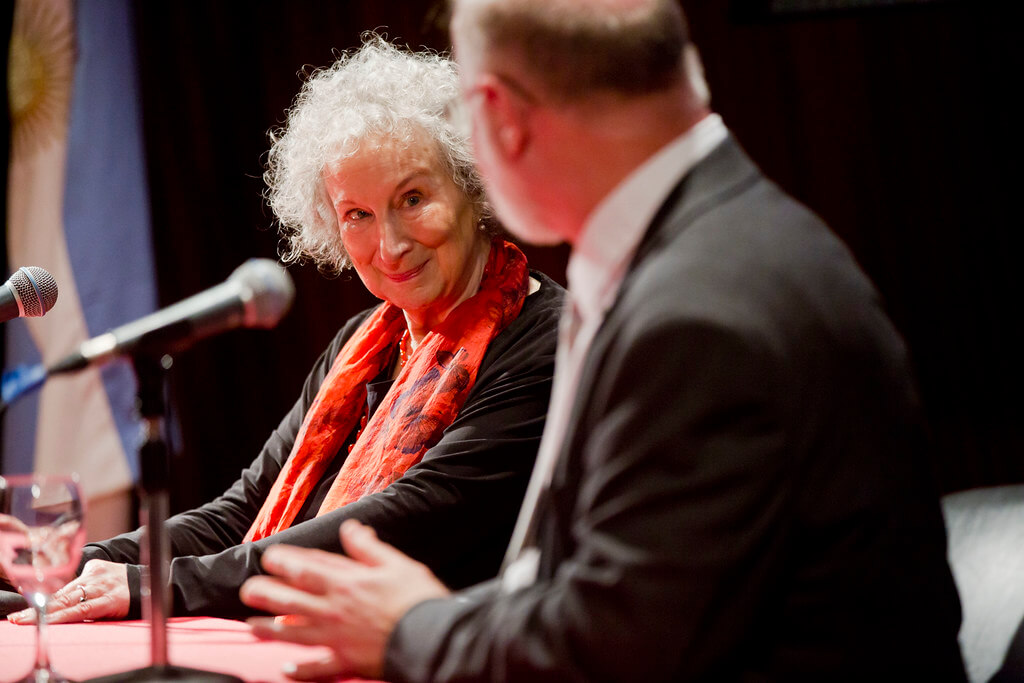 Margaret Atwood is one of the most famous Canadian authors of all time, so her latest book Burning Questions is a must-read for anyone hoping to brush up on their reading — straight from the true north source. The collection of essays seeks to answer questions like "Why do people everywhere, in all cultures, tell stories?", "How much of yourself can you give away without evaporating?" and "How can we live on our planet?" The book will make you laugh but more importantly, it will make you think differently about the world around you and your place in it.
5. Run Towards the Danger by Sarah Polley
In this fascinating, heartfelt and brave memoir, Oscar-nominated screenwriter, director and actor Sarah Polley shares "the most dangerous stories" of her life — the ones she has avoided telling and have kept her awake at night. Writing that the past and present are in a "reciprocal pressure dance," Polley tells real, unflinching stories from her own life in six deeply vulnerable personal essays about everything from high-risk childbirth to her experience with a concussion and much more. If you're hoping for a book by a Canadian author that's real, raw and riveting, Run Towards the Danger is your best bet.
Pick up one of the books by Canadian authors mentioned in the article:
All products listed in articles are independently selected and curated by our editorial team. If you buy something we link to, toast may earn a commission, which supports our mission of sharing positive, inspiring and helpful stories with everyone!
Lead graphic by artinspiring/Adobe Stock.