Growing up in Alberta, Haley Daniels developed a fondness for the outdoors, bonding with her family over canoe trips and kayaking on the lake near their cabin. Her passion for the sport grew over the years, fuelled by her love of being outside. As a small child, she had no idea the sport she loved would lead her to the Tokyo Olympics.
"I kept having opportunities to go to kayak camps, and people started saying, 'She's got a knack for this.' Someone suggested I go to nationals, so I did," she says. 
While Daniels competes in both canoe slalom and kayak, she prefers to kayak on the natural rivers in Canada and compete in canoe slalom on the course. As a teenager, she knew she had a strong desire to compete in the Olympics one day, and she's been working towards this goal ever since.
Haley Daniels One of First Female Canoeists in Tokyo Olympics
After years of hard work, dedication and career highlights — like winning bronze at the 2015 Toronto Pan Am Games — Daniels' dream finally became a reality. She earned a spot representing Canada at the Tokyo Olympics —  the first year ever to feature women's canoe events.
Daniels says that although it was disappointing to see the games cancelled in 2020, she kept a sense of perspective, understanding it was a necessary move.
"I've lost friends to COVID, my brother had it — it's so much bigger than athletes on a field of play," she says. "People are losing their lives or livelihoods because of this disease."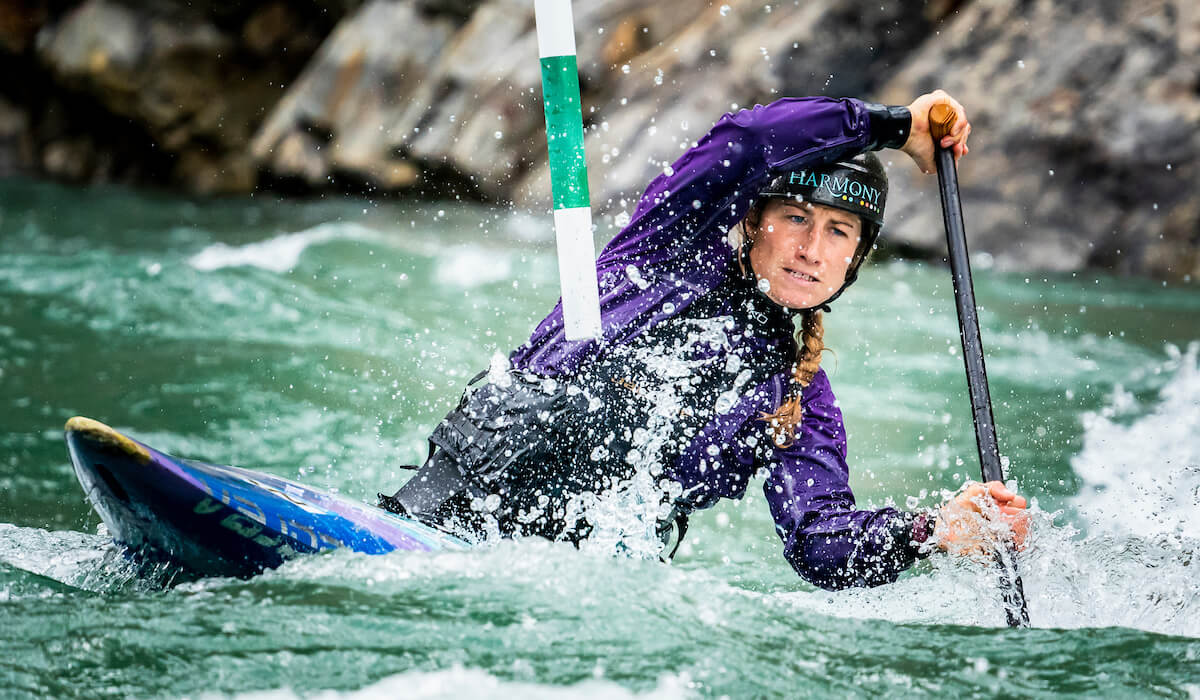 Daniels is 'Mixed Bag of Emotions' in Preparing for Tokyo Olympics
Daniels has spent the past several months traveling around Europe to train alongside the rest of the Olympic team, which is made up of 17 athletes from different countries around the globe. The team is set to fly to Tokyo on July 5th, 2021 before starting pre-games training camp. Daniels says she's feeling a mixed bag of emotions — not the least of which is nervousness.
"I'm excited, I'm proud, I'm nervous, I'm all of the above," she says. "I'm so excited to have this whole Olympic experience but I'm also really hungry to do my best and to try to climb for the podium."
With strict COVID-19 protocols in place, the Tokyo Olympics will look a little different than previous years, especially for the athletes. Typically, athletes would have a chance to mingle and immerse themselves in the culture of the host city. However, Daniels says the pandemic will stunt the social aspect of the games while adding more logistical hurdles to the experience like daily COVID testing and paperwork.
Daniels Fought for Gender Equality in Her Sport
"It's mentally tolling," she says. "I'm definitely more tired than I usually am, but I'm just grateful that the Olympics are happening and that we've been able to race and do it safely — that's my silver lining," she says. "I've been working towards this for 12 years so come what may, we're doing it."
Having a chance to compete in the first-ever Olympics to feature women's canoe events would be historic for any athlete, but it's especially significant for Daniels. The 30-year-old Calgary native has been actively fighting for gender equality in the sport throughout her career, lobbying for equal opportunity and better treatment for women in the sport.
"When I got into the sport, it was never my goal to be an ambassador for a cause or fight for gender equality, but it became so much bigger than paddling on the water, it became about representation and breaking the glass ceiling," she says. "It's quite hard when you get into the sport and because of your gender, you're not allowed to do it, so I wanted to make sure that wouldn't happen for future canoers."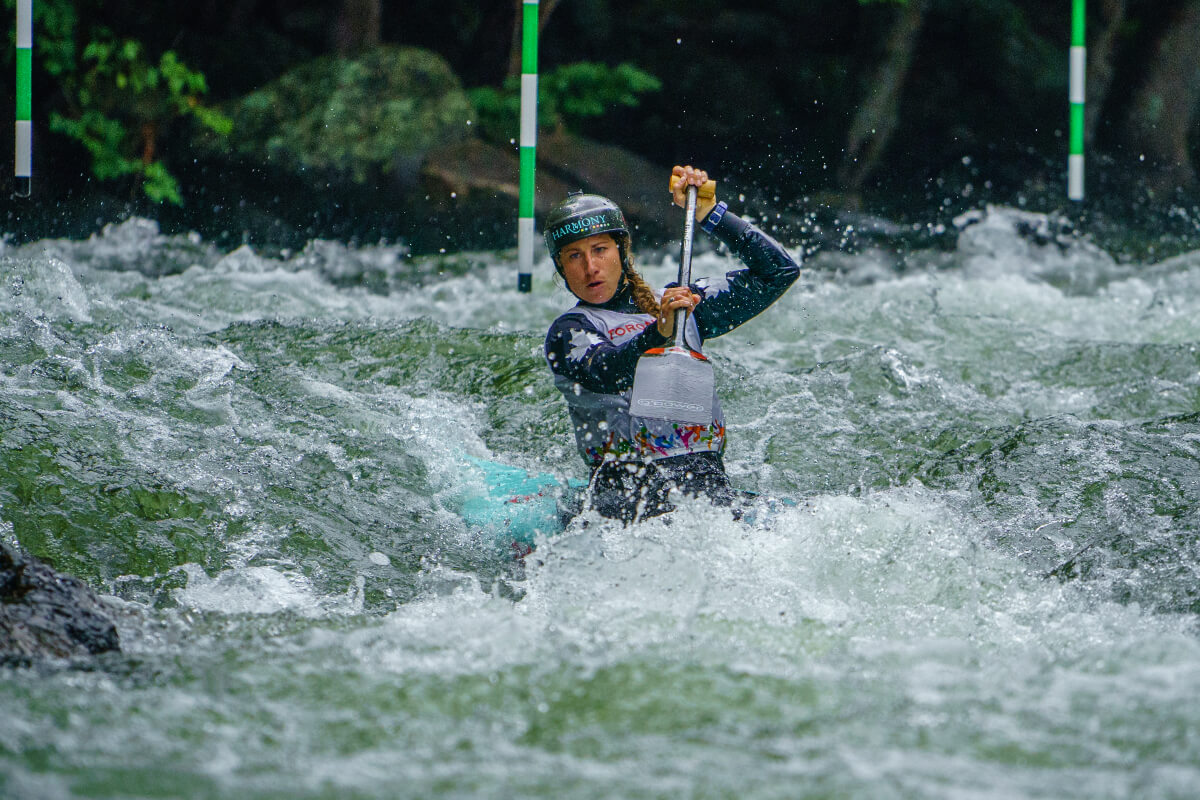 Shifting the Dynamics in the Sport in a Positive Direction
If the inclusion of women's canoe events at this year's Tokyo Olympics is any indication of the impact Daniels has made so far, it's been well worth the fight. She says that although there's more work to be done, she's heard from some of her younger teammates that they don't feel gender inequality to the same extent that Daniels has in her career, which to her, signals the dynamics in the sport are shifting in a positive direction.
"That's a win for us because we've paved the path so younger generations can focus on paddling instead of fighting," she says. "If I didn't do something, I wouldn't have an opportunity, and sometimes it takes a group of trailblazers having to work harder so future generations don't have to."
Kimberly Daniels Will Be First Transgender Official at Tokyo Olympics
In addition to fighting for gender equality in sports and beyond, Daniels considers herself an advocate for the LGBTQI+ community. Her father Kimberly Daniels, an international canoe official, recently came out as transgender. She'll be the first-ever transgender official at the Olympics Games, making this year even more significant for the family and the broader LGBTQI+ community.
Kimberly joins other LGBTQI+ advocates rallying for inclusivity in the sports world, including Washington Spirit soccer player Kumi Yokoyama, who came out as trans in June 2021, and NFL player Carl Nassib, who came out as gay one day after Yokoyama.
"My Dad has had an amazing coming out story, she lived 60 years as a man even though she didn't feel comfortable, but I hope people realize they don't have to live as someone they're not," Daniels says.
Kimberly Will Be By Her Daughter's Side at Tokyo Olympics
With no friends or family members allowed to attend the games in support this year, Daniels feels grateful she'll be able to have her Dad with her along for the ride.
"It was me on the starting line to secure the final ticket, but I did not get here without my family," she says. "My parents and brother have been behind me 100 per cent, so it's as much my triumph as theirs. I feel so proud and excited, and it gives me more fire to want to do well."
The 2021 Olympic Games will run July 23th to August 8th. Daniels is currently fundraising for the final push to Tokyo. After the Tokyo Olympics, Daniels says she's already looking ahead to Paris 2024, and working on raising funds to support the costs associated with the sport. Beyond canoeing, Daniels says she's interested in pursuing a career in marketing and business development and spending more time in the mountains on her bike.
Daniels is Ready for the Future
Whatever the future holds for Daniels, she's confident she'll be able to adapt to changes along the way. Inspired by the book Spiders in Space, which details the inspiring stories of people successfully adapting to unwanted change, a tattoo of a spider sits under her left hand, serving as a constant reminder of her strength and resilience. Her brother Hayden, also an Olympic canoe-kayak athlete, has a rocket ship to match.
"My brother and I got the tattoos to remind us that we could be adaptable like spiders in space," she says. "That's why I look at it before my race, to remind myself that I can be adaptable in the moment and go for it."
Haley Daniels is one of the first women competing in Olympic canoeing, which was previously only open to men. Daniel Gaysinky is another athlete making history at the Tokyo Olympics. Gaysinky is the first and only Canadian athlete competing in Olympic karate.