Even from a young age, Madeleine Shaw, the co-founder of Aisle period products and author of The Greater Good: Social Entrepreneurship for Everyday People Who Want to Change the World, had a strong appreciation for the power of getting your period. Despite the stigma associated with "that time of the month" in western culture, she didn't see it as something dirty and unhygienic that needed to be contained — she believed periods were a beautiful part of nature and something to celebrate.
As a teen, Shaw felt deflated when she got her first period. She viewed it as an incredible rite of passage that reflected the lunar cycles and the sheer power of being a woman, but she found that these ideas weren't consistent with dominant cultural attitudes. 
Instead of seeing it as a time that represented the magic of being a woman, the people around her treated it as a curse, or a nuisance at best. What's worse, she developed infections regularly from the disposable tampons and pads that were available in the period aisle.
"I started getting really curious about cloth pads and period underwear. They gave me the feeling that I'd been looking for as an adolescent girl," she says. "We're culturally conditioned to push it away, shove in a tampon, don't touch the blood, don't talk about it, and negate the whole experience. I did the opposite of that, and I discovered that it was super liberating."
Going Against the Grain
In the '90s, this attitude was transgressive, going against the grain of the common narrative. Shaw realized she was onto something, and she wanted to help others embrace their periods instead of pushing them away.
"It's not gross, it's actually really cool," she says. "Using cloth pads and period underwear gave me a profound feeling of acceptance of this thing that my body was doing, and I wanted other people to feel that way."
Shaw began selling the products in 1993, not so much as a business opportunity but as a grassroots activism movement to change the narrative around periods for good.
"I didn't start this company to make money but selling them was really the only way to share it with other people," she says. "I fell into entrepreneurship as a way of communicating that feeling of liberation."
Envisioning a New Period Aisle
Later in 2000, she joined forces with her business partner Suzanne Siemens, and the pair incorporated the company as Lunapads. Twenty years later in 2020, the company officially rebranded as Aisle, making positive upgrades like redesigning the period underwear to be more sustainable and expanding their size range.
"After 27 years in business, we wanted to build something new, for everyone who menstruates," a blog post about the rebrand reads. "A new period aisle, where the products are not only effective, but actually comfortable. Where shame is shown the door, and sustainability is non-negotiable. Every material in our products has been carefully sourced to provide you with outstanding performance while still taking good care of our planet."
As a certified B Corporation, Aisle is committed to promoting sustainable practices in addition to smashing the stigma surrounding periods. The company quantifies the environmental impacts of each product, which means they measure things like the amount of water it takes to create them and greenhouse gas emissions.
"The environmental implications of disposable products start well before they hit the landfill," Shaw says. "We need to be thinking about these products from a lifecycle perspective — cradle to cradle."
Banishing the Stigma Surrounding Periods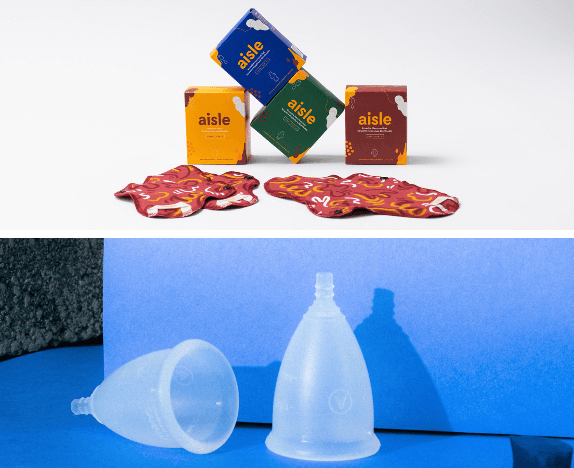 Today, Aisle is working harder than ever to banish the stigma surrounding periods, fight for period equity and promote acceptance overall. In addition to the products they offer, the company provides free educational resources like The Planet-Positive Periods Toolkit, which is designed to teach people about sustainability and menstruation.
The period revolution is needed now more than ever, as the right to full sovereignty over one's body is continually being challenged: "The ability to conceive and birth a child is an incredible source of power not available to everybody, and certain kinds of people in dominant western power structures are seeking control over that. The overturning of Roe v. Wade, for example — it's all related. This idea that uteruses, whether around birthing or menstruation or sexuality, must be controlled, must be contained and legislated. The power that is in those parts of our body is something that people really fear."
Shaw adds: "The more access we have to education, products and shame-free attitudes about menstruation, the more comfortable and empowered we are with our bodies overall. Menstrual equity is an essential part of reproductive health and justice."
More people changing the period industry:
Lead image credit: Felicia Chang Photography.
All products listed in articles are independently selected and curated for you by our editorial team. If you buy something we link to, toast may earn a commission, which supports our mission of sharing positive stories about inspiring people.