Quick 10 Ingredient Veggie Curry
This yummy curry can be made with simple staples from your pantry and freezer! It's done in just 25 minutes, about the time it takes to cook rice or quinoa to serve with it. If you want an extra protein boost, simply add cubed firm tofu together with the tomatoes.
Serves 4
Ingredients
1 large yellow onion
3 garlic cloves
1 large carrot
1 can of chickpeas (400g)
1 can chopped tomatoes (400g)
1 can coconut milk (400ml)
1 vegetable boullion cube
1 Tbsp. curry powder
400 ml frozen green peas
2 big handfuls baby spinach (or a handful of frozen spinach)
⠀⠀⠀⠀⠀⠀⠀⠀
Serve with brown rice (or other rice of choice) or quinoa, chili flakes, fresh herbs and sesame seeds.

Directions⠀⠀⠀⠀⠀⠀⠀⠀⠀
1. Chop the onion and sauté in olive oil on medium heat.
2. Peel and chop the carrot, add to the onions and give it a stir. Sauté for a few minutes until the onion is soft and golden brown.
3. Finely chop the garlic and add to the pan, give it a stir.
4. Drain the chickpeas and add to the pan together with the tomatoes, coconut milk, crumbled boullion cube and curry. Let simmer and bubble on medium heat for 15 minutes without a lid until the sauce has thickened, stir every now and then.
5. Stir in the frozen peas and spinach and let simmer for another 3-4 minutes until the peas are warm and the spinach wilted. Done!
Extra tip: Save the water from the chickpea can, called aquafaba, and use for baking or desserts!⠀⠀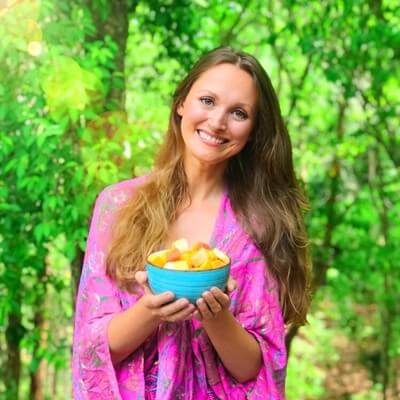 Kamilla Joenvik is a vegan recipe developer who makes easy and yummy food bursting with vibrantly colourful ingredients. She shows how anyone can make healthy food from scratch with natural ingredients. Follow Kamilla on Instagram for more recipes!