Along with 11 other Canadian chef judges, Saskatoon native Chef Dale MacKay has returned to Food Network Canada for season two of Wall of Chefs. As the winner of the first season of Top Chef Canada in 2011, MacKay knows a thing or two about what it takes to do great things in the culinary industry.
Wall of Chefs Is Back With 12 Canadian Culinary Giants as Judges
In the show, four amateur home cooks compete for the grand prize of $10,000, while they're judged by a wall of 12 Canadian culinary giants. It's definitely as intimidating as it sounds. The second season of Wall of Chefs premiered January 3, 2022, and MacKay says he was thrilled to be back with his colleagues and the competitors.
"It was very exciting being back," he says. "I love filming and watching the show. My favorite part is watching the competitors because they really step it up and put themselves in a position to be judged by some of the best chefs in the country, and they're generally very big foodies and Food Network fans."
Chef Dale MacKay Moved to England to Work for Gordon Ramsay
The Wall of Chefs judge is no stranger to feeling the heat in the kitchen. At the age of just 19, he moved to England to work for celebrity chef Gordon Ramsay and learn his tricks of the trade. He ended up working with him for seven-and-a-half years, eventually moving to New York and Japan to carry out restaurant openings.   
"The reason I went to go work for him is I saw Boiling Point, a documentary done on him when he was trying to get his Michelin Star, and three weeks later [I] moved to England," he says. "I was just enamoured with how intense it was, and I always thought if I did two years with him it would be like five years anywhere else."
Today, MacKay is the proud owner of five restaurants in Saskatchewan, including Ayden Kitchen and Bar, Sticks and Stones, Little Grouse, Avenue Restaurant and Dojo Ramen.
Where to Stream Wall of Chefs
Wall of Chefs season two airs Mondays at 10pm ET/PT on Food Network Canada. You can also stream Food Network Canada shows like Wall of Chefs, Big Food Bucket List and Wall of Bakers through STACKTV with Amazon Prime Video Channels, or with the Global TV app, live and on-demand.
To celebrate season two of Wall of Chefs, MacKay shared a special recipe for toast readers:
Recipe for Hearty Chicken Wild Rice Ginger Soup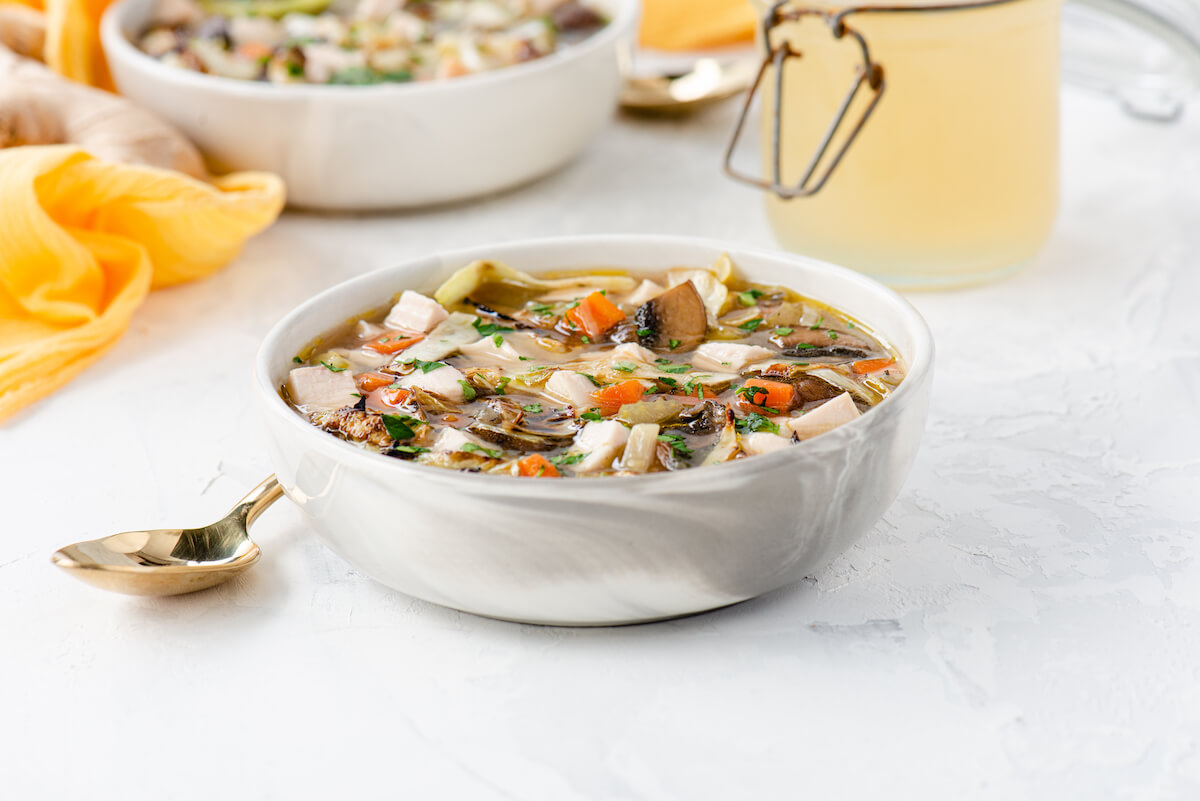 Serves 4 
 Ingredients
Part A
1 cup cabbage, cut into large matchsticks
1 cup button mushrooms, quartered
1/3 cup wild rice
½ cup carrots, diced ½ inch
½ cup celery, diced ½ inch
½ cup leek, diced ½ inch
1 tbsp ginger, finely minced
1 tsp garlic, finely minced
¼ cup vegetable oil
2 L chicken stock
Part B
¼ cup fresh parsley
2/3 cup cooked chicken, diced
1 tsp salt
1 tbsp soy sauce
½ tsp sesame oil
½ tbsp rice vinegar
Instructions
In a large pot, heat oil on medium-high heat. When the oil is quite hot, add the mushrooms and cabbage and let brown. Add wild rice and lightly toast. Turn down heat to medium and add remaining "A" ingredients besides the chicken stock and let them sweat for about 2 minutes. Add the stock and simmer for about 25 minutes until the rice is cooked.
Once rice is cooked, add "B" ingredients and simmer for 5 more minutes.
Serve and enjoy!
Lead image credit: Chef Dale MacKay is back for season two of Wall of Chefs. Photo courtesy of Food Network Canada.