With so much of our lives spent at home these days, it's easy to feel a sense of cabin fever. (One can only do so many puzzles!) But if your home has a yard, you can diversify leisure and recreation for the whole family — without going anywhere.
Here, we share tips and tricks for optimizing your outdoor space, creating an oasis for these times and beyond.
Relax in an Outdoor Living Room
Think of your outdoor seating area as a room — complete with lighting, a rug, plants and/or privacy screen and comfortable, versatile seating. Bringing these elements together will transform the space from basic backyard to stylish sanctuary.
Many patio sets come with multiple pieces that can be set up in different groupings. This enables you to rearrange the space as desired.
A set with matching chairs that push together in varying formations means you can have one long sofa or two to three-seat combinations surrounding a coffee or fire table.
A peaceful, relaxing ambiance is key to making this "room" a respite. String lights, a patio umbrella for shade, lanterns, an ottoman or two, and a fire table are all options for personalizing the space and making it cozy. Speaking of fire…
Get Your Glow on With an Outdoor Fire
There's nothing more relaxing than sitting around a fire, having a quiet conversation under the stars with a throw blanket draped over your lap. Something about the warm glow seems to make worries melt away.
When deciding what kind of fire set-up is right for you, consider your lifestyle. Do you want a fire that comes alive (and disappears) with the flick of a switch? Then you'll need a natural gas or propane option. Both are easy to use and require less maintenance than wood-burning fire pits, but there are a few differences to note between the two.
Propane fire tables require minimal installation and most propane tanks are small and portable, so you could move it to different locations in the yard.
Natural gas fire tables require a permanent gas line to be installed, but once it's connected, you won't have to keep refilling the tank, which saves time and money in the long run.
Wood-burning fire pits tend to be more affordable, but are harder to light and take more work to keep burning. If you love the crackle-and-pop campfire experience, however, a wood fire can't be beat.
All of the options are available in a range of styles, from rustic to modern to minimalist. Choose one that complements your outdoor living room decor, and enjoy summer evenings with s'mores.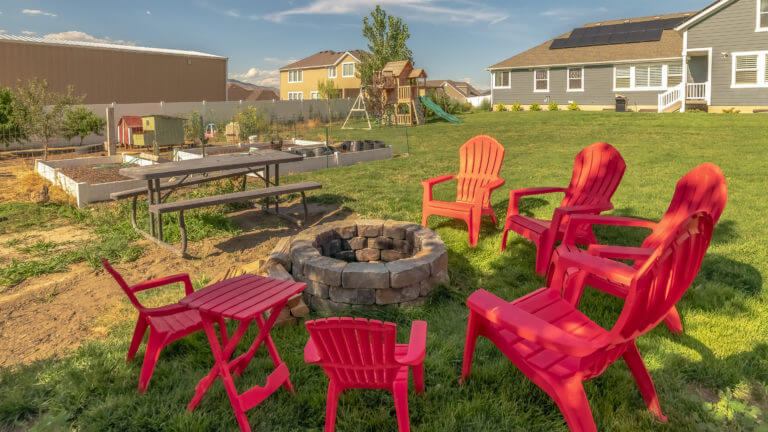 Entertain the Kids in the Backyard
It's safe to say that keeping kids entertained (and educated) has become a full-time job for many parents. With all the extra hours together — amidst restrictions on parks and playgrounds — it's a good time to ensure your backyard doubles as a play zone.
What you implement will depend on the age of your kids and size of your yard, but these ideas should encourage play throughout the years.
Build a Treehouse for the Kids
With some DIY carpentry skills, you can build a treehouse that becomes your kids' own 'home away from home There are plenty of models on the market that can be assembled in a matter of days, with cool features such as a slide, swing and balcony. If you don't have a suitable tree, consider a playhouse design or a fort on stilts — the options are endless and will add a little magic to their days.
Create a Climbing Wall
Building strength and letting off steam are two major reasons to add a kids' climbing wall to your backyard. There are plenty of online tutorials to help you tackle this project DIY style, or you can purchase a ready-made option suited to your child's climbing ability. (Kids as young as toddlers can learn to climb!) Safety is the most important consideration, so be sure to do your research regarding helmets, shoes and protective surfaces.
Treehouses, Sandboxes & Swing Sets
You can't go wrong with kiddie pools, trampolines, sandboxes and swing sets. And with some temporary grass chalk paint, you can craft a sports field with boundaries and goal posts. For an overnight adventure, pitch the family tent and take the sleeping bags out of storage. When you're all snuggled in, it won't matter that this camping trip is (very) close to home.