For the past 14 years, Saskatoon-based comedian Myles Morrison has been honing his craft, and as he's developed, so has the city's comedy scene. When he first started out, he was the only opening comedian in the city; 14 years later, the city has about 30 comedians, and a solid handful of headliners. When COVID-19 hit, Myles became one of a group of Saskatoon comedians giving back to other unemployed comedians.
As one of these headliners, Morrison's pre-COVID schedule was busy: every second or third day he was performing his set — at fundraisers, corporate events, private shows, comedy clubs and open mics — and when he wasn't performing, he was writing more jokes. And then COVID-19 hit.
Morrison used his extra time to write and test his material — material he describes as "observational storytelling," mixing Seinfeld's penchant for observation with his own prairie experiences — but the inability to perform was, in his words, "weird." And while Morrison could have tried using Zoom to facilitate a performance, he couldn't stomach the thought of telling his jokes to an audience of people confined to small, pixelated rectangles.
Socially distanced backyard comedy shows became an option when COVID-19 hit
As he considered a workable and safe format for a comedy show, Morrison heard about a backyard comedy event put on by Edmonton-based comedian, Lars Callieou. Soon after, another Saskatoon-based comedian, Dakota Ray Hebert, hosted an event called Fire Pit Funnies, which, like Callieou's event, adhered to all health, safety and social distancing regulations and still brought the laughs.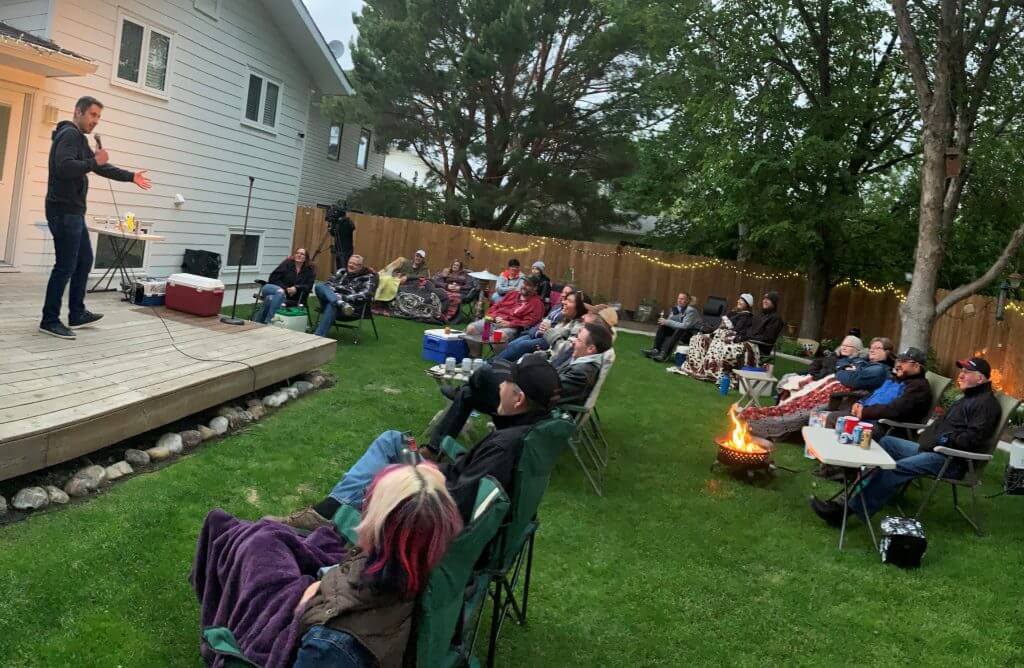 Knowing the backyard format was possible, Morrison discussed the idea with Jody Peters, Joel Jeffrey and Darryl Jr. Koszman — fellow headlining comedians Morrison's known for a decade — and after hearing their approval, enlisted Andrea Olfert to help organize the event.
On June 20, after a month of planning, the quattro performed their first backyard comedy set. Using the backyard porch as a stage, and with decorative lights strewn across the yard's fence and house, Peters, Jeffrey, Koszman and Morrison each performed their set to a crowd of 25 socially-distanced attendees, who spread out in the backyard in lawn chairs, most nursing drinks between bursts of laughter.
Backyard comedy shows were a way of giving back to other comedians who were out of work
Beyond bringing more laughs, Morrison wanted to use the event to help comedians who are struggling during the pandemic. While the event was free to attend, donations to the Canadian Association of Stand-up Comedians (CASC) emergency fund were encouraged, and with the contributions from that night, the CASC's total donations exceeded $30,000. This pool of funds, explained Morrison, will be open to comedians whose gigs have vanished, and whose unique work circumstances make them ineligible for Canada's Emergency Relief Benefit (CERB).
For Morrison, helping out his fellow comedians in whatever way he could only felt natural. Describing the comedy scene as a brother- and sisterhood, he said that "once you perform with someone, you're bound to them — you're friends," and as such, emphasized the importance of looking out for one another. "It's like family," he says. "There's no other word for it."
The online response to Morrison's first backyard show has been overwhelmingly positive, with many requests for more. For his own part, Morrison was happy to perform again. "It was good to get the rust off," he said, adding that he excited to "do shows, keep the comedy muscle flexed, and make people laugh in these difficult times."
Although he hasn't yet announced firm dates for more future performances, Morrison plans to continue to do backyard shows for the rest of the summer.