If you think of skydiving, do you feel excitement at the prospect of jumping out of a plane? Or do you feel dread build up in the pit of your stomach? Maybe you say to yourself, "Oh, I could never do that. Not me." For many people afraid of heights, skydiving is one of the scariest things they can think of doing willingly. That's why it's so impactful when they do make that jump – they've faced one of their biggest fears and they feel empowered. And that feeling is exactly why Sharon Bina started 2 Miles of Smiles. She wanted to empower cancer patients and survivors to feel courage and confidence through an extraordinary experience — a two-mile thrill from plane to ground.  
The Skydiving Experience That Started It All
2 Miles of Smiles had a serendipitous beginning. Back in 2003, founder and president Sharon Bina was in a singles group in Dallas that decided to go sky diving. She kept saying to herself, "I can back out at any time" but she didn't. She fell in love with skydiving — and coincidentally her instructor: "I remember telling the instructor, 'You'd better give me a guy that's tall, dark and handsome because if I'm going to go out, I'm going to go out in style.'"
When she saw her tandem instructor, Mark, she gave a thumbs up — and ended up marrying him. At the time, though, Mark was still a stranger and it was Bina's first skydive (she's been skydiving 13 times to date). And that experience started everything.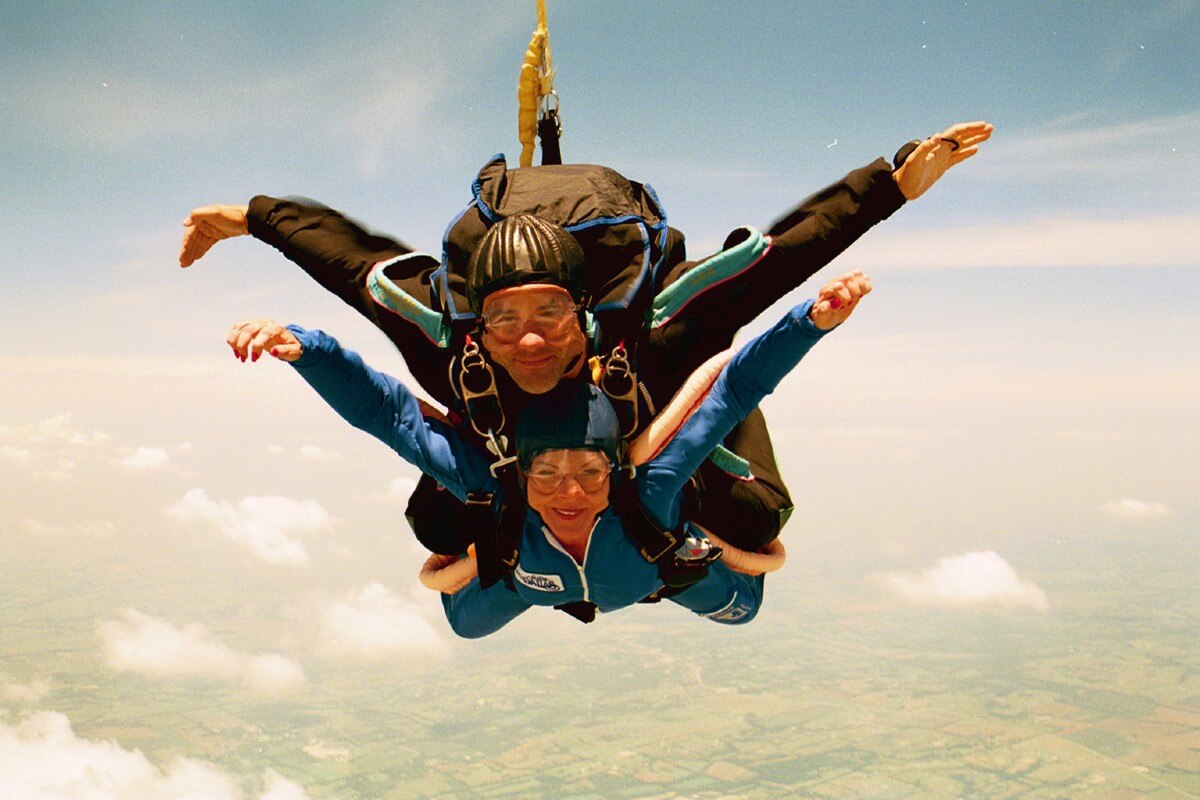 How 2 Miles of Smiles Began
Fast forward a couple years later to September 3, 2006. She's visiting Mark at the drop zone when she notices a young man getting geared up to go skydiving. She says he looked different from everyone else because of his prosthetic leg. Bina was instantly drawn to him because of his infectious, joyful energy. He was joking around with his tandem instructor and looked like he was having the time of his life.
His name was Seth Darnell, and he lost his right leg to osteosarcoma, a type of bone cancer. That day, he was celebrating his 18th birthday by going skydiving.
Bina watched him climb into the aircraft that would take him into the sky and drop him out to float down to earth. She wanted to watch him land. She tears up while telling this story – the impact of their first meeting led to the creation of 2 Miles of Smiles.  
Skydiving Experience is "a Day Away From Cancer"
"I'm watching him land, and all of these thoughts came rushing into my head about using skydiving to empower other people that are living with cancer," Bina says. "So they could have the same joy and thrill that Seth had that day, because that day he wasn't thinking about cancer. He wasn't thinking about his prosthesis. He was there to embrace life, to enjoy it and just have fun – it was a day away from cancer."
At the time, Bina wasn't ready to follow her vision and start a non-profit organization. She was working, planning her wedding and her granddaughter had just been born. All in all, it seemed like an overwhelming prospect. So she put her idea on the back burner. But the thought remained in the back of her mind, biding its time.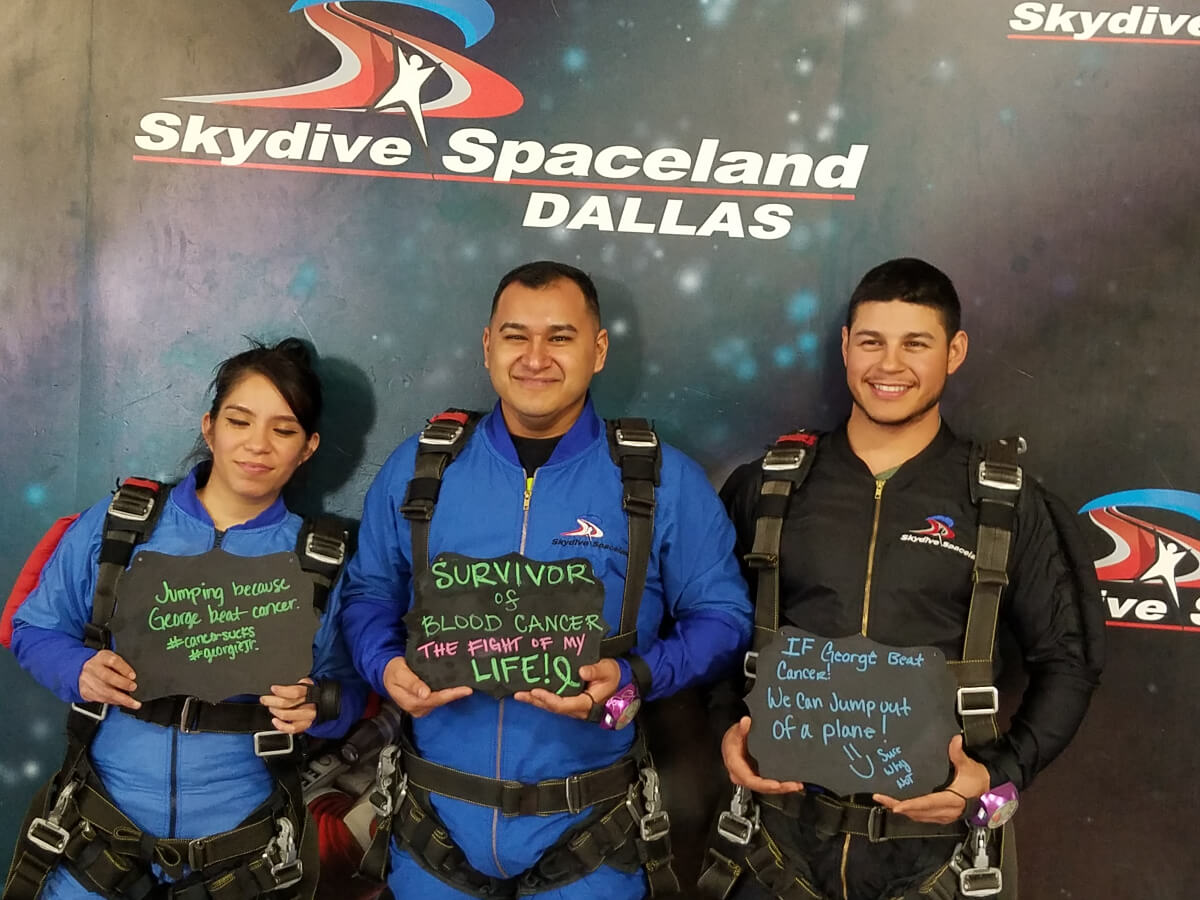 Another Serendipitous Meeting
The next time Bina was at the drop zone, five months later, Seth Darnell was back for his second tandem skydive. He wanted to jump again and experience the thrill of falling from the sky.
"It was like God was saying, 'I told you, once I'm telling you again, this is what you need to do,'" she says. "There was no doubt about it, that where I was getting my direction from. But again, I wasn't in the position to start up a non-profit then. And the task seemed very daunting."
Taking the Plunge to Start 2 Miles of Smiles
Darnell passed away in 2007. He left a lasting impact on Bina. About a decade later in 2018, Bina retired – and she knew it was time to take the plunge. She signed up for a non-profit certification class at a local community college to learn how to start and run her own business. She had to learn everything from registering her non-profit, to fundraising and marketing and social media.
She says skydiving is an empowering experience, and one that really helps cancer patients: "For those who are going through cancer, they need to have that empowerment," she says. "Those who are going through their treatment right now, it's a way for them to say, you know what? I jumped out of a plane. I can handle walking into that appointment this next time."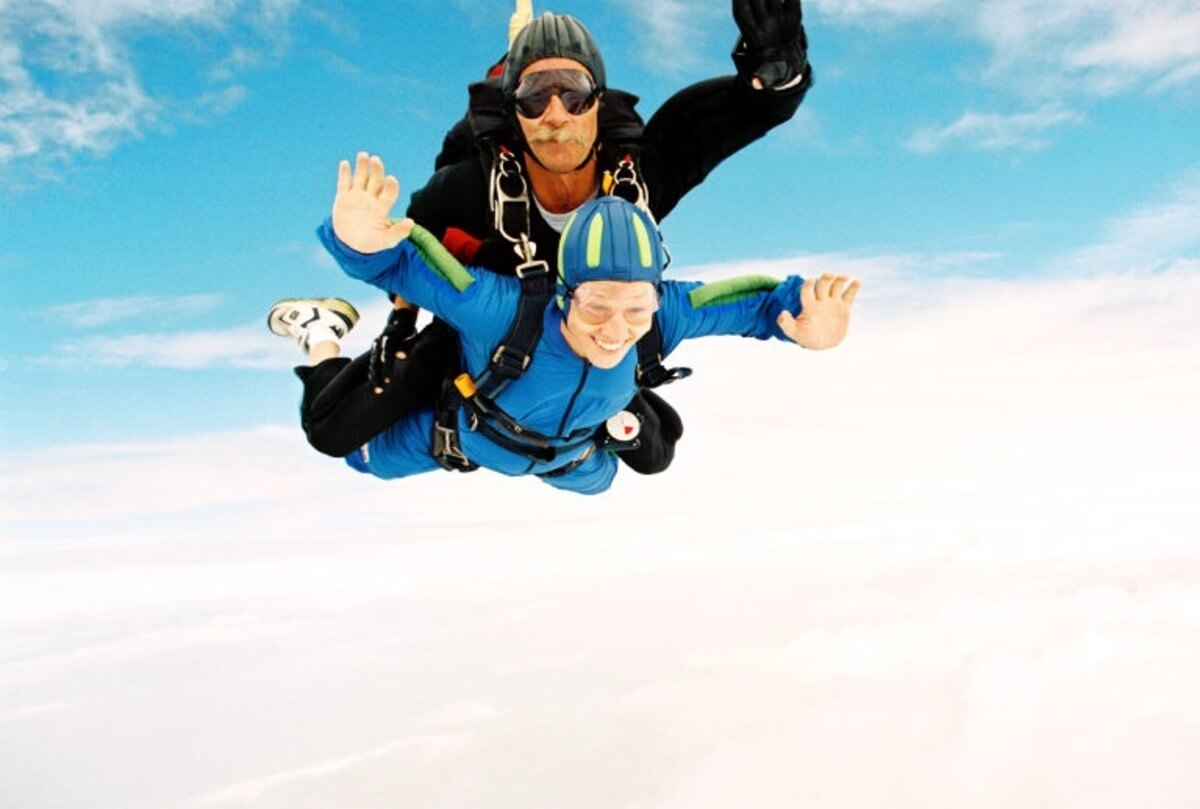 Skydiving Gives Cancer Patients and Survivors Strength and Courage
Bina says when people decide to do something they're afraid of, they realize how strong they are because they've faced that fear: 'If I can jump out of an airplane, I can do anything.'"
Many participants feel a new sense of strength and courage.
"I've had some of my people say, you know what, the next time I walked into my doctor's office, I walked in there with my head a little bit higher and a little more of a pep in my step because I knew I had accomplished something that only maybe 1% of the population has done," Bina says.
It's also woven into the fabric of their lives – it becomes part of their family story and history.
Skydiving Creates Lasting Memories for Families
Bina describes the impact of skydiving on Steve, the first cancer patient they took into the sky. Steve brought his son with him and they both loved the experience.
After Steve passed away, his son posted a photo of the two of them at the drop zone on Facebook. He said skydiving was one of the greatest memories he has of his father.  
"It's not always just for the cancer patient; it's also for the person who jumps with them because they are creating that memory and that bond that they otherwise would not have had," Bina says.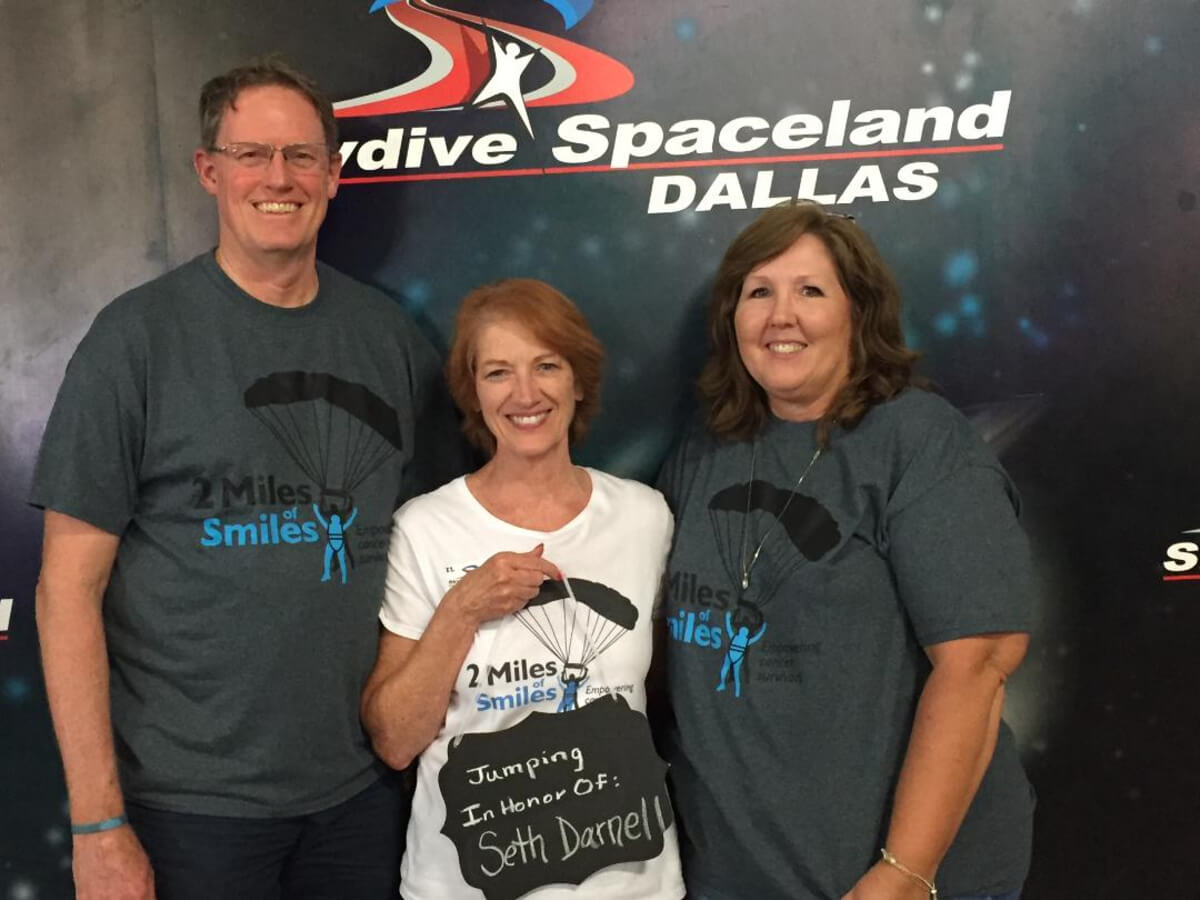 2 Miles of Smiles Is Seth Darnell's Legacy
After starting 2 Miles of Smiles, Bina tracked down Seth Darnell's parents to let them know their son had inspired a non-profit organization that positively impacts the lives of other people living with cancer: "If it wasn't for him, I never would have had the inspiration. So none of this would be if it hadn't been for Seth."
So far, 2 Miles of Smiles has taken almost 90 people living with cancer and cancer survivors skydiving.
Overcoming Your Fears
"Our organization is about you having that fear and thinking it's something that you'll never do, but then you decide to do it," Bina says. "You've faced the fear. You've conquered the fear and how proud of yourself you are. You're like, 'Oh my gosh, I really did it.'"
For cancer patients and survivors, Bina says their biggest fear is when they get the news. But with skydiving, it's something they can control. It's something they choose to do. They gear up and make the decision to sail down onto the earth from a plane, with nothing but blue skies around them.
Those who want to participate can fill out a form online. Participants also receive pictures of themselves skydiving.
2 Miles of Smiles is hosting their next skydive on June 5th. If you're looking for fun things to do in Dallas, they're also hosting a pickleball fundraiser on June 26th.