Sangria is one of my favourite cocktails to make when entertaining! It can be easily batched in any quantity and is best when prepared the night before, giving me even more time to focus on the meal and my guests. There is no official formula for sangria, but once you understand the key elements, the possibilities are endless! I hope you enjoy this Harvest Sangria recipe.
So what are these key elements of Sangria?
Dry, bold and fruity red wine
Fortified wine or liqueur (Port, brandy, sweet vermouth or fruit-based liqueur)
Citrus juice (most commonly orange, but lemonade works wonders, too)
Fresh fruit
Ice for serving
3 things to remember about making Sangria
First, your final product will only be as good as the ingredients you put in it. You don't have to break the bank, but try an affordable Spanish red around $15 to $20 and you will be thankful! Second, resting time (8 to 24 hours) is necessary to make the flavours more integrated and balanced. You know how your leftover pasta sauce always tastes better the next day? Ya, that! And lastly, do not underestimate the power of citrus in this cocktail; it really brings all the elements to life.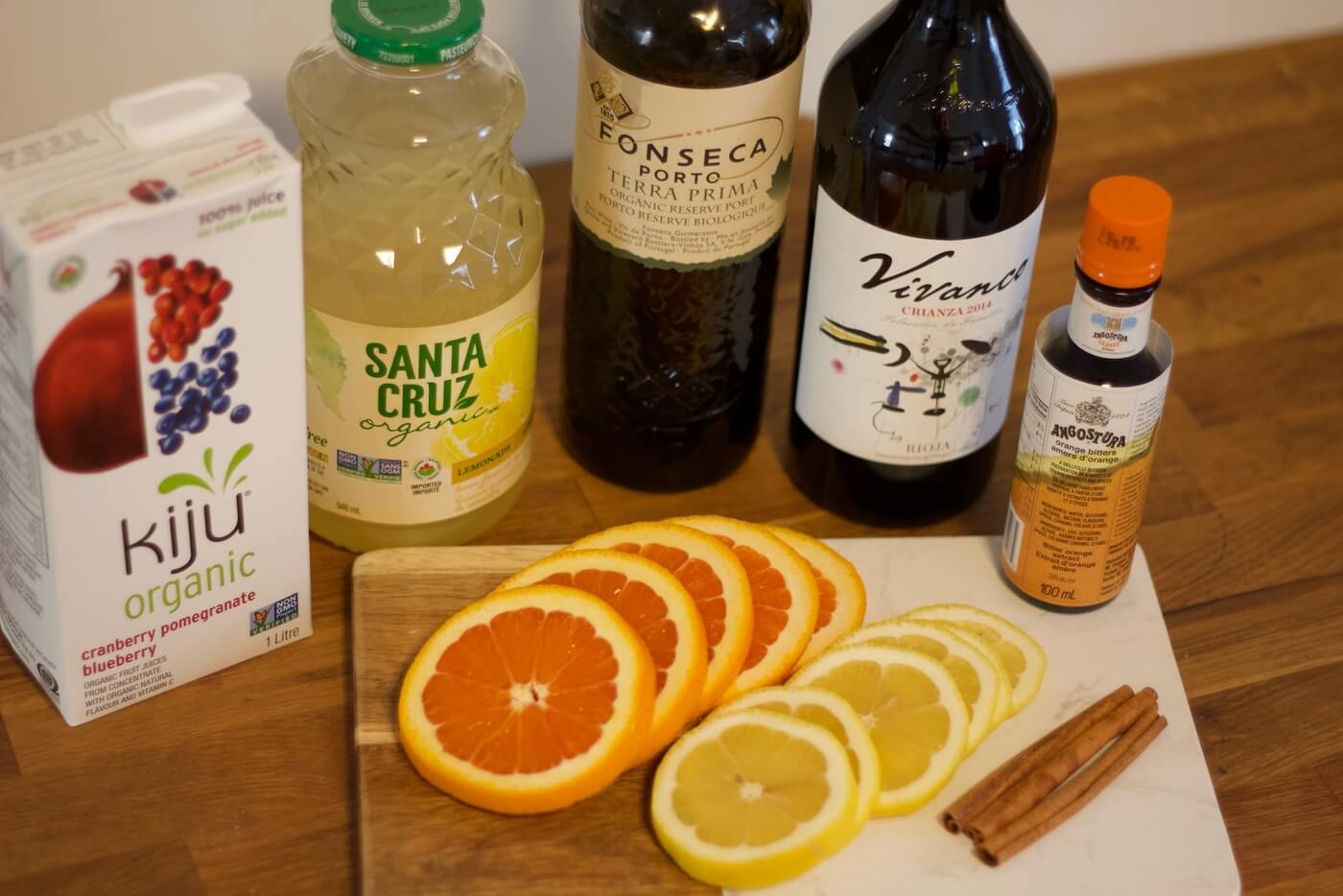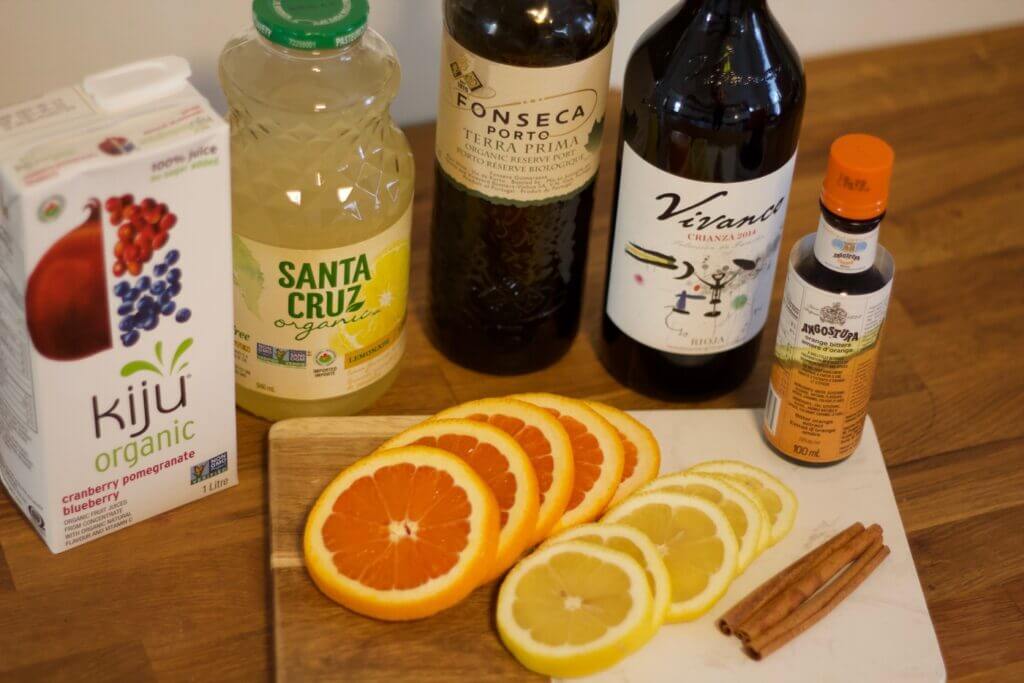 Harvest Sangria Recipe
Now for a fall twist on this classic cocktail. I call it Harvest Sangria, think of it like a cold, refreshing and more sophisticated version of a mulled wine. Tried and true, I have served this to guests at all kinds of Thanksgiving and holiday meals and they are always astonished at how well these ingredients come together to make a truly unique Sangria.
This is for roughly 6 servings made in a pitcher, but feel free to double this recipe and put in a larger dispenser for bigger groups.
500 mL dry Spanish red wine. I used Vivanco's Rioja, but any Spanish red in your budget will work
200 mL Lemonade
200 mL Cranberry/Pomegranate juice blend, or something similar
200 mL Ruby Port or sweet, dark vermouth. I used Fonseca's Terra Prima Ruby Port. If you want to get fancy, try Cocchi Vermouth di Torino; the flavour is incredible, but if you can't find it or it's not in your budget, just go with a ruby Port.
3 Oranges, one juiced, and two sliced
3 Lemons, one juiced, and two sliced
2 Cinnamon Sticks and more for garnish. This is a key element to give it that true fall twist.
3 dashes regular or orange Angostura bitters. I used the orange as I adore how it amps up the citrus.
Frozen cranberries for garnish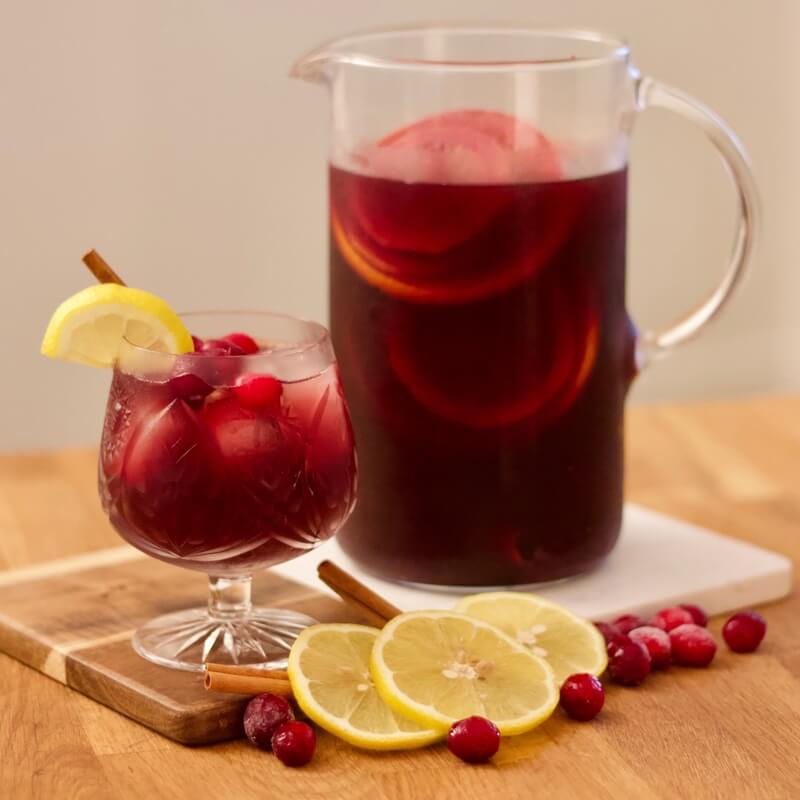 All you have to do is pour all ingredients in your pitcher and wait! Put your citrus slices and cinnamon in first, to make sure you don't overflow the pitcher, then pour in liquids and leave in the fridge overnight. Just save one sliced lemon, one sliced orange, some cinnamon sticks and frozen cranberries for garnish the next day.
Then, all you have to do the next day is pour over LOTS of ice, garnish and enjoy! Cheers and happy harvest!
To find all these ingredients in one place, visit your local Metro Liquor Store in Saskatoon or Regina. If you are outside the city, your local liquor store should still have everything you need.
Recommended for you:
Craft Cider in Saskatchewan Emerging on the World Stage