The first time I heard of dill pickle soup, I was a few months into my job as a community reporter in Wetaskiwin, AB. My best friend and I were at Huckleberry's Cafe, which has delicious dill pickle soup as a staple item on their menu. Normally I'm quite eager to try new food with minimal hesitation, but the idea of a soup full of pickles made my brain short circuit and I will readily admit I was quite wary at first.
Fast forward, and it's been more than five years since that first spoonful electrified my taste buds and I've turned friends and family alike onto this flavourful soup. After several years of using bits and pieces of various recipes, both given and found online, I finally created this version of the soup!
Why this Dill Pickle Soup Recipe is So Delicious
The dill pickles and their juice make it a punchy soup, while the roux softens it just enough to make it creamy and not overwhelmingly sour. The carrots and potatoes give it that extra oomf of heartiness and the bacon (especially if it's a maple wood smoked bacon) holds the flavour down and complements the sourness of the pickles really well.
I find it's the perfect addition to spring and fall days alike, since it's warm enough to combat any of the remaining or incoming chills in the air but also sharp and bright, akin to the sun as the weather turns.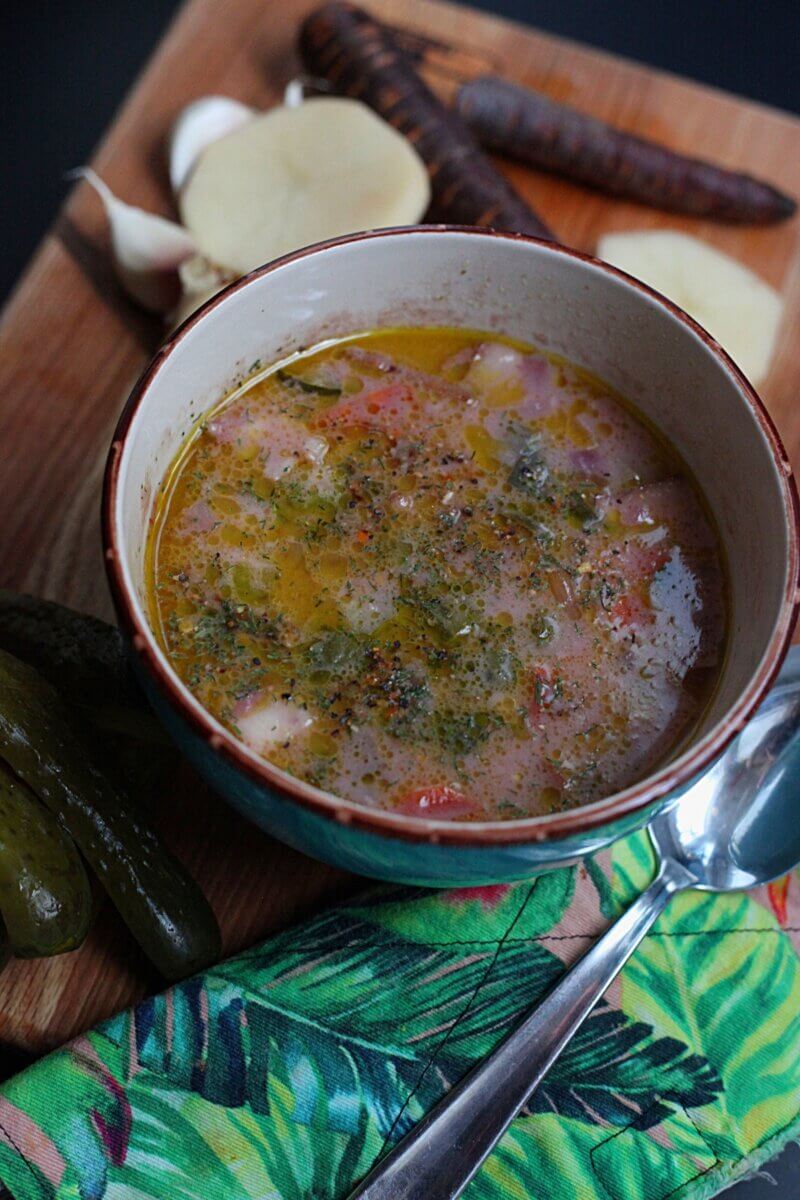 Recipe for Dill Pickle Soup
Ingredients
1 lb of bacon, diced
1 white onion, diced
3 cloves of garlic, diced
1 poblano pepper, diced (optional)
3-6 potatoes (based on size), peeled and cut into bite sized pieces
3-6 carrots (based on size), peeled and cut into bite sized pieces
2 cups of diced dill pickles
5½ – 6 cups of broth (preferably veggie but chicken also works)
3-4 cups of dill pickle juice (depending on how pickley you want it)
Roux
¼ cup of butter
3 tbs flour
1 ½ cups milk
Some fresh chopped dill, black pepper and Cajun seasoning to taste for toppings.
Instructions
In a large pot, cook your diced bacon on medium heat until it's about halfway cooked. Add your diced onions, garlic and poblano (if using) and cook until the onions are translucent, about three minutes. Once your onions are ready, add the potatoes and carrots and cook for about five minutes, letting them cook in the bacon grease. Note: If your bacon has more fat than you'd like to keep in your soup, drain some of it off before you add in your onions and garlic. The flavour compliments the sourness of the pickles really well, but if you're concerned that you might have too much, draining some is also an option!
Once your potatoes have started to soften and your bacon is cooked through, it's time to add your broth. Turn to medium-high heat and stir occasionally until your soup comes to a boil. Once it starts boiling, add your diced pickles and the pickle juice and turn back down to medium heat.
In a small pot or a high walled pan on medium heat, melt the ¼ cup of butter and then add in the flour. Stir together until it's well mixed and is a soft form. Slowly start adding the milk, about half a cup at a time, and incorporate well into the butter and flour mixture. It should become quite thick but still move a little like a liquid.\
Add the roux to the soup and whisk it to incorporate it well. Allow it to continue cooking on medium heat for another five to ten minutes, occasionally stirring, to allow it to thicken up a bit.
Garnish with freshly chopped dill, freshly ground black pepper, or a sprinkle of Cajun seasoning. Pair with a Caesar using whatever dill pickle juice is leftover and enjoy!
Note: The dill pickle soup in the photos is quite red, though most soups will appear as a creamy green. This is due to the Purple Haze carrots and homemade vegetable broth that was used.