Photo Credits Lionel + Hetta
"Entertaining: if it doesn't go awry, then it isn't a party." — Kate Spade
Holiday entertaining is in full swing. Even though this holiday season may look different with smaller gatherings, let's still make them fabulous, shall we?
You must enjoy yourself as the host and don't overdo it. In the words of Ina Garten, "The most important thing about throwing a party is that the hostess is having fun." Your guests will relax and feel at home if you do.
Follow these simple ideas to host your own holiday party, whether it is with your family or a few close friends. Cheers!
Cocktails + Appetizers for holiday entertaining
If space is tight, host a cocktail party instead of a seated dinner.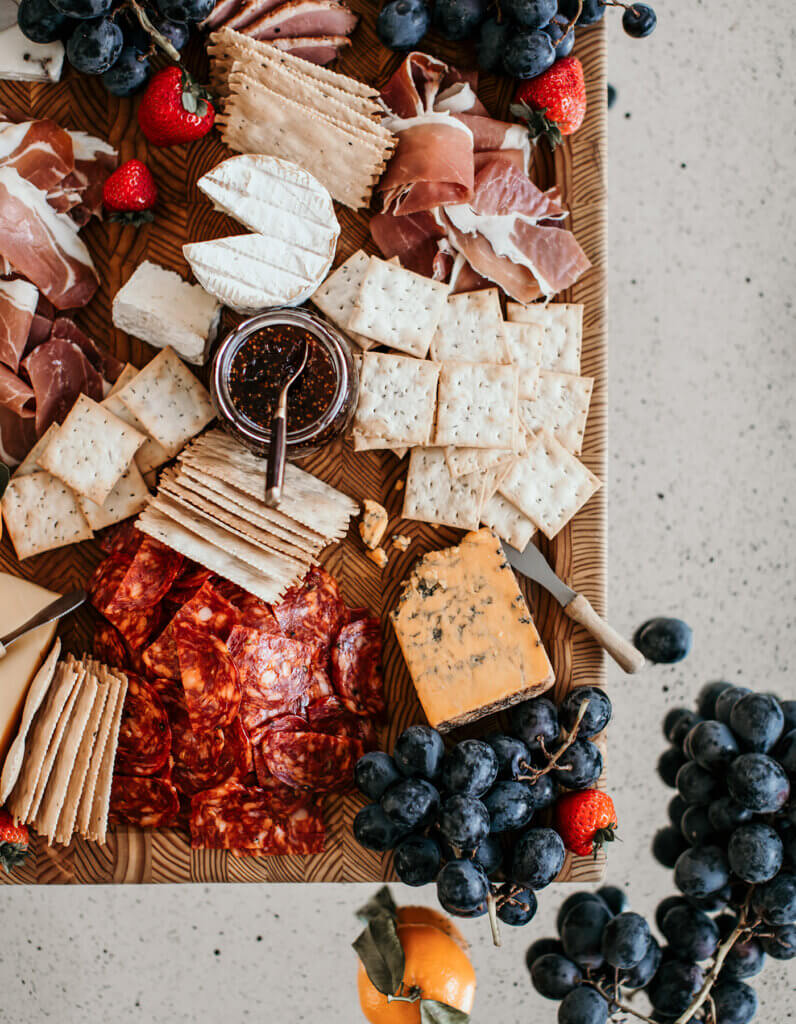 Negroni + Prosciutto-wrapped melon
Old Fashioned + Gourmet popcorn
Margarita + Mini tacos
Dark & Stormy + Bacon-wrapped dates
St~Germain & Champagne + Cheese plate with Brie
Moscow Mule + Fried olives
Gin & Tonic + Crab cakes
Toast Tip
pair any cocktail with a beautiful grazing board
"hello my name is" stickers adhered back to back on toothpicks to identify cheese
small bites on platters and pedestals
thick cocktail napkins instead of plates
count on 3–4 drinks per person for a three-hour cocktail party
plan on 2 oz. of cheese per person — that's the same size as two pairs of dice!
Grazing Board by Lionel & Hetta
Assembling a grazing board is one of the best parts of hosting! It's an opportunity to explore unique flavour combinations and create a visually indulgent and interactive experience. From texture to taste, there are a handful of components to remember when building a party-perfect charcuterie board.
The key to grazing board greatness? Focus on variety. Incorporate savoury, sweet, spicy and tangy elements to create a lively, enticing spread. You don't need a mountain of different cheeses and meats to make a fantastic charcuterie spread, but a little bit of strategy goes a long way!
Cheese
Choose cheeses that vary in hardness, flavour intensity and milk type.
Manchego: mild and easy to enjoy. (A Lionel & Hetta Favourite)
Gouda: a semi-hard cheese with a smooth texture.
Smoked cheddar: a smoke-cured take on a classic crowd pleaser.
Blue cheese: a crumbly or creamy cheese with a distinct sharp and salty flavour. 
Creamy Brie: a mild, soft cheese with a buttery, earthy taste.
Meat
Prosciutto, placed somewhat haphazardly, can act as a segue between different components and helps create visual intrigue.
Salami
Chorizo
Smoked duck from Bulk Cheese Warehouse, in Saskatoon (A Lionel & Hetta Favourite)
Get Creative
fresh fruit (try grapes, apple slices, and dried apricots)
a head of roasted garlic
a bowl of Castelvetrano olives
jar of jam (think: fig or spicy peach)
marinated artichokes
pickled onions
variety of crackers (with gluten-free options)
sliced baguette
Dinner + Wine
Roast Chicken with Lemon Butter by Lionel & Hetta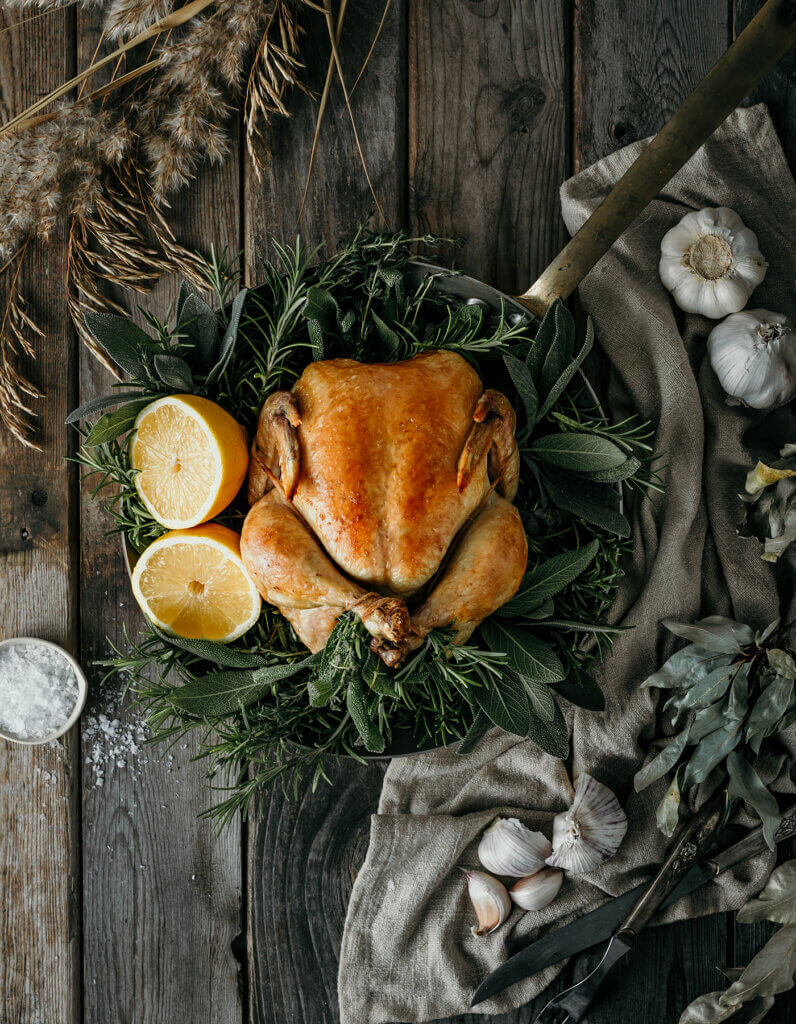 Instead of a turkey this season, try this roast chicken recipe. Serve alongside risotto or roasted potatoes, and start with a light salad!
Ingredients
1 whole chicken (approx. 5 lb.)
1/2 cup butter
10 garlic cloves, smashed and peeled
2–3 rosemary sprigs, large
2 sage sprigs, large
1/2 bunch of fresh thyme
2–3 lemons, juiced
Salt and pepper
Kitchen twine
Instructions
Take the chicken out of the fridge about 30 minutes before starting to bring it to room temperature.
Preheat the oven to 325ºF.
With a linen or paper towel, pat the surface and the cavity of the chicken completely dry, then tie the legs together with kitchen twine.
Place a cast-iron skillet over medium-high heat. Once hot, add half of the butter. When the butter starts to foam, generously salt all sides of the chicken and carefully place it on the skillet, breast-side down. It should sizzle immediately. Be careful not to burn yourself!
Using tongs, immediately slide the chicken around on the pan to keep the skin from sticking. Turn the heat to medium and allow to sear for 4–6 minutes, or until golden brown.
Using the tongs inside the cavity, carefully flip the chicken on its side and repeat the searing process. Adjust the heat if necessary and add a bit more of the remaining butter, as needed. Repeat on all sides.
Remove the skillet from the heat and allow it to cool slightly. Transfer the chicken to a plate. Spoon the burnt bits out of the pan, but don't pour out the juices or the butter.
Stuff the cavity of the chicken with the garlic and herbs, then place it back in the skillet, along with the remaining butter. Place it in the oven, uncovered, and cook for about 20 minutes per lb., or until it reaches an internal temperature of 165ºF.
When the chicken is done, remove it from the oven and season with salt and fresh cracked pepper. Cover loosely with foil, and let it rest for 5–10 minutes. Drizzle lemon  juice over the bird, and allow it to mix with the juices in the pan. Add enough lemon to balance the butter, but not so much that it will make you wince!
Carve the chicken and spoon the juices over the meat before serving.
Wine to Pair With Roast Chicken
Pairings by Samantha Rae from Metro Liquor Saskatoon
Le Grappin – Beaujolais Villages (France) – light red wine, fresh berries, crisp acidity
Creek & Gully – Orchard Blend Cider (BC) – easy drinking, refreshing, true apple flavour
Toast Tip:
To prepare for holiday entertaining…
have an extra box of matches on hand
chill the sparkling and white wines in advance
always have more ice than you think you'll need
queue up 3–4 hours of music on your favourite Spotify station (just enough time to forget the first song before it repeats)
count on three bottles of wine for every four people
Dessert ideas for holiday entertaining
Mulled Wine + Shortbread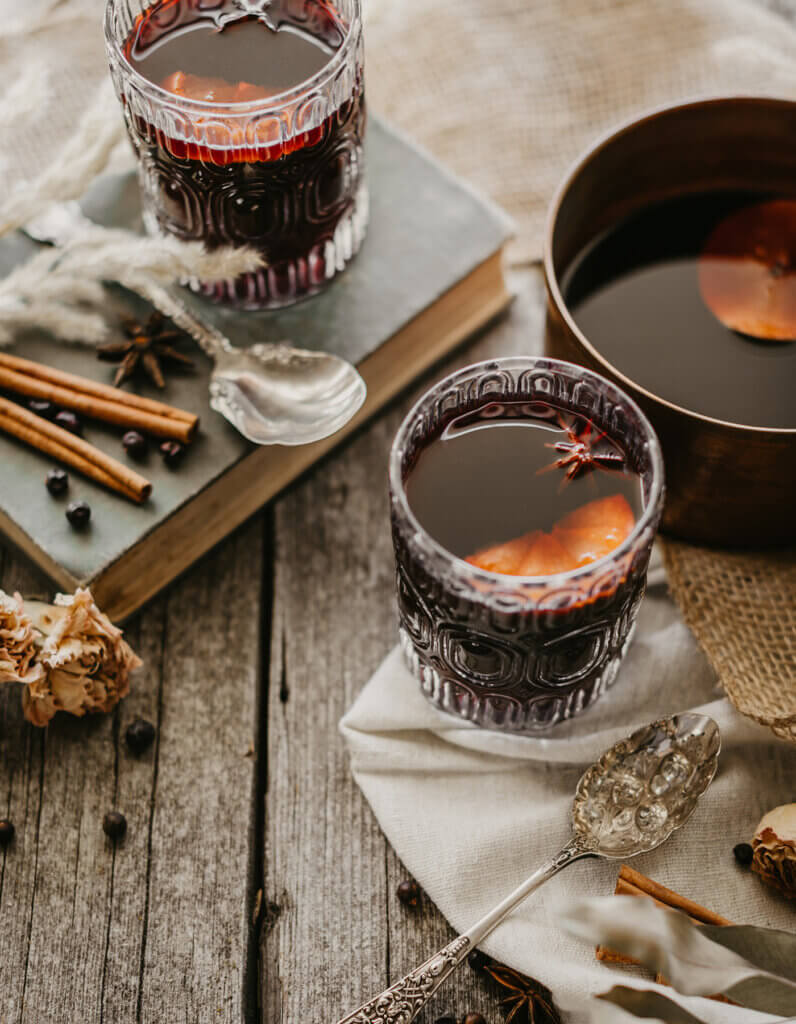 Mulled Wine By Lionel & Hetta
In the snowy winter months, serve this cozy beverage when hosting family and friends. Make a batch or two for a small gathering to ensure everyone gets at least one glass — the perfect amount, given its intense aroma and slight sweetness. If you're feeling up to it, you can also add 1/4 cup of brandy to the pot to give the wine a little more punch. Happy mulling!
Ingredients
1 bottle cabernet sauvignon, or preferred red
2 cinnamon sticks
2 star anise
4 whole cloves
1 tsp whole allspice
1 tsp whole dried juniper berries (optional)
2 Tbsp honey
2 mandarin oranges, sliced into ¼-inch rounds
Extra mulling ingredients for garnish (optional)
Instructions
Place a pot over medium heat and add the wine and the mulling spices. Once the wine is warm, stir in the honey and add the orange rounds.
Bring mixture to a light simmer, but, to preserve the alcohol content, do not let the mixture reach a boil. Cover and allow to simmer for 15–30 minutes.
Serve hot and garnish with an orange slice and preferred spice, like star anise or a cinnamon stick.
Toast Tip:
serve mulled wine in heavy, crystal goblets
Not a baker? Support your local bakery for all your dessert needs
Gifts for guests can be easily overlooked, but can be as simple as filling takeout boxes with extra dessert or wrapping flowers from the table in newspaper
Want to be invited back? Check out these tips on how to be a dream guest.
"Be pretty if you can. Be witty if you must. But be gracious if it kills you." —Elsie De Wolfe
Toast Tip:
always respond to an invitation within three days
don't show up early
come armed with a few conversation starters… but don't dominate the conversation
be the first to say a toast and the last to say goodnight
send a little thank-you note to your host the next day