When Nicole Wolf gets on a plane, she's not usually on her way to a relaxing and carefree beach vacation. Instead, she's traveling to conflict zones to meet people and tell their stories through art.  
"Figuring out the truth of a situation is very important to me," says Wolf, 31, a Calgary-based visual artist and illustrator. Her most recent international trip included a month in Ukraine this past spring. She worked on contract with an international humanitarian relief organization distributing food and other essential items to Ukrainians living in contested regions.
"I was moved by the fighting spirit of the Ukrainian people and the personal responsibility that everybody took to help their fellow Ukrainians," she says. "I met a lot of people giving everything they could, and looking for ways to give even more." 
Meeting a Ukrainian Illustrator and Hero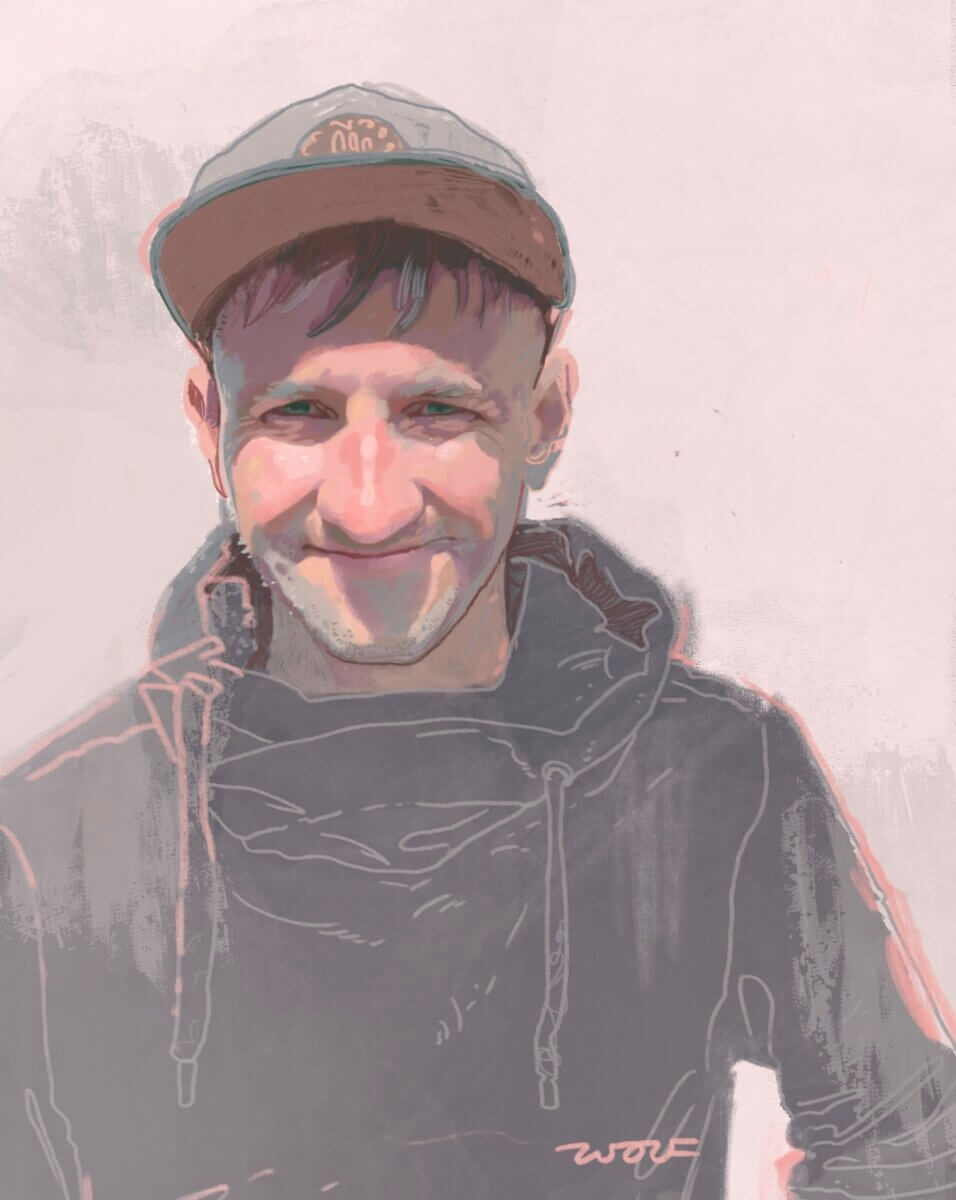 Wolf describes meeting one Ukrainian man, named Yura, who risked his life to rescue Ukrainian people trapped behind contested lines. He had been an illustrator just like her before the war began.
She shared his story in his own words through the Nicole Wolf Design Instagram account on June 11th, 2022: "I had to get involved. For one thing I am Ukrainian; second, I am Christian, so how could I not? I'm not braver than others – everyone is giving whatever they can."
Wolf describes how he and his friends raised money and used their savings to buy a small convoy of vans, which they drove across the country into contested territory, and evacuated at least 1,500 people. 
"We know the back roads, so we are able to sneak around the tanks and the soldiers," he told Wolf. "God protected us many times. Actually, on my last trip, I passed my van to another person to continue the rescues, and I took the train back home. Only a few hours after I was out of that station, it was bombed. I knew that my life had always been in God's hands". 
Nicole Wolf Creates 'Soft, Slow Journalism'
While Wolf didn't go to the Ukraine as an artist, she met so many extraordinary people while she was there that she picked up her sketchbook to draw portraits, scenes, events and write short profiles.
As a commercial artist, Wolf works digitally and in the traditional realm creating murals, magazine and book illustrations, and comics.
She's also a sessional instructor at the Alberta University for the Arts, her alma mater, teaching advanced narrative illustration. And, on her own time — and usually on her own dime — she does what she calls "soft, slow, hand-drawn journalism", which is creating work art made in conflict zones. 
Documenting the Syrian Refugee Crisis
Wolf has been passionately telling the stories of people in conflict zones since 2016. After completing a communications design degree in illustration, she took a year off to backpack through Asia, eastern Europe and north Africa, volunteering with humanitarian and not-for-profit groups along the way.
She wound up in Greece at a Syrian refugee camp and stayed there for three months in 2016, drawing people's portraits and listening to their stories. When she returned to Canada, she put the stories and art together into a book called Drawn Abroad: 16 Countries & 12 Months, which was incorporated into the Calgary Board of Education curriculum.
People have responded positively to Wolf's art and storytelling, thanking her for reporting a side of the story they hadn't seen before. She realized there was an appetite for stories that come directly from people who are experiencing an event, and not necessarily seen through the lens of a legacy media outlet. 
Visiting the Capitol Hill Autonomous Zone in Seattle
In June 2020, Nicole Wolf and Calgary-based freelance journalist Gavin John travelled to the Capitol Hill Autonomous Zone (CHAZ, known previously as the Capitol Hill Organized Protest) in Seattle, Washington, which was established in response to George Floyd's death at the hands of police officers. Their goal was to interview as many protestors, police officers and residents as possible and capture people's experiences in photos, art and words. 
The duo recorded quotes from Raz Simone, described by CNN as the "de facto leader of the autonomous zine". Simone said: "I'm not into cancel culture. I actually do want to hear other people's perspectives. I was raised by my mother to be a peaceful person. She'd always remind me I share a birthday with MLK. When the media started calling me a warlord, I was surprised. I see myself as an advocate and protector. My mother taught me the power of forgiveness."
Wolf drew his portrait while they talked. When they returned to Calgary, they put together a show, Inside the Fall of CHOP, in an outdoor installation that ran for almost six months in front of Calgary City Hall. You can read and view photos and illustrations from the installation online.
Nicole Wolf is Focusing on the Stories of Individual People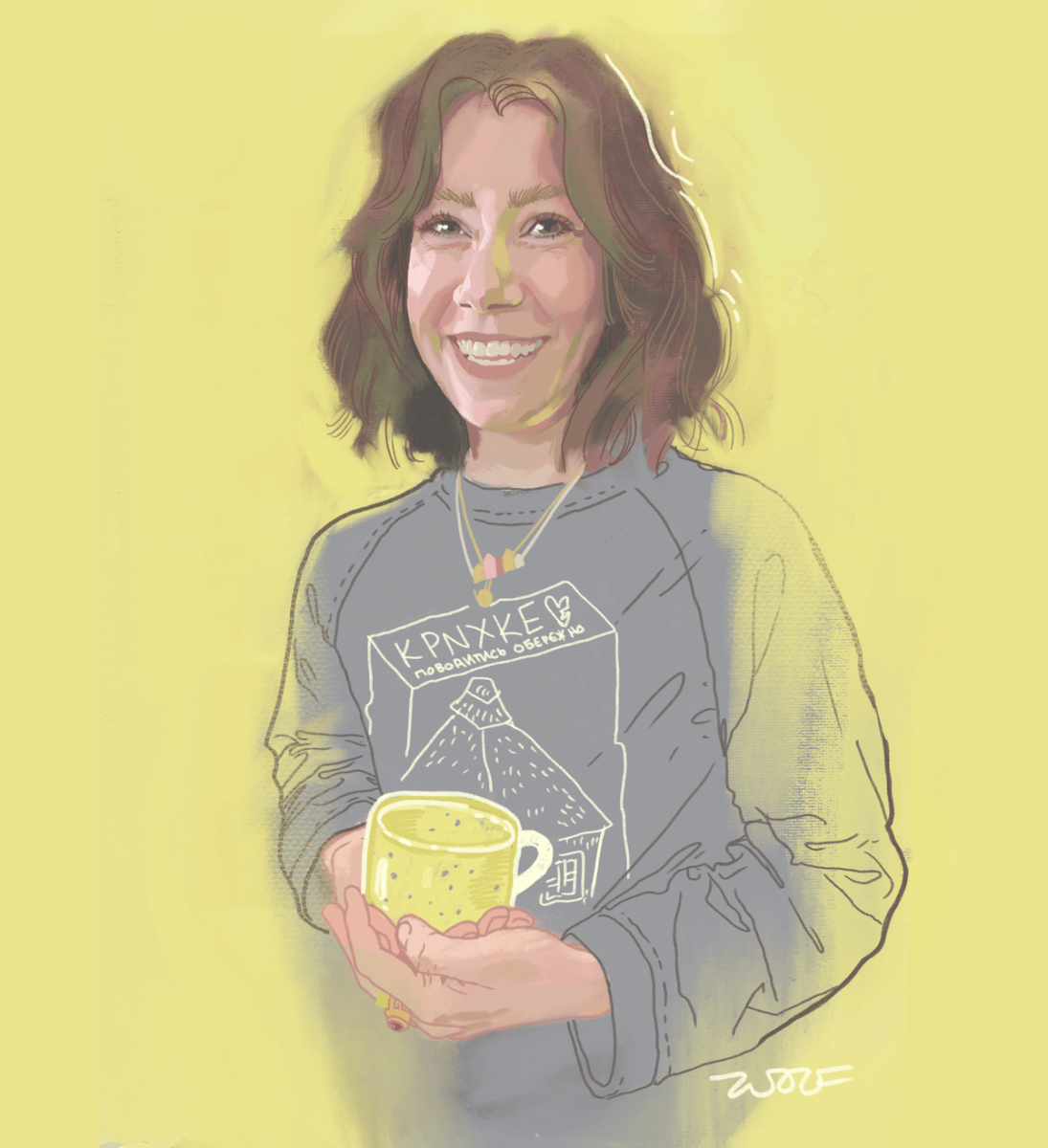 With her work, Wolf wants to share a perspective that you won't get on the news: "When it comes to really big stories, like the invasion of the Ukraine, CHAZ or the Syrian refugee crisis, individual people tend to get lost in the mix. What I'm doing, is zeroing in on that one individual, that one face. I'm trying to help people remember the individual people inside of each story." 
Wolf encourages everyone who is interested in what's going on in the world to look more deeply into news stories and the information they are taking in. Consider who is behind the message and why, and who benefits from the telling of a certain narrative, she suggests. Look for the hope in the world, and for what lifts you up. "I believe there is more good in the world than bad," she says.
Lead image credit: Nicole Wolf is a visual artist and illustrator who tells the stories of individuals living in conflict zones through "soft, slow journalism." Photo courtesy of Nicole Wolf.