Telli Swift is many things. She's an influencer, actress, entrepreneur, public speaker and mother.  
Swift, who is married to heavyweight boxing champion Deontay Wilder, starred in the WAGS Atlanta reality television series in 2018 (WAGS is an acronym for "wives and girlfriends" of high-profile athletes). After appearing on the show, she grew her following to more than 1 million followers on Instagram alone. Swift spoke with toast on how she is using her platform to give back and empower women.  
Telli Swift is Giving Back Through the Boxing Wags Association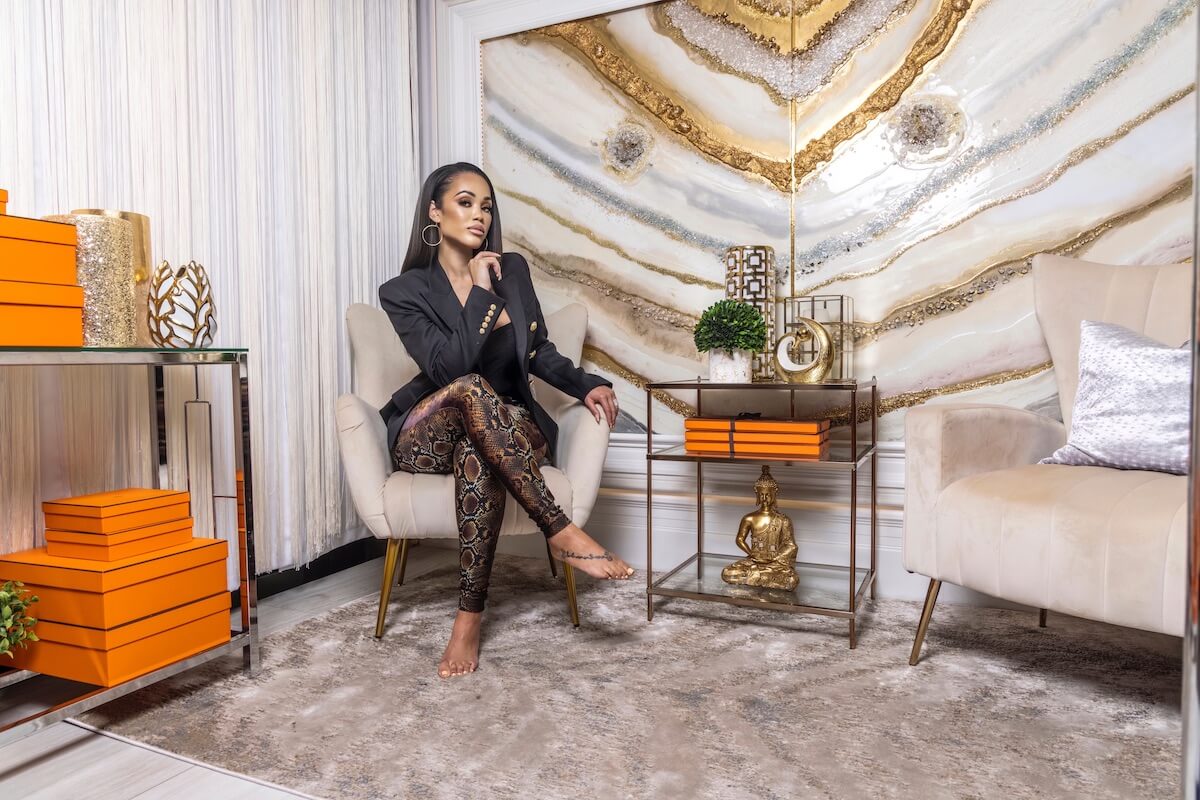 Swift started her career as an ER nurse in Los Angeles, California. After putting a pause on her career to raise a family with Wilder, Swift is now embracing her concept of "fempower" – she's a firm believer that when women empower themselves and each other, incredible things happen.  
In line with this philosophy, Swift founded the Boxing Wags Association (BWA) non-profit, where the wives and girlfriends of boxers come together to support each other and their communities. The organization raises awareness and money for multiple different charities throughout the year. For example, in April 2021, they raised $25,000 for Brighter Future Charity, which supports youth, adults and families within the Autism community.   
Swift is also an entrepreneur who runs multiple ventures. In 2020, she created the Telli Talks podcast, released a limited run of luxury masks (each purchase supported the donation of a mask to frontline workers), and in 2021 she released a unisex fragrance with Wilder.   
Q&A with Telli Swift
We asked Telli Swift about her background, the Boxing Wags Association, the concept of "fempower" and her advice for young women entrepreneurs. 
Tell me about your upbringing and how you got to where you are today?  
My father was in the military and my parents met in the Philippines. My mother had me go into pageantry because it is huge in the Philippines. I was the first biracial Little Miss Philippines at just three years old. I continued to model all of my life. I still model and I am 35 now. 
I have a background in the medical field. I was nursing for some years starting with plastic surgery recovery. I then went into the trauma center in Jersey City.  
I met my better half at the LAX Airport. At the time I was living in New Jersey and he wanted me to go to Alabama so I ended up moving there and that was when I became an entrepreneur – developing jackets and custom masks. 
Tell me about the Boxing Wags Association?  
I attended a WAGS academy and there was an association for the women in the NBA and the women of the NFL but there wasn't one for boxing. I felt like collectively we needed to come together and support each other as well as supporting our men.  
We needed a group to support what we do, also as a spouse, while collectively helping our community with charitable deeds. I started off running a breast cancer event that was near and dear to my heart.  
You are the wife of a boxing champion, a businesswoman and a mother. How do you balance the three?  
I like to say that it is just like Nike – you "just do it." I have a lot going on whether it's modeling, fitness, being a mom, the Boxing Wags Association, or podcasting. You just have to go with the flow and make sure to get everything done. I can't have a regular traditional schedule because things are changing all the time. I just have to go with the punches.  
Do you feel that women can do better to support one another? 
110 percent. This is very essential in the world that we live in because it literally takes a village to do anything – whether that is raising a child, running a business or growing your own personal branding. You can't do it alone, it's impossible.   
You can try to do things alone but in the end you need people and you need help.  
You use the word "fempower". What does this word mean to you?  
I am huge on women empowering themselves and others. "Fempower" is a word that I trademarked and I 110% represent. I am just a female empowerment woman that supports and adores women and what they do for their spouse, for each other and for themselves. As an individual, people like to think that women are weak but we are incredibly strong. We are the ones taking care of the children and cooking and cleaning and just nurturing the household.  
What projects are you currently working on? 
I just developed a drink. It is called Oishii Me, which means "yummy" in Japanese. It is a healthy, nutritional drink made up of turmeric, pineapple, lemon and ginger.  
Is there any advice you'd like to give young female entrepreneurs?  
Believe in yourself because if you don't believe in yourself then nobody else will – this all starts within. Having a mentor is essential, especially in starting a business. If you don't know what you are getting into, have someone that will guide you. Just knowing that you are going to fail at some point because nobody just starts a business and automatically makes a million dollars. Just know that it comes with hardship and it isn't always going to be pretty.  
Lead image credit: Photo of Telli Swift by Dimitry Loiseau.