After a long two years of on-and-off lockdowns, many of us are looking to live life to its fullest once again. Experiences that engage all five of our senses like immersive art exhibits, concerts and performances are back in full force. A new exhibit called Michelangelo's Sistine Chapel: The Exhibition is one immersive experience that will allow you to connect with the world-famous masterpiece in a new way. Find out why you need to see the new Sistine Chapel exhibit.
See a World-Famous Masterpiece from a New Perspective   
Using high-definition photos and a special printing technique, the Sistine Chapel exhibit brings the artwork to life from a never-before-seen perspective.
"This globally successful exhibition is an innovative and unique interpretation of Michelangelo's timeless masterpiece," the exhibit's website reads. "Whether visitors have already been to the Sistine Chapel or not, everyone can admire the artwork up close, at their own pace, and with the ability to capture photographic memories of this iconic work."
What Does the Sistine Chapel Show?
Michelangelo's Sistine Chapel refers to the ceiling of the papal chapel in the Vatican Museum in Rome, Italy. The artist painted the ceiling, which features famous frescoes like The Creation of Adam and The Last Judgement, between the years 1508 and 1512 at the commission of Pope Julius II.
Covering a total of 800 square metres, Michelangelo's masterpiece depicts scenes from the Old and New Testaments of the Bible. In total, the ceiling features 34 frescoes, each one of which is full of striking color, emotion and detail. The Sistine Chapel exhibit will allow you to get a closer look at each of these frescoes.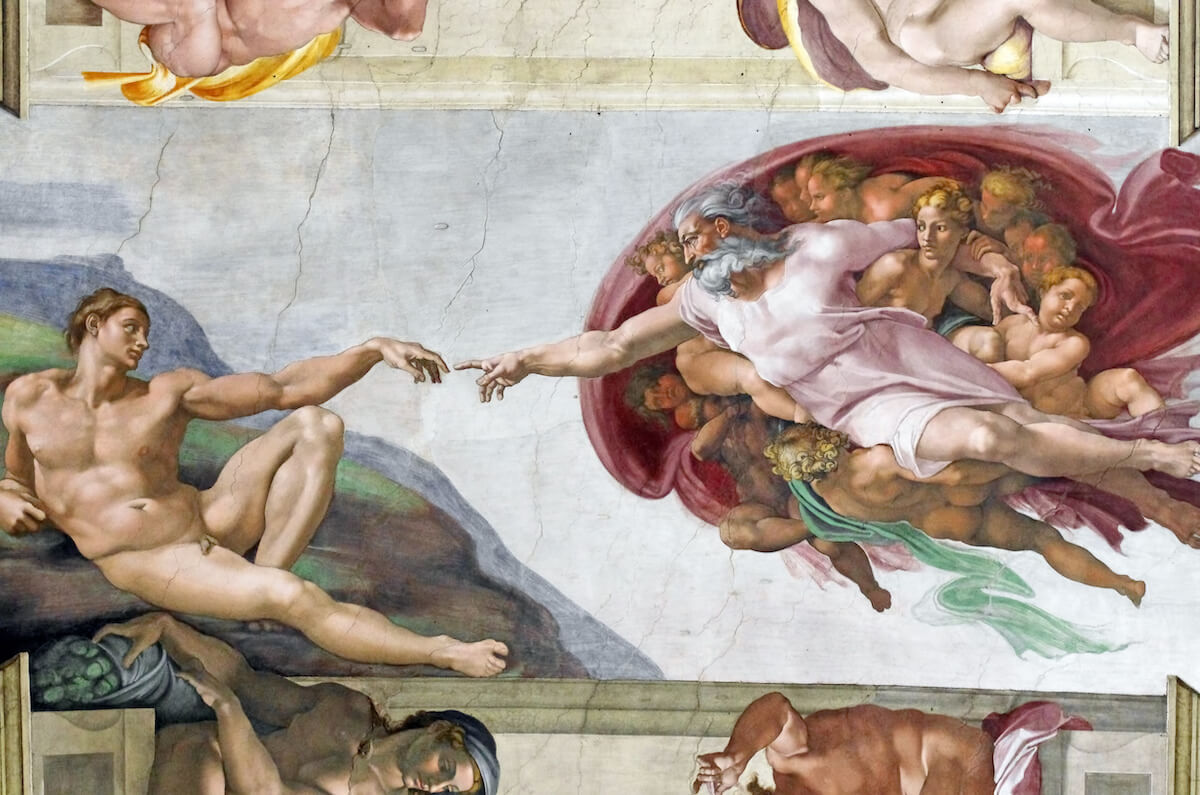 View Art Up-Close and Personal at the Sistine Chapel Exhibit
At the Vatican, visitors can view the masterpiece from a distance of 20 metres, but with the immersive Sistine Chapel exhibit, art lovers have a chance to see it in a whole new light from only metres away.
"Brought to life using a special printing technique that emulates the look and feel of the original paintings, visitors are given a chance to engage with the artwork in ways that were never before possible: seeing every detail, every brushstroke, and every color of the artist's 34 frescoes," the website reads. "Each image is accompanied by informative signage, and audio guides are available to rent for an even more in-depth experience."
How Long Is the Sistine Chapel Exhibit?
In total, the Sistine Chapel exhibit takes about 60 to 90 minutes to view, and photography for social media is allowed. Whether you've seen the ceiling in person or not, you'll be able to gain a fuller understanding of why this masterpiece has gone down in history as one of the greatest works of art of all time.
The Sistine Chapel exhibit will be travelling around 13 select cities in North America like Philadelphia, Dallas, Calgary and more throughout 2022. It will also be hitting Europe, Asia, Australia and Central and South America later this year. Learn more at chapelsistine.com.
Want more art in your life? Here are the best virtual museum tours and art exhibits to check out on your next coffee break.
Lead image credit: The Sistine Chapel ceiling in the Vatican Museum in Rome, Italy, painted by Michelangelo. Photo by Mistervlad via stock.adobe.com.