Nothing compares to the joy of companionship with our furry family members, but sometimes a dog's instinctive behaviours such as foraging and exploring don't fit in well with a home environment. When a dog grabs an item off the counter and it results in something the dog enjoys, such as tasty food, a novel object, or a game of chase, then counter surfing is likely to be repeated in the future. Here are ways to prevent and address your dog's counter surfing.
Train your dog with positive reinforcement to prevent counter surfing
Yelling or using other aversive methods might seem to work immediately, but usually the "fix" is temporary and often the dog will just counter-surf when you are not there or do not have the "training tool" handy. As well, this approach can sometimes make the behaviour worse because some dogs crave attention, even negative attention.
A far better approach to preventing and addressing counter surfing involves 1) preventing the counter surfing from being rehearsed; 2) providing opportunities for the dog to express these behaviours in appropriate ways; and 3) training the dog with positive reinforcement so you can redirect the dog to what you would like the dog to do instead.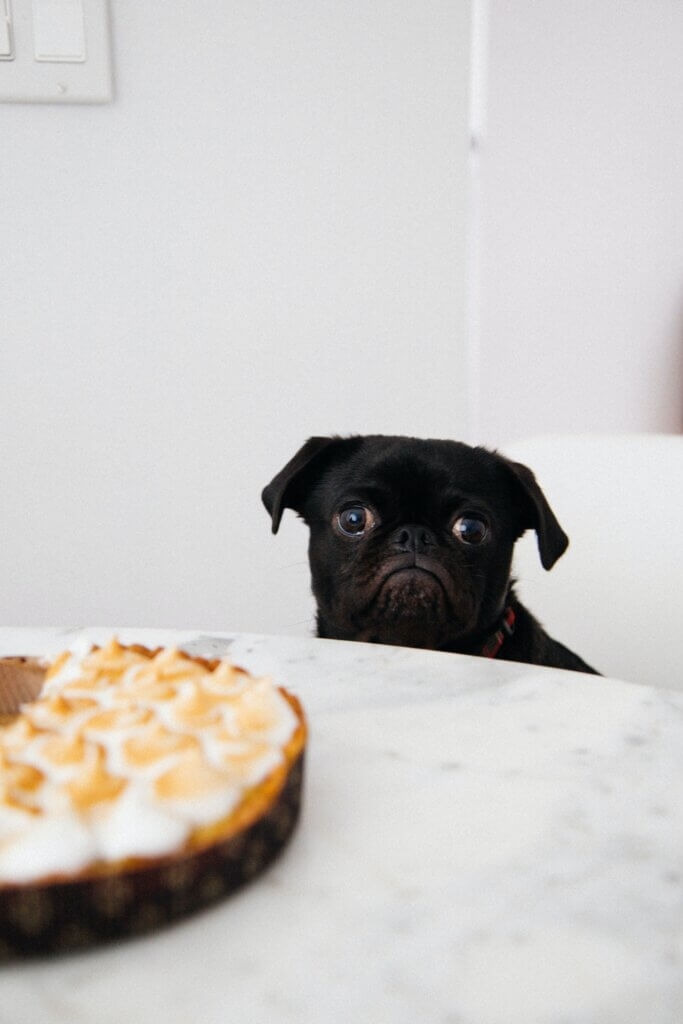 Prevent your dog from being able to access anything on a countertop
An essential step to addressing counter surfing is preventing the dog from "winning" anything off the counter. Sometimes a dog only needs to win once for this behaviour to become persistent. Dogs tend to be gamblers: if they win occasionally, this behaviour can become extremely persistent, so you must be diligent in your efforts to prevent your dog from accessing anything on a countertop. When counter surfing no longer results any reinforcement to the dog, the behaviour will eventually disappear over time.
To prevent counter surfing, provide other outlets for your dog's need to forage and explore
It's also important to provide an appropriate outlet for a dog's instinctive need to forage and explore, otherwise a countertop will become irresistible. For example, if your dog tends to sniff around kitchen counters even if there isn't anything drawing his/her attention there, you could place food on the floor under the counters, replenishing it when your dog is not watching you. Your dog will learn that sniffing the floor area sometimes pays off while sniffing the counter top doesn't. The floor will become the "lucky slot machine" your dog will choose instead of the countertop.
Train your dog in other behaviours, like relaxing on a mat
And finally, why not train alternate behaviours to counter surfing? For example, if the dog is at risk of grabbing something from the counter during food preparation, teach him/her to relax on a mat.
In short, addressing counter surfing involves setting your dog up to succeed and teaching your dog what you want him/her to do instead. Contact me for more information on how you can use kindness, clear communication, and an understanding of the science of learning to help raise a happy, well-mannered dog.
And now that you've stopped the counter surfing, why not celebrate with a Doggie Birthday Party?