The 21Treats Instagram page is filled with squares upon squares of cookies of every shape and design imaginable. The cookies are hand-painted with everything from zoo animals, to pop culture icons like Chewbacca, and even golden snitches from Harry Potter.  
The cookie company started as a way for Miranda Klinger to offer her 11-year-old daughter, Kendal, work experience.
Job Opportunities Limited for People With Disabilities
Miranda has a background in supported employment, which helps people with disabilities find meaningful work. She says that many employers don't provide extra support or aid, which means job opportunities are difficult to come by for people with disabilities.
You might think it's easy for teenagers to get a part-time job, but Miranda saw firsthand through her work how difficult it was for her clients to find opportunities in their teens and early twenties.
"I realized that I even took for granted my experience as a young woman seeking work," Miranda says.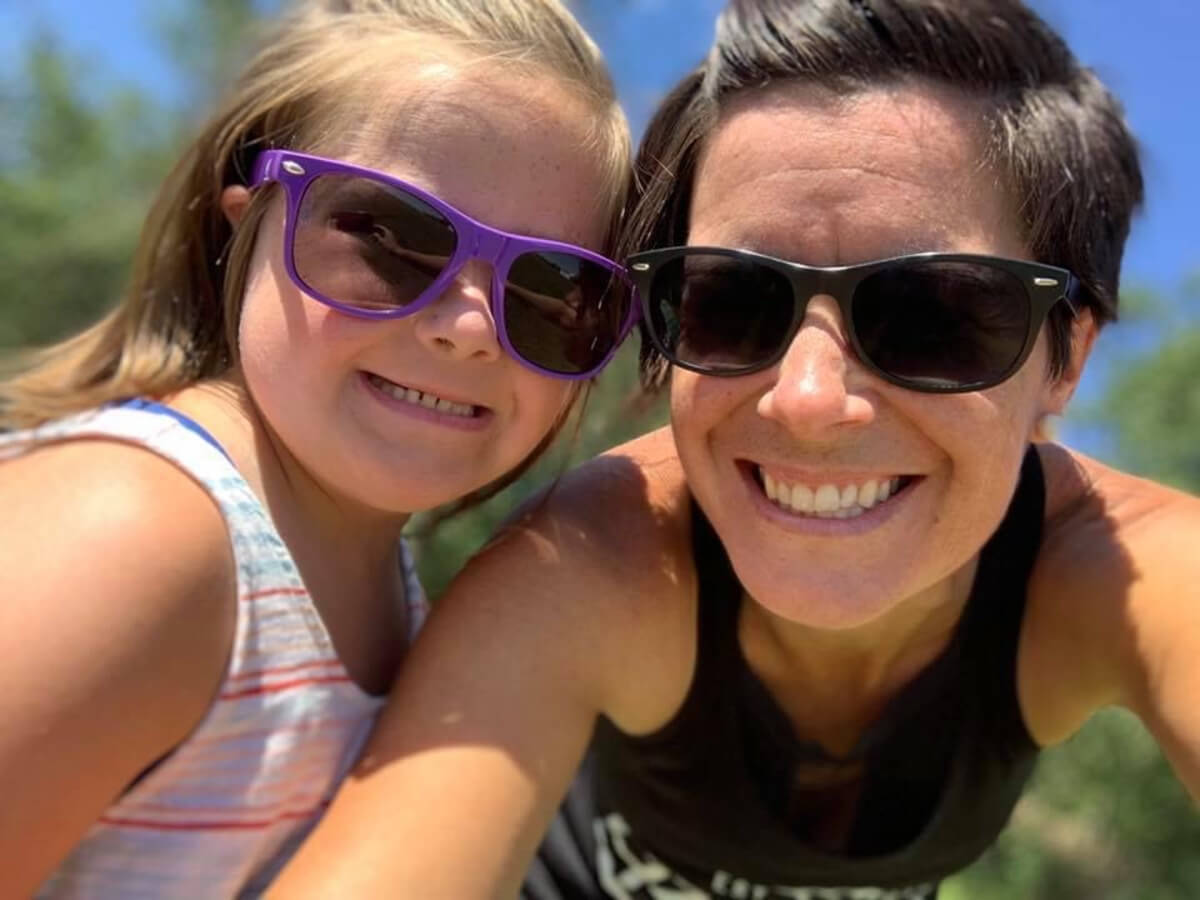 Founder Started 21Treats to 'Do Better for Our Daughter'
Miranda wanted to give Kendal, who has Down syndrome, an opportunity to build life skills and gain job experience as she grows into adulthood.
"It really fueled a fire within me that we needed to do better for our daughter," Miranda says. "While she was only 10 years old at the time, I knew that it was a conversation we needed to start now if we wanted to set her up for success as a young adult trying to find a career that she loves. Baking was an easy place to start since she has always been interested in being in the kitchen — helping to cook family meals, bake alongside me."
With that idea in mind, Miranda and Kendal started 21Treats in 2019. Their Bakerias page describes how the company was named as an homage to Kendal's 21st chromosome. When they started the company, the mother-daughter duo figured they would mostly be baking for family and friends, maybe a few pop-ups at local markets. But the business has grown so much, that when Miranda's contract renewal came up recently for her job, she parted ways to focus on 21Treats full-time.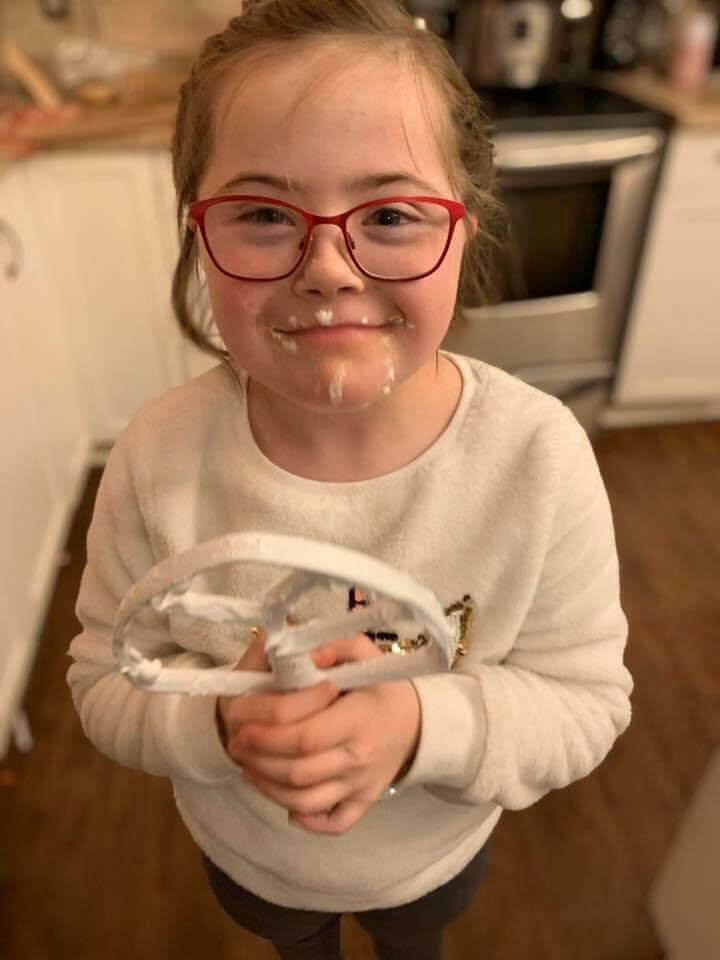 How 11-Year-Old Kendal Builds Skills Through 21Treats 
Miranda admitted that in the beginning, she wasn't entirely sure how well the endeavor would capture Kendal's attention in a way that would honor her voice, drive and direction for the business. However, she says her daughter has surprised her from the get-go.
"She's really taken the lead in the areas she's interested in — and truly surprised me along the way," Miranda says. "She has zero interest in the decorating process. She's taken a real interest in the 'back office' portion of the business: invoicing, processing payments, etc.  which has been a great pivot to build in some life skills that she'll be able to use as an adult in so many capacities."
Growing Alongside the Company
Miranda's favorite part of the process has been seeing the way Kendal has grown, and how happy her daughter is when they share their cookies or hear compliments from customers.
"Seeing Kendal's joy and pride in sharing our work with the community solidifies that we made the right decision and that we're building something here that will benefit her for the rest of her life," Miranda says. "Love seeing our work out in the community — being tagged in posts, hearing stories about our sweets being included in life events and moments. It's surreal to know that people are trusting us to make their special events a little sweeter."
Kendal says her favorite part of the business is the money she receives from each order the duo puts out, which makes her mother laugh: "No surprise there!" Kendal splits her share between savings and spending cash.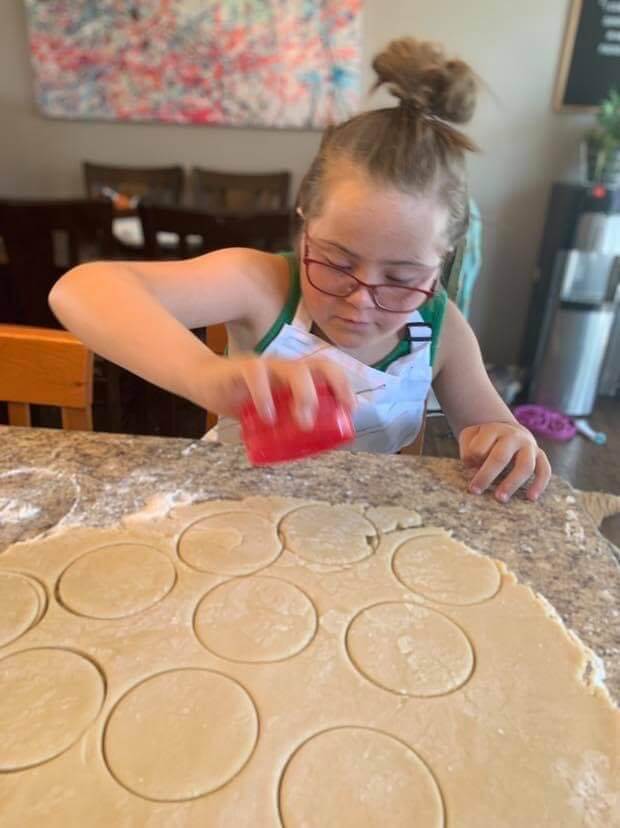 People With Disabilities Have a Right to Find a Job They Love
Both Kendal and Miranda say they've learned a lot through the whole process. For Kendal, she's picked up everything from operational things like the point-of-sale system and how to create invoices for orders to the baking side: mixing icing colors, measuring ingredients and the finer details of food safety. For Miranda, watching Kendal learn all those skills has taught her that her daughter is "smarter and more capable than I (or most other people) ever give her credit for."
This extends to what Miranda hopes other people will take away from their business and into their interactions with people with disabilities.
"Down syndrome is a small part of Kendal; it certainly does not define her," Miranda says. "She has the same right as anyone else to find a job she loves, even if it ends up not being baking — to live independently, to get a cat, go to movies, go to university, earn a competitive wage and spend her money where she wants."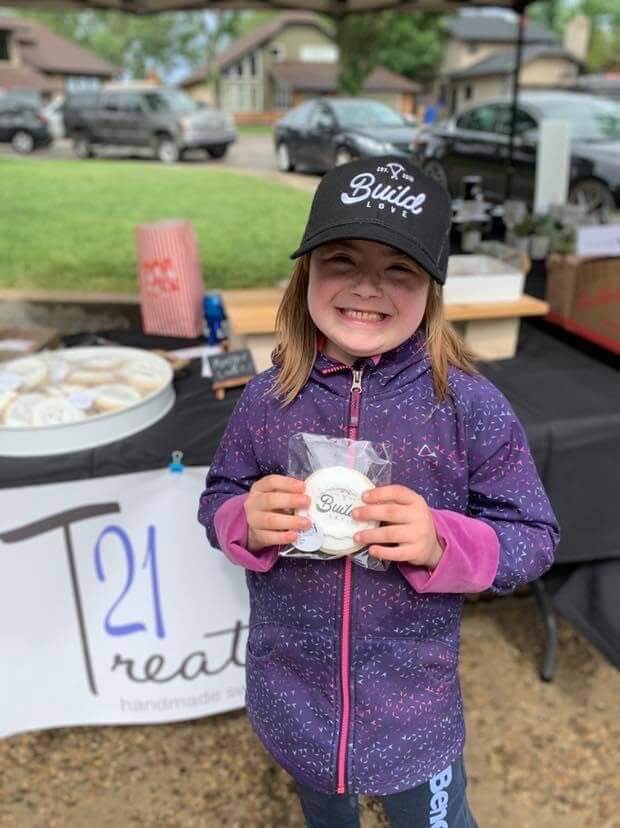 21Treats Hopes to See Change in the Community
Miranda hopes the rest of the Regina and Saskatchewan community, which have supported 21Treats unwaveringly over the last year, will not only take this truth to heart but act on it in the community at large.
"I hope that local businesses see the skill, passion, and drive that someone with different abilities can bring to their workplace and are willing to explore hiring them," she says. "I hope that by building skills for Kendal, it opens up doors for her in the future… or for people like her in the community."
For people interested in supporting and getting cookies from 21Treats, the wait time is currently booked roughly 4-6 weeks in advance (though they have other local bakers they recommend if they can't accommodate). You can send an email to 21treatsyqr@gmail.com, visit them on Instagram and Facebook, and Miranda added that an online ordering system is in the works.
Lead image: Kendal Clinger proudly shows off a variety of baking from 21Treats | Photo credit 21Treats