Dolly Parton is a country music star, an actress, a songwriter, a businesswoman who owns Dollywood theme park — we could go on and on, but you get it — she's a living legend. Parton's legacy is more than country music (100 million records sold and counting), more than songwriting (she's penned 3,000 tracks, including mega-hits 9 to 5, Jolene and I Will Always Love You), more than acting in iconic films (Steel Magnolias, 9 to 5), more than providing employment to 4,000 people in her home county by opening Dollywood theme park nearby — it's also ensuring millions of preschool children have the opportunity to foster a love of learning and reading.
For more than 25 years, the star and her team have been working to ensure children have books at home through Dolly Parton's Imagination Library. 
How Dolly Parton Transformed the Lives of People in Her Hometown
Parton was born in a small town in Sevier County, Tennessee. Along every step of the way, Parton never forgot where she came from. In 1986, she became involved in a local theme park in Sevier County, reopening it as Dollywood. She invested in it because she wanted to bring jobs to "her people." The theme park has about 4,000 people on its payroll, which makes it the largest employer in the area. But she didn't want to stop there. She wanted to help everyone in the area, adults and children alike.
"With the successful launch of Dollywood in 1986, Dolly's attention quickly turned to working with the management of the park to identify ways to better serve the children of Sevier County," reads a press release from 1988. "Although for many years she provided money to help the Sevier County High School band with scholarships, she wanted to do even more for the kids in her hometown."
That year The Dollywood Foundation was created. At first, they provided scholarships and financial incentives for seniors at the local high school to boost graduation rates. Their programs were a success — they saw the county's dropout rates fall from over 30 percent to six percent — and that inspired them to dream bigger. As described in the documentary The Library That Dolly Built, Parton asked herself, what's the most impactful thing we could do to improve the lives of children in the county?
And that's when Dolly Parton's Imagination Library was born, the flagship program of The Dollywood Foundation.  
Dolly Parton's Book Gifting Program Began in Her Home County
Parton was inspired by her father, a farmer who didn't know how to read or write. In her hometown, illiteracy was common because kids had to leave school to work on the farm.  
"Before he passed away, my Daddy told me the Imagination Library was probably the most important thing I had ever done,"  Parton said in a statement. "I can't tell you how much that meant to me because I created the Imagination Library as a tribute to my Daddy. He was the smartest man I have ever known but I know in my heart his inability to read probably kept him from fulfilling all of his dreams."   
Parton wanted to foster a love of reading among the county's preschool children and their families. She also wanted kids to have books in their home, regardless of their family's income. In 1995, they implemented Dolly Parton's Imagination Library for children in Sevier County with an order of 1,760 books.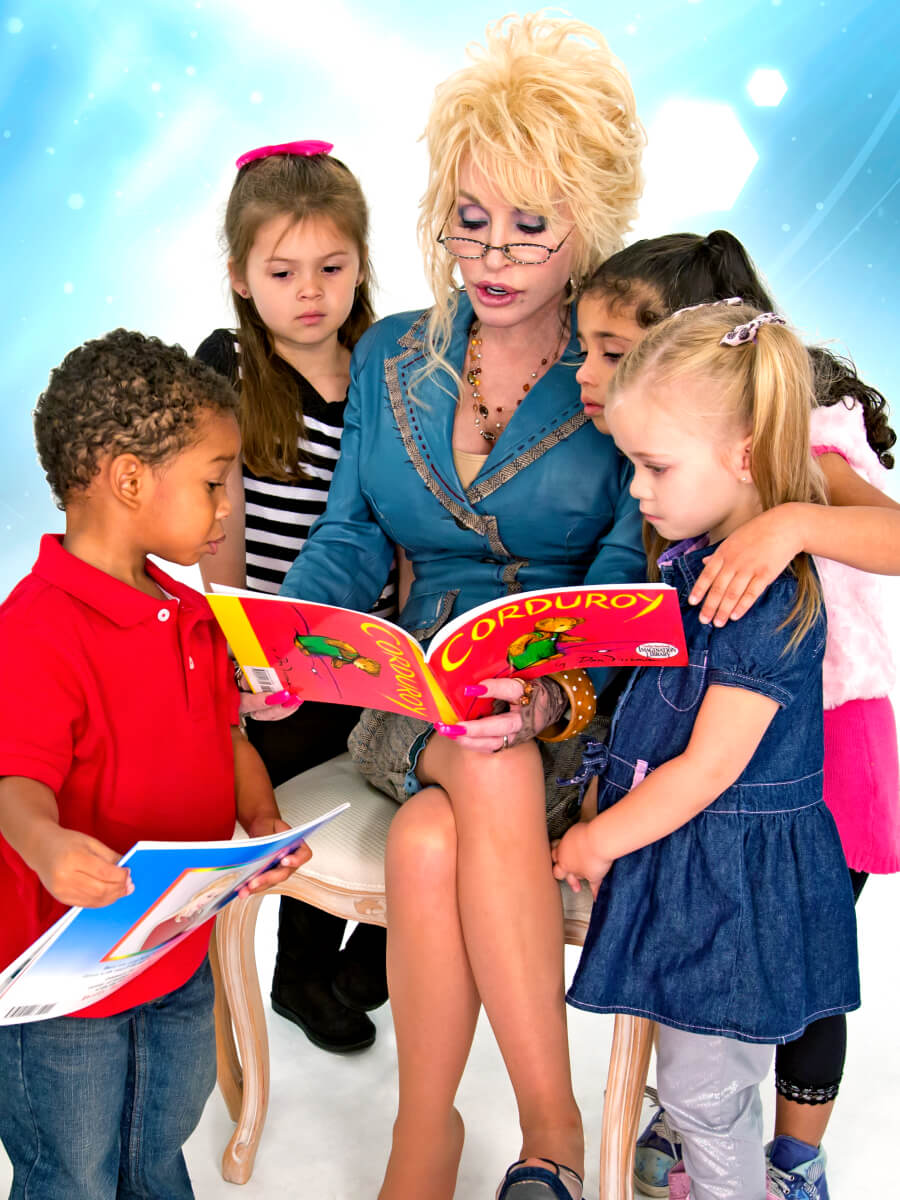 How the Imagination Library Expanded Beyond Parton's Hometown
Every month, children under five in Sevier County received a brand-new, age-appropriate book from Dolly Parton's Imagination Library. By the time they "graduated" the program and entered kindergarten, they collected up to 60 books. The first book they received was The Little Engine That Could, which had a lasting impact on Parton.
"My memories take me way back to a little cabin in East Tennessee," Parton said in a statement. "This was not a place where dreams easily came true. Too often, there was talk about all of the things we couldn't do rather than all of the things we could do. On many occasions, when my dream seemed far away, my Mama would tell me the story of the Little Engine to comfort and encourage me. While I listened to her, I would close my eyes and think of myself as the Little Engine and just start saying over and over again, 'I think I can. I think I can. I think I can.' It gave me strength, it gave me hope, and it gave me the courage to keep chasing my dreams."
The program had a significant impact in Sevier County and other places that wanted to provide Dolly Parton's Imagination Library to children in their community. By 2000, the program began to expand beyond the county.
Parton, ever the savvy businesswoman, secured a deal with Penguin Group USA as the sole publisher of Imagination Library books, giving them the ability to replicate the program throughout the United States. Thanks to public policy initiatives and word-of-mouth, new communities quickly joined the program to bring a love of reading to kids in their area.
The Little Program That Could
In 2001, they expanded their program to 27 affiliates operating in 11 states. In 2003, they reached a significant milestone: they mailed their millionth free book. In 2005, the Governor of Tennessee pledged to provide the program to every child under five across the entire state. In 2006, they expanded to Canada; in 2007 they were in the United Kingdom; in 2013 they were in Australia.
"We just started this in my home county here in Sevier County. We thought, 'Maybe, if we're lucky, it might go a couple of counties over,'" Parton said in the documentary The Library That Dolly Built.
Children's Books Also Available in Braille and Audio Format
In 2011, they expanded Dolly Parton's Imagination Library by partnering with the American Printing House for the Blind, Inc. (APH) to provide blind and visually impaired children with accessible books.
Through this initiative, many of the books in the program are available in braille and audio format. They're offered free of charge to eligible families and may be purchased at a low cost by others. 
One of the Largest Literacy Programs in the World
By the time they were ready to expand to other communities, they had developed a system where they could deliver books anywhere. To make the program work, they rely on a local "champion" in each area, which brings the program to cities, towns and communities around the world. The idea is that anyone can start a program in their community.
The "local champion" is responsible for promotion, enrolling children and fundraising to cover book and mailing costs. The Imagination Library becomes a partner who covers administrative expenses and manages the database for the book order system. They also coordinate monthly mailings, book selections and wholesale purchasing.   
That program that began in a small county in Tennessee is now one of the largest literacy programs in the world. In The Library That Dolly Built, they state that the only companies buying more books than Dolly Parton's Imagination Library are mega corporations like Wal-Mart. Dolly Parton is officially known as the "book lady" by children in five countries, "a fairy godmother magically delivering books to children all over the world."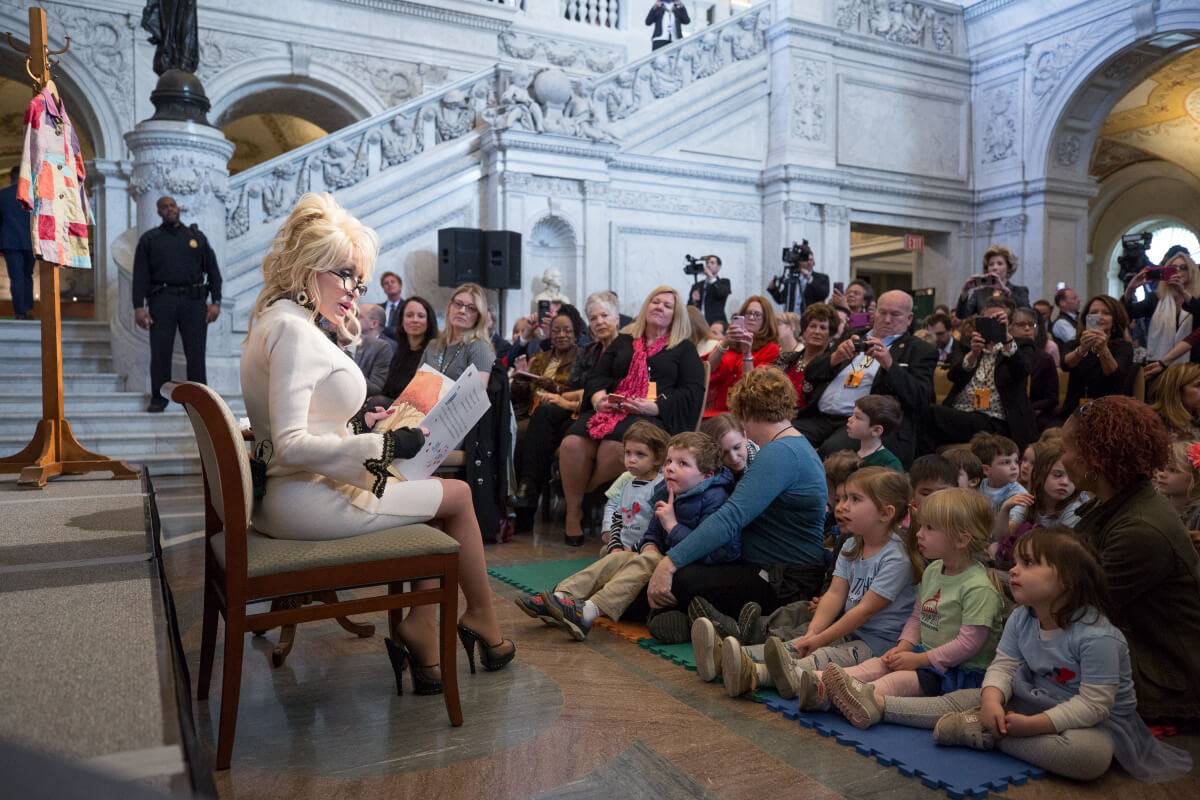 Dolly Parton is Gifting Millions of Books Each Year
In May, Dolly Parton's Imagination Library gifted over 1,841,961 books to children. The total number of free books gifted as of May 2021, is 159,623,797.
"Inspiring kids to love to read became my mission. In the beginning, my hope was simply to inspire the children in my home county but here we are today with a worldwide program that gives a book a month to well over 1 million children," Parton said in a statement. "Of course, I have not done this alone. The real heroes of our story are the thousands of local organizations who have embraced my dream and made it their own. They raise millions of dollars each year and wake up every day with a passion to make sure their kids have every opportunity to succeed."
The Impact of Gifting Books to Kids
Like Dolly Parton said, the program isn't possible without the people on the ground who make this dream a reality for thousands of children. One of the partners of the Imagination Library is the Calgary Public Library (CPL). They approached CPL in 2019 on running a pilot program. In the time it took to set up the pilot, the pandemic hit, and there was a greater need than ever for a book gifting program. They called the program My First Bookshelf.
The Calgary Public Library Foundation states that many kids don't have books at home as families face barriers to access to libraries, like transportation, digital access at home or English as a second language, and the pandemic made access even more challenging.
"At the height of the pandemic, we thought there couldn't be a better time to launch this program," says Tracy Johnson, CEO for the Calgary Public Library Foundation. "It was just so important with kids being out of schools in particular and out of daycares and parents being stretched in ways that they haven't been, that this could really help a lot of children be prepared for school when they do enter." 
Having Access to Books Increases Academic Success 
According to the Calgary Public Library Foundation, having access to books in the home increases a child's academic success, vocabulary development and attention, and programs like My First Bookshelf are uniquely positioned to reach kids and inspire a love of reading. 
"This is so important because it was about removing barriers to access," Johnson says. "There were children, particularly with the libraries being closed, that didn't have books at home. And so this was a moment for us to help bridge that gap. There's lots of research and studies about it that show even having 20 books in a home makes a complete difference to literacy rates in children. And so this is allowing us to do that so early and bridge that connection into lifelong learning and reading at the library."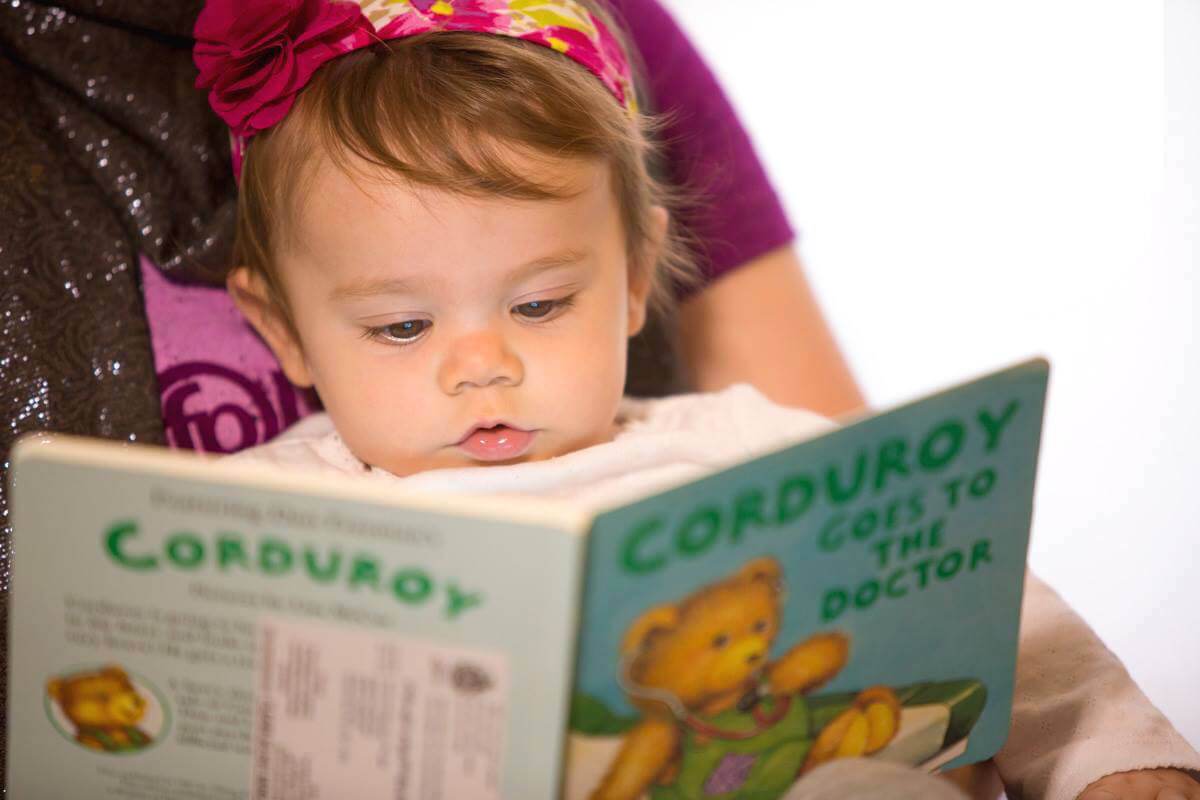 '90% of a Child's Brain Development Happens Before the Age of 5'
"I think it really has the opportunity to drastically change these children's lives, right from the early onset," Johnson says. "They say that 90% of a child's brain development happens before the age of five. And yet they're not in schools until then. So this is such a critical age to be making sure that that reading is a part of their daily routine."
The pilot program reaches 2,000 kids in Calgary and will run for a year until fall 2021. The Calgary Public Library Foundation's goal is to reach every child in Calgary — about 90,000 kids under the age of five.
Reading With Kids is a Bonding Opportunity 
Divya Bhatia is one of the participants in My First Bookshelf who enrolled her son in June 2021.
"I am myself a book lover so when my son was born in 2019, I was already collecting books to read to him and eventually when I heard about this program, I was thrilled to get my son enrolled as it was such a great program for small kids," she says.
Going through the books together is a joyful bonding moment for Bhatia and her 20-month-old son. "He loves to see different pictures in the book as books are so colorful and attractive," she says.
Bhatia believes that programs like this are critical in supporting child development: "I think it's very important to read together with kids and families, as it helps to bond with each other and is a great way to spend time together, and also it's way better than watching screens together because of so many side effects."
Dolly Parton Leaves a Lasting Legacy
Once children like Bhatia's son graduate from Dolly Parton's Imagination Library, they're invited to sign up for a library card. It's a way to encourage kids to continue reading, learning and using their imaginations. 
Through this program, Dolly Parton is truly the patron saint of children's literacy, fostering a love of reading and learning in kids, which is something they will carry with them their whole lives.
Does Dolly Parton Have Children?
The icon often gets asked why she didn't have children. In a guest appearance on Oprah Winfrey's talk show The Oprah Conversation, Parton said: "I didn't have children because I believed that God didn't mean for me to have kids so everybody's kids could be mine, so I could do things like Imagination Library because if I hadn't had the freedom to work, I wouldn't have done all the things I've done. I wouldn't be in a position to do all of the things I'm doing now."
As Parton said herself in The Library That Dolly Built: "If you're lucky and fortunate enough to be in a position to help, you should help."  
Cheers to inspiring people like Dolly Parton making the world a better place 🥂!
Lead image: Dolly Parton reads to children at the Library of Congress | Photo courtesy Dolly Parton's Imagination Library.