Last updated: April 4th, 2022. Amidst the hustle and bustle of downtown Toronto, there exists a magical thread of British-inspired tea rooms perfect for enjoying the classic afternoon tea. Ah, afternoon tea. That special time between lunch and dinner brimming with scones, perfectly sliced sandwiches, sweets and, yes, tea. Lots of tea. Whether for a monumental celebration, a Sunday break with friends, date night, or a Tuesday afternoon away from it all, in all truth, there is no perfect reason to attend one of the high tea restaurants in Toronto; you are the reason.
Where to enjoy high tea restaurants in Toronto  
We're spilling the tea with a mini-guide on afternoon tea restaurants in Toronto for you to peruse and attend at your leisure.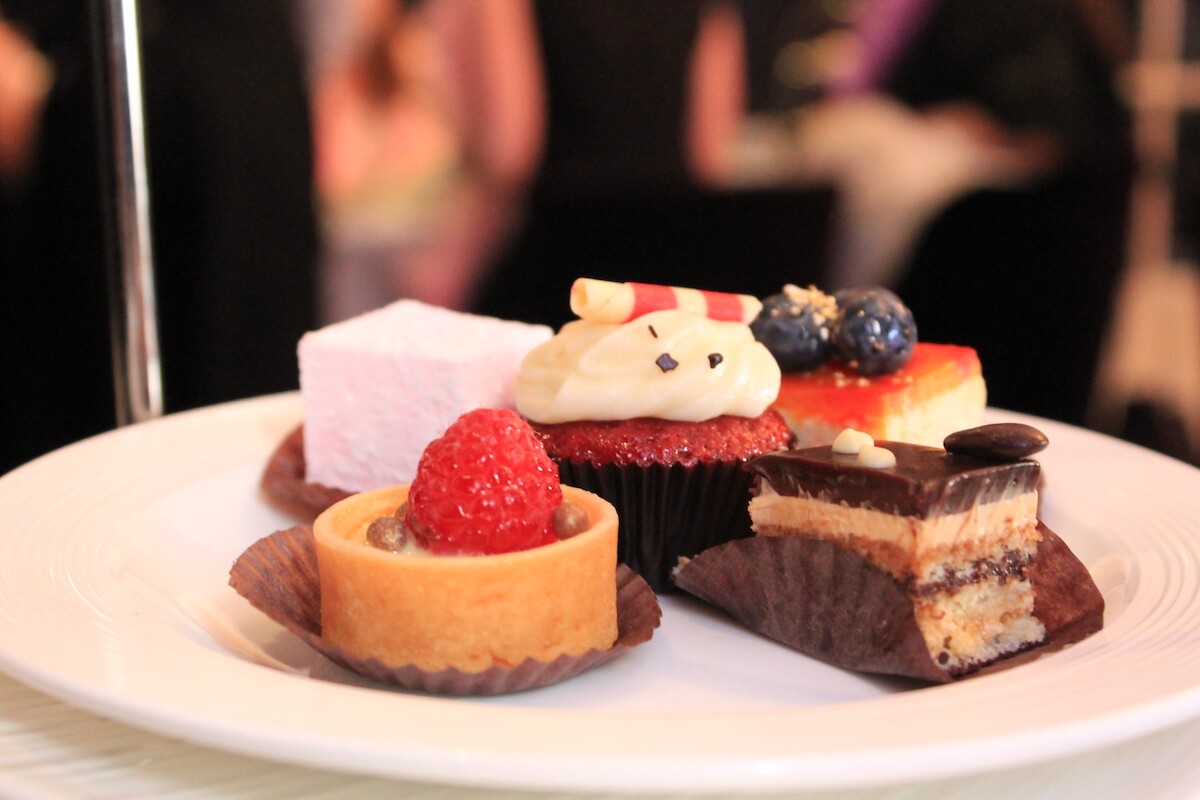 The Ritz-Carlton
The Ritz-Carlton offers a five-star twist on a British classic. Step off Wellington Street West and into one of Toronto's most luxurious hotels for an equally luxurious gastronomic experience. Indulge in treats beautifully arranged on minimalistic-tiered designs, from freshly prepared sandwiches, like the smoked salmon croissant, to beautifully crafted tarts and macarons for a sweet finish. Don't forget the tea! Featuring Sloane Fine Tea Merchants, choose your brew from an exquisitely curated box of some of Sloane's finest (P.S. the Cream Tea is a good choice)
Go for: The Nutcracker Tea, a Christmas Day tradition featuring Father Christmas and his elves, is not to be missed when the season is upon you!
The Windsor Arms
For nearly a century, the Windsor Arms Hotel in Yorkville has served up the luxurious tradition of afternoon tea. From esteemed guests like Queen Elizabeth II and Elizabeth Taylor, the Windsor Arms has been in the central orbit of true tea connoisseurs – crown or invisible crown – alike. Can we blame either Liz? The plush hotel offers three tea rooms, each with its own decorative theme. From the cloud-like, tasty scones and perfectly sweetened preserves to a variety of tea sandwiches like the classic cucumber and delicately iced petit-fours, you'll be leaving the historic hotel feeling like royalty. On their website, they state, "Since 1927, Afternoon Tea at the Windsor Arms has been the paramount destination for discerning guests in pursuit of the perfectly indulgent, delectably elegant, and distinctly luxurious high tea experience", making this the ideal Toronto afternoon tea experience.
Go for: The homemade scones (dare we say as good as their counterparts across the pond!)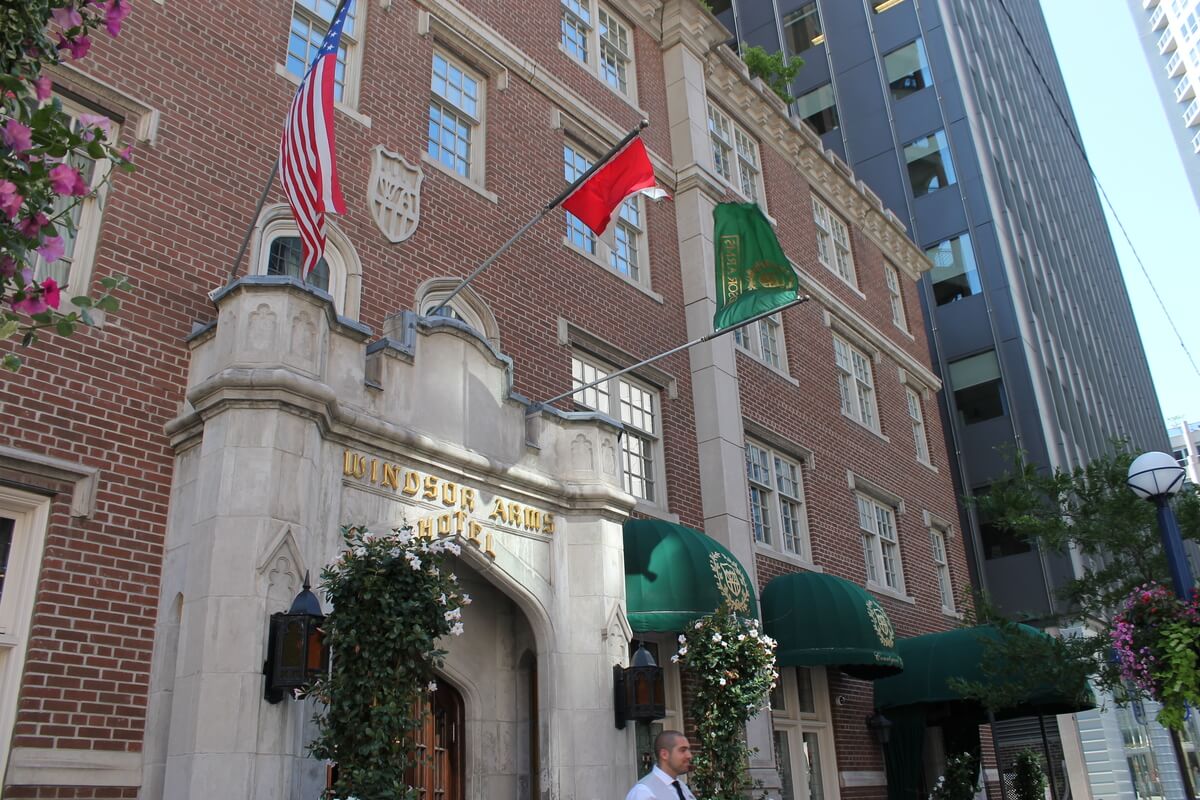 The Omni King Edward
The Omni King Edward, or King Eddie for those on a more intimate basis, boasts a more classic high tea experience designed for the purists. Located in the elegant Victoria Café, enjoy a relaxing afternoon over a selection of savoury finger sandwiches like the curried chicken Waldorf and delicate pastries like the blood orange posset. Their cream and cranberry-studded scones come with house-made strawberry jam and lemon curd – making for a truly British experience. For the Kings and Queens out there, make it a "Royal Tea" with a glass of Moët & Chandon Brut Imperial — we won't judge!
Go for: The circular tables, perfect for group celebrations all-year (and which also provide easy access to all the treats on the table).
The Library Bar at Fairmont Royal York
With the flavour of turn-of-the-century speakeasies and the elegance of libraries found in aristocratic estates across the British countryside, high tea at the Fairmont's Library Bar restaurant is not to be missed. Surrounded by rich mahogany walls and columns, as well as beautifully upholstered sofas and chairs of a past era, you'll lounge in style while you enjoy a selection of 12 teas, finger sandwiches, petit scones ( perfect for dainty bites) and even daintier cakes and tartlets, like the classic lemon meringue or swan cream puff.
Go for: The ambiance. Spend a few hours back in time thanks to the unbeatable architecture and decor.
The above four picks are the perfect locations to plan for a lovely afternoon tea for yourself or your ideal date night in Toronto. Locations mentioned in the article:
UPDATE: Thanks to this helpful Reddit thread, we learned that even though "high tea" and "afternoon tea" are often used interchangeably in Toronto and throughout North America, they're not the same thing. While high tea is technically an evening meal taken between 5 and 7 pm, afternoon tea is typically a lighter meal eaten between 3:30 and 5 pm, which originated among the English upper classes in the mid-1800s. Whether high tea restaurants in Toronto or afternoon tea brought you to us, we hope you find what you're looking for!
You might also like: