While taking an Indigenous Studies course at Mount Royal University, Alexandra Daignault was challenged by the professor to bring resistance into her everyday experience. That challenge planted the seed that would become Sarjesa, a women-owned and operated tea company with a mission of ending violence against women everywhere.
Daignault is a self-identified Indo-Caribbean woman based in Calgary, who was raised by her mother and grandmother. Growing up, she witnessed domestic violence, which imprinted in her a deep desire to support women in crisis.   
"I had been learning about missing and murdered indigenous women, girls and two-spirit people, and the thing that shocked me was that so much of it is very similar to the domestic violence issues we face in the Indo-Caribbean community, especially towards women," Daignault says.
She started thinking about how domestic violence is prevalent in most communities around the world, largely due to colonialism, but it's still very "hush hush" and very few people talk about it openly. How could she bring people together to have this important conversation? The answer was tea. 
Bringing People Together Over Tea
"All cultures have tea," she says. "And it's a different conversation than coffee. It brings people together. It slows people down."
Daignault looked to her own community's history: Indo-Caribbeans are descended from Indian indentured laborers who were brought on ships to Trinidad to work in the sugarcane fields. They brought bundles of herbs and plants with them, which deeply impacted the landscape in Trinidad. This made her think: why couldn't she buy tea grown in Canada at her grocery store?   
It was her lightbulb moment: "I was like, well, what if we brought the best ingredients from all over the world, plus the best-grown ingredients in Canada, together to make these products, would it not be these teas, these ingredients, standing in solidarity with each other?"  
Sarjesa Tea Raises Awareness of Violence Against Indigenous Women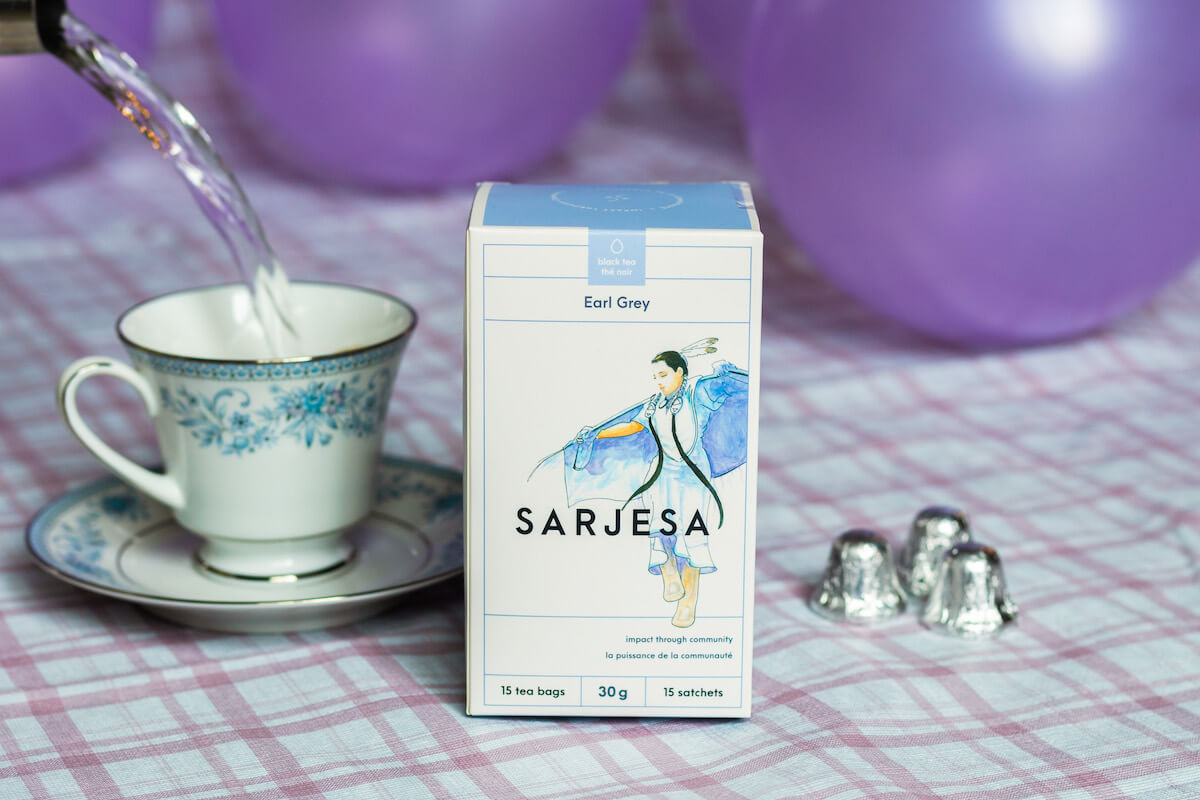 Over the next few years, after multiple conversations with Elders and community members, that seed of an idea blossomed into Sarjesa, a tea company with three big focuses: utilizing Canadian ingredients; raising awareness of missing and murdered Indigenous women, girls, and two spirit people; and donating part of their proceeds to Calgary's Awo Taan Healing Lodge Society, an emergency shelter guided by Aboriginal traditional teachings.
In December 2017, Daignault officially launched the Sarjesa brand with a full product line. Their packaging includes work by Indigenous artists, who were asked to represent women from their own communities in the art.
Daignault describes how entrepreneurship has been a wild ride. The business started with Daignault hand-stitching together the tea bags filled with locally grown ingredients, and this year they've been able to take over the second floor of their tea factory. She says they've experienced plenty of growing pains along the way, like having 3,000 pounds of chamomile tea delivered to the wrong apartment by mistake.
"There are all these high moments, and then there's the, 'Oh, I'm still learning' type of moments," she says. "I'm proud of the whole thing. I don't think anybody expected me, with the social positionality that I have, to become a CEO at 23 and build a mega tea company. And I know it's probably not a mega tea company, but to me it feels like a mega tea company."
Having a Bigger Impact
As the business grows and evolves, Daignault is always wondering: how could Sarjesa have a bigger impact?
"You can have the most impactful women's shelter leading the most phenomenal programs and it's not going to solve domestic violence," she says. "I started to think quite deeply about women's economic empowerment and how we build that into our supply chain. Not just by hiring people to bag tea –  because I don't think that builds people's capacity – but really working with the farmers that we work with, the growers, to embed that sort of post-colonial thinking into our work and really centering, how can we work with women farmers, to create better quality products?"
She says Sarjesa is shifting to working with farms that have women in leadership roles or invest in women in their community. In the future, they also want to hire women who are transitioning from family violence shelters.
"I want the tea to transform the world for women," Daignault says. "I want people to experience the type of economic empowerment that I've experienced by learning to run this business."
Sarjesa has a team of six, and they have an all-women production team, which Daignault says happened completely by accident: "I'm a mixed-race person. And I'm quite open; quite liberal. I guess when you are weird, you attract other weird people and suddenly you have a diverse team because you're celebrating everybody's weirdness and the value that different perspectives bring to your work."
Making Sarjesa Tea Accessible to All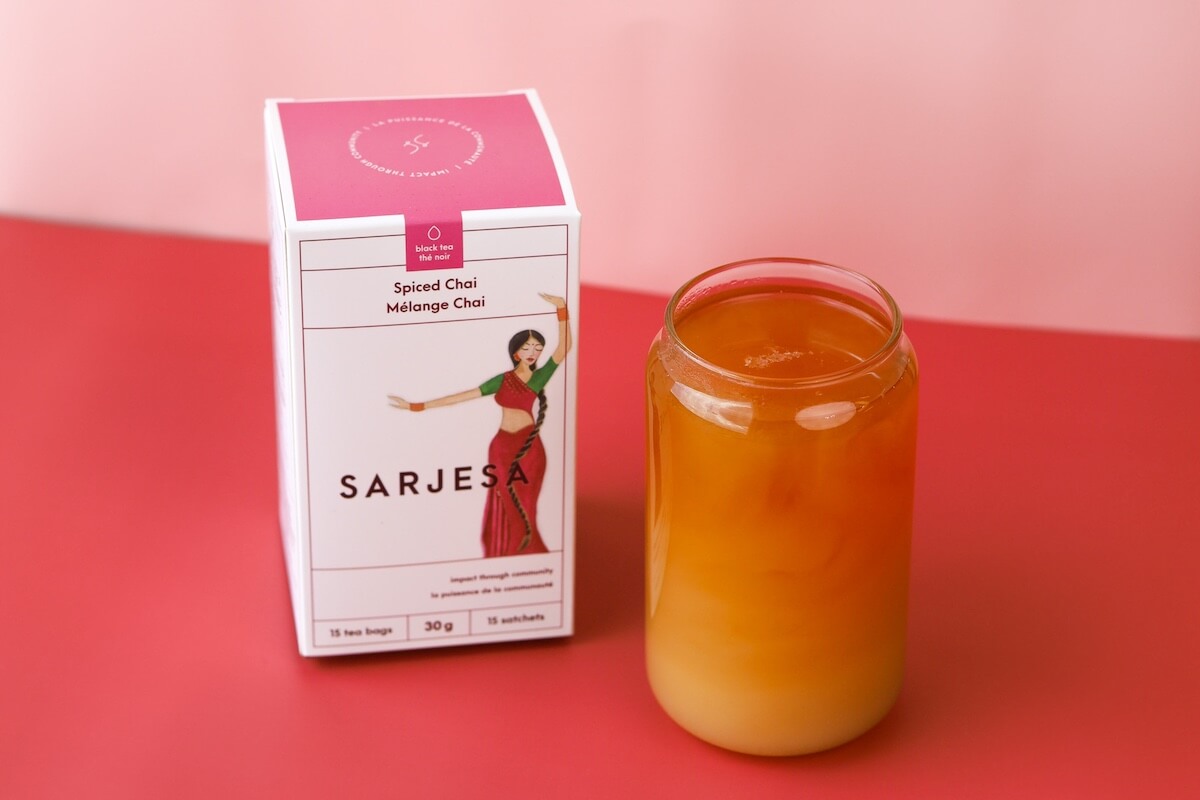 Her goal for the future is to make Sarjesa accessible to everyone. Daignault wants anyone to be able to pick up a box of their tea and enjoy it as part of their daily rituals.
"What I find is a lot of people save our tea for best," she says. "They put it in their cupboard and they're like, 'This is the tea that I'm going to have because it makes me feel awesome, but I'm not going to drink it every day. Because it's expensive.' I don't want that. I want to be a conventional product that makes everybody feel amazing. A little everyday luxury that people can have, that doesn't break the bank and that people don't have to choose between, am I going to buy Sarjesa tea or am I going to buy these other things that I need?"
She says she's been hard at work figuring out how to lower costs, which so far includes increased automation and ordering larger volumes of tea; she hopes to pass the savings onto the consumer in 2023.
Figuring out the 'Why'
For other people who want to make an impact in their community, her advice is to figure out your "why" – that's what will drive you when things are hard. 
"What's your why, what is the problem you want to solve? There are lots of tools and people out there that can help you figure out the how, or the what," she says.
For Daignault, the "why" is helping build a world without domestic violence, and she says each business decision she makes will support that mission.
More women-owned businesses doing good:
Lead image credit: Alexandra Daignault is the founder of Sarjesa tea company. Photo courtesy of Sarjesa.