Cassidy Perry is the founder of The Arise Box, which is described as a subscription box that fights human trafficking. Subscribers receive a mix of sustainable and ethically made items in each box, and every purchase helps build care packages for survivors of human trafficking.
When Perry was living in California between 2012-2013 studying journalism and public relations, she learned about the realities of human trafficking through a film. That moment sparked a desire to help survivors. The question she asked herself over the next several years was, how can I make a difference as just one person?  
"I knew I wanted to try to do something and just couldn't figure out what to do, because it seemed like such a big problem," she says.
The Arise Box Helps Build Care Packages for Survivors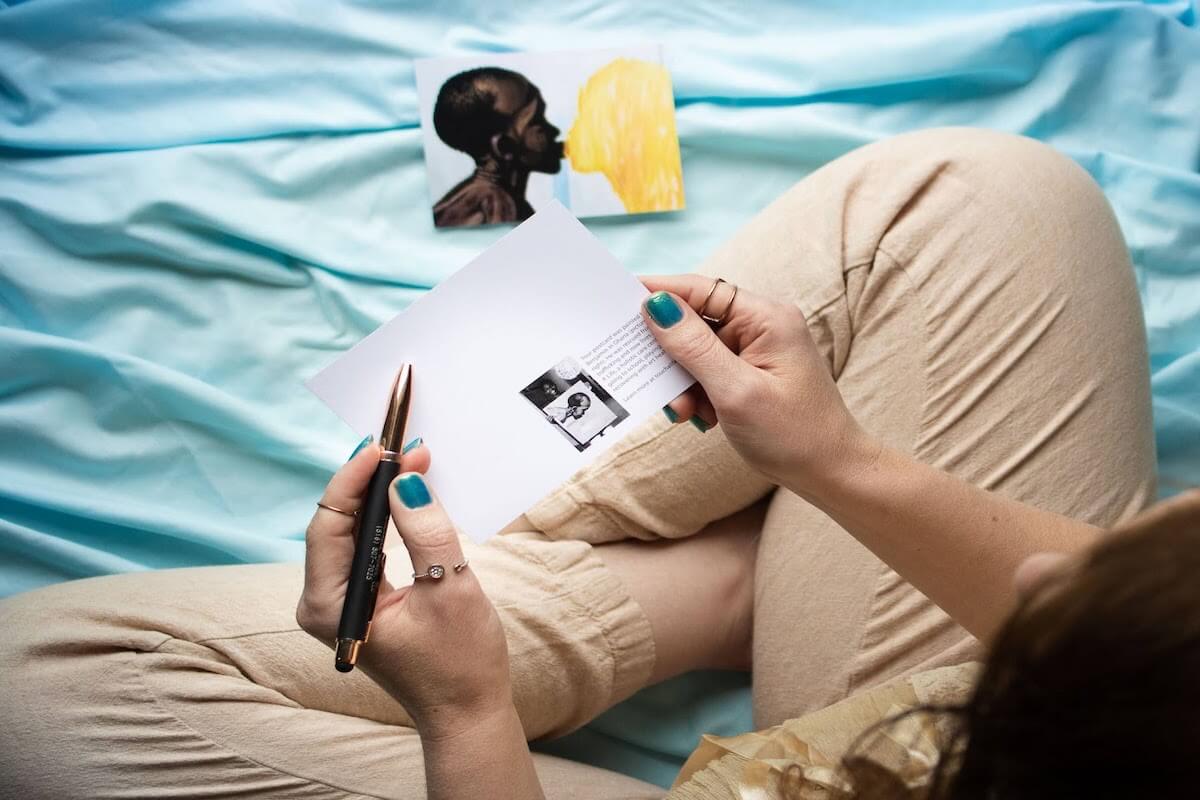 Then, one Christmas, Perry had the idea of putting together care packages with donated items and mailing them to local safe houses, which provide housing and other services to survivors of human trafficking. Out of a desire to keep going with the initiative, she came up with the idea of a subscription box that would help fund the care packages.
"I liked the idea of doing a subscription box because I got so stuck in the [mindset of], 'I can't do anything big, so I can't do anything'. I thought introducing people to other brands that were doing good things in the world, and showing them easy ways to give back, would be helpful to people."
In 2017, she officially launched The Arise Box. Each box includes what Perry describes as practical items that can be used everyday, as opposed to knick-knacks. The Spring 2022 box, for example, included a fair trade planter handmade by artisans in Bangladesh, a reusable market bag, an upcycled macramé plant hanger, a natural and sustainable cheek and lip tint and an all-natural cleanser.  
Ten percent of the profits from each box go towards building the care packages that are sent to human trafficking survivors.
What is Human Trafficking?
According to the United Nations Office on Drug and Crime (UNODC), "human trafficking is the recruitment, transportation, transfer, harbouring or receipt of people through force, fraud or deception, with the aim of exploiting them for profit."
They list the various forms of human trafficking, which includes exploitation in the sex, entertainment and hospitality industries, and as domestic workers or in forced marriages. The organization notes that victims are often forced to work in factories, on construction sites or in the agricultural sector and often in inhumane conditions, without pay or with an inadequate salary.
Who is Vulnerable?
The organization states that men, women and children of all ages and from all backgrounds can become victims of human trafficking, which occurs in every region of the world. They add that traffickers target people who are marginalized or in difficult circumstances.  
"The people and the kids who are most vulnerable are vulnerable in other ways too," Perry says. "So they might be homeless youth. The LGBTQ community is vulnerable – people who are pushed to the sides are the ones that people will prey on. Runaway kids are often preyed upon, so it's more insidious, more sneaky."
Each Arise Box Comes With a Painted Postcard From a Survivor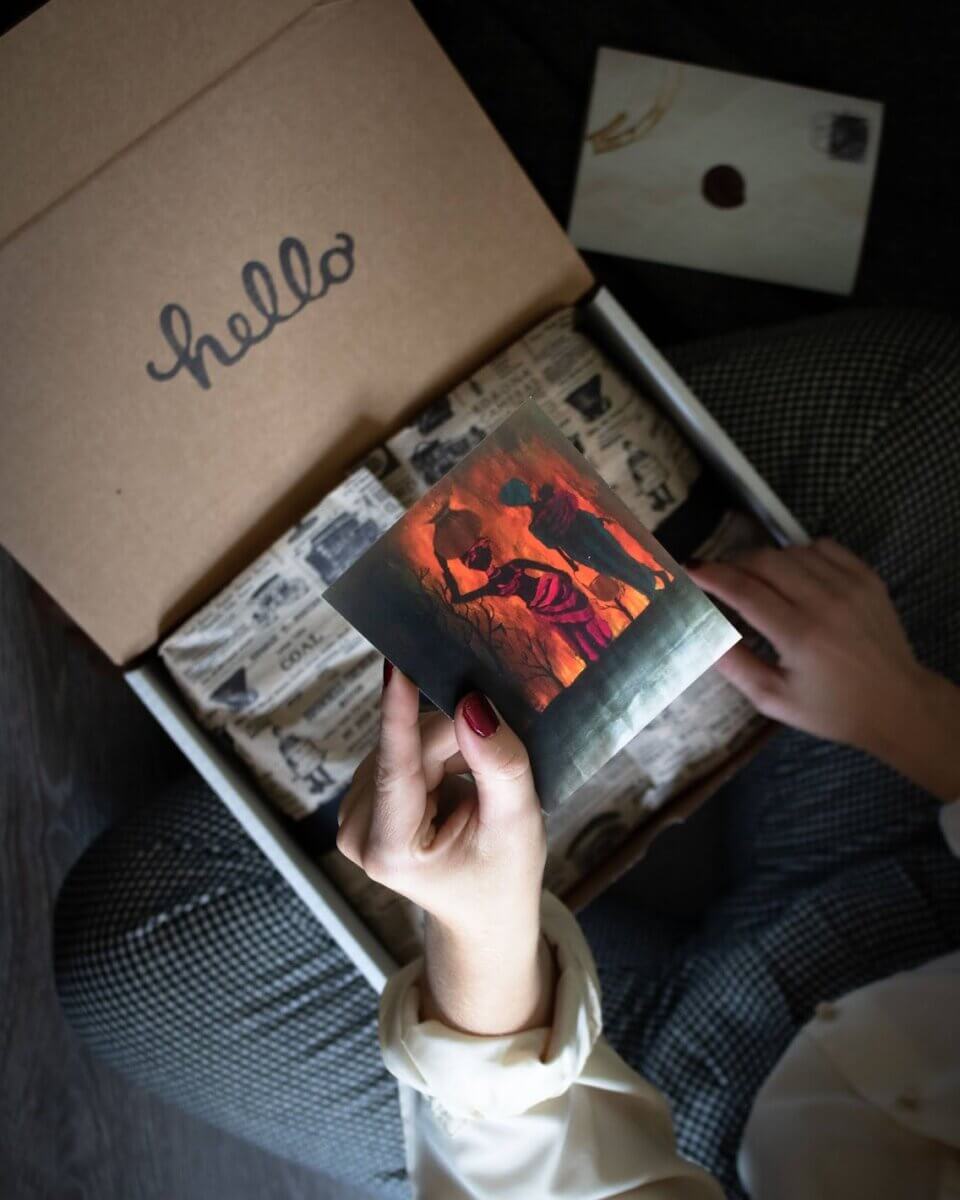 To give a personal connection to the company's mission, each box includes a postcard painted by a child survivor of human trafficking. The Spring 2022 box included one painted by a child named Benjamin, who is recovering and going to school at Touch A Life's safe home in Ghana. Part of the healing program at the safe home includes art therapy.
What motivates Perry in running her business is getting to share art from survivors: "I like the circular aspect of it, but I also love seeing the kids' artwork. They're always so good. And it's just exciting for me to see kids who are learning and healing and using art to do that."
Each subscriber of The Arise Box has an option of sending back the postcard with a handwritten note of encouragement, which Perry will place in a future care package. The care packages for survivors are assembled by Perry in Kansas City, Missouri, where Perry is based, and include both practical essentials for survivors like toothbrushes and fun little things to brighten up their day, including journals, nail polish or scrunchies.  The care packages are sent to multiple safe houses across the United States.
'Start Small'
For those who feel powerless and are questioning what they can do in the face of a crime like human trafficking, or the global threat of climate change, Perry says anyone can make a lasting and positive impact in the world.
"If you're looking for ways to give, I typically say start small," she says. "So that could look like swapping out one item for one that's more sustainable, like maybe swap to a bamboo toothbrush and let those little decisions add up over time."
Perry says it's important to just get started and take the first step: "Because otherwise it's so easy to get overwhelmed. And look at all of the problems and feel like, 'Oh, I can't solve any of them. So I'm just going to do nothing.' Or you just hit pause and hope that it's still okay. Bring it down a little bit, make it smaller, make it something that you can actually do. And eventually as time goes on, it'll add up."
Lead image credit: Photo courtesy of Cassidy Perry/The Arise Box.