Growing up, Janna Willoughby-Lohr, one of the artisans on Meet Your Makers Showdown, was exposed to the wonderful world of crafting early on. Her mother was a passionate paper crafter, and as a child, Willoughby-Lohr quickly developed her own passion for making things with her hands.
While attending Warren Wilson College, a private liberal arts school in North Carolina known for encouraging curiosity and fostering creativity, Willoughby-Lohr was able to channel her passion through her education, simultaneously fueling her drive to create while studying everything from Buddhism to poetry. When her mother passed away in 2002, Willoughby-Lohr leaned on her penchant for crafting to heal, creating beautiful books and journals to express her emotions.
"I started making artist books about my mom and the experience of what I was dealing with. I realized that I was making all this art to deal with my own traumatic experiences in a tangible way that I could share with others," she says. "Soon, I realized the books were helping people deal with their own traumatic things they had been through, and I thought, 'No matter what happens, that's what I want to do forever.' Using art to tell stories and help people say the things they can't say. That's my superpower, and the miracle that saved me when I had nothing."
Launching Her Own Handmade Paper Art Company
This realization led Willoughby-Lohr to officially launch and name her business, Papercraft Miracles, in 2003. She began slowly, working on custom requests and participating in the occasional craft show when she wasn't working at her day job.
Over the years, what began as a small business evolved into a successful and unique brand with its own story to tell. Never one to shy away from a challenge, Willoughby-Lohr has taken on some pretty tall orders in the past, including a request for half a million seed bombs — a job that required her to hire 70 employees temporarily (a big jump from her typical team of two).
It was during the completion of this job that Willoughby-Lohr decided to apply to be a contestant on the discovery+ show — Meet Your Makers Showdown.
Tossing Her Hat in the Ring for Meet Your Makers Showdown
The show follows some of the world's best creators in a competition to dream up some of the most beautiful, inventive and unique artisanal crafts. They focus on areas such as paper art, fluid painting, polymer clay, stained glass, candle making and artisanal soap — all in the hopes of winning the $10,000 grand prize. Willoughby-Lohr found out about the competition through a Facebook group she was part of, and on a whim, decided to toss her name into the hat. She recorded her application video during a rare break between making seed bombs.
"I sent it out, and a couple weeks later a producer called. I told her my story, why I do what I do and why I'd love to share it with their audience," she says. "I didn't want to go on the show to win the money, that's not my purpose. My favorite thing is being able to share what I love most with others and bring people together."
Meet Your Makers Showdown Displays 'Passion for Creating'
The producers loved her energy and story, and not long after their meeting, Willoughby-Lohr was in LA to film the show. She says that while the process of filming was exhausting, she was grateful to have had the chance to meet the other contestants and display her passion for creating on a grand scale.
"I love making people feel good and intentionally making moments that change people's lives, like when you have one conversation and it makes you think differently — that's why I do what I do, and I thought if I could do that on TV, that's wild," she says.
On Taking the Leap With Her Artwork
Willoughby-Lohr notes that if there's one thing she's learned during her 20-year career as a creator, it's the value of putting yourself out there and sharing your art with the world.
"I hope that people recognize that they should take that leap and be proud of their art and put it out there, not because you're going to win money, but because you have a story to tell that's valuable and that can inspire people," she says.
Another tip she offers to new creators is to remain authentic, no matter what: "Be really genuine. Life is crazy, messy and I'm real as hell. It's not easy, but I get to do what I love every day. People want to do business with people they know, love and trust. Put a face to your brand so they can see how your art is made and be invited into the story."
For more advice, she also shared her best start-up tips for female founders with us.
In 2022, she is focusing on moving forward with more exciting and challenging jobs, including what she says is the most important role of all — being a mom to her two children and one on the way.
Where to Stream Meet Your Makers Showdown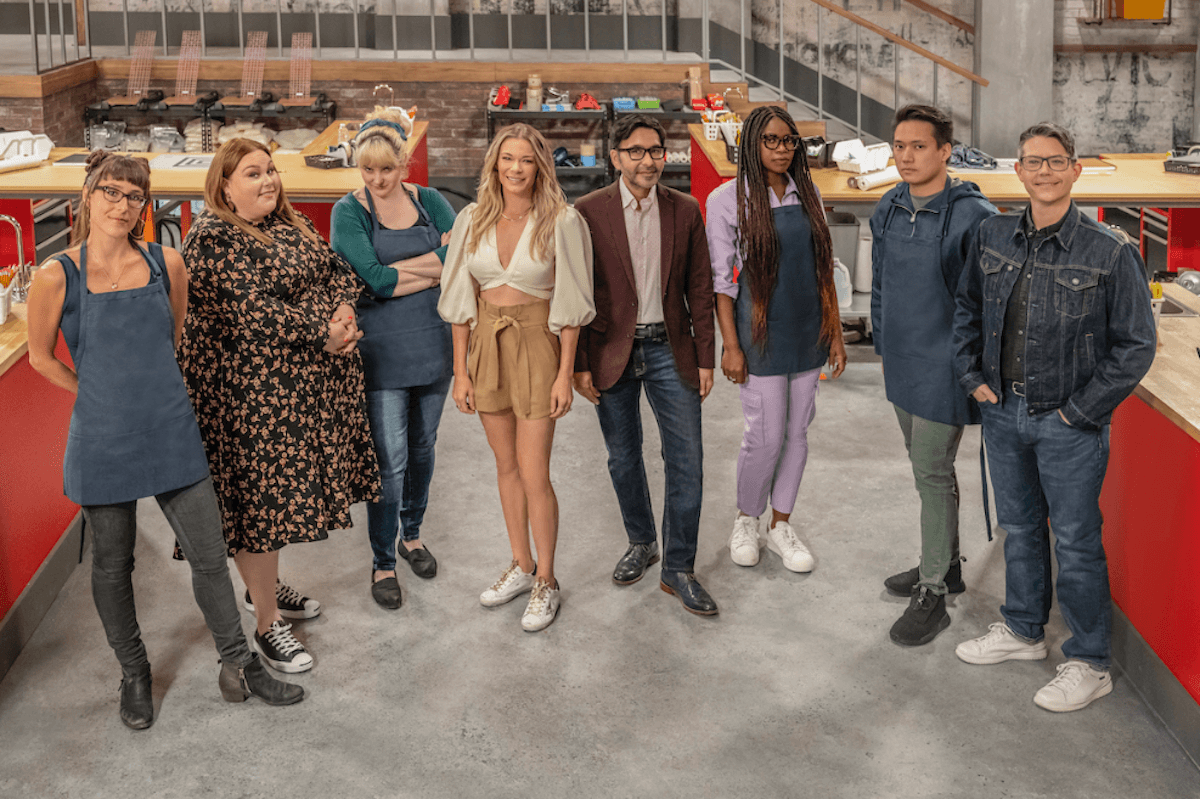 Meet Your Makers Showdown, hosted by author, designer and TV personality Mark Montano and singer, songwriter, actress and author LeAnn Rimes is available for streaming on discovery+.
Lead image credit: Janna Willoughby-Lohr, one of the artisans on Meet Your Makers Showdown, during a paper crafting challenge. Photo courtesy of discovery+.