When facing life's toughest challenges, it can be difficult to stay strong and find hope amidst the darkness. But no matter how difficult things may seem, we always have the choice to focus on what we can control and turn our problems into opportunities. For Sandy Struss, she's lived by that philosophy from a young age. At 17, a few months before moving out for the first time to attend university, she was diagnosed with type 1 diabetes, a chronic condition that requires frequent blood sugar monitoring and insulin injections.
"The diagnosis really changed the trajectory of my life," Struss says. "Nobody saw that coming. I was healthy, involved in every high school committee, volunteer opportunity, sports — and then to have this diagnosis… I'll never forget the doctor telling me there's no cure. When you get sick, you immediately think, 'What do we need to do to fix this?' But with type 1 diabetes, there is no cure. Taking insulin injections for the rest of my life seemed unfathomable."
Getting Involved in the Diabetes Community
Despite feeling overwhelmed by her diagnosis and all the typical stressors university students face, she quickly learned how to effectively manage her condition.
Later, Struss became involved in the diabetes community, regularly attending events and volunteering with non-profit organizations like the Juvenile Diabetes Research Foundation and Canadian Diabetes Association. She realized she had a knack for inspirational speaking, so she decided to put these skills to good use by speaking out about her type 1 diabetes journey.
"I got involved in advocacy work and I met other members of the diabetes community," Struss says. "Suddenly, I felt like I was at home with a tribe of people who understood how hard it is and what it's like to live with diabetes. I started to embrace the opportunity and use my voice for good. It felt like home for me."
Sharing Positive Stories About People Living with Diabetes
In 2004 (well before online communities became commonplace), Struss launched a website called peoplewithdiabetes.ca to share positive stories and build a network of like-minded advocates. Although she later had to shut the website down due to financial troubles, another opportunity was waiting for her just around the corner.
"In what can only be described as divine intervention, I was working at this temp gig for an agency doing event work for J&J [Johnson & Johnson pharmaceutical company], and they were starting a division in Canada to distribute insulin pumps," she explains. "I had never had a corporate job before, but I had an MBA degree and I lived with diabetes, so preparation met opportunity and I was bold enough to ask for a job. They just happened to be starting out in Canada and needed a marketing person. Boom: my marketing career in diabetes took off and I spent the next 10 years at Animas insulin pumps [a division of Johnson & Johnson at the time] before I joined Dexcom."
Today, Struss serves as senior marketing manager at Dexcom — a company that offers Continuous Glucose Monitoring (CGM) devices for those living with diabetes. As part of her role, she gets to showcase the stories of people who are living powerfully with diabetes through initiatives like the Dexcom Warriors program.
"The fact that through my work I get to celebrate people with a broken pancreas who are living life powerfully — and allowing others to see themselves through that example — I have found exactly where I'm supposed to be, doing what I'm supposed to be doing," she says.
Struss Is Facing Another Health Challenge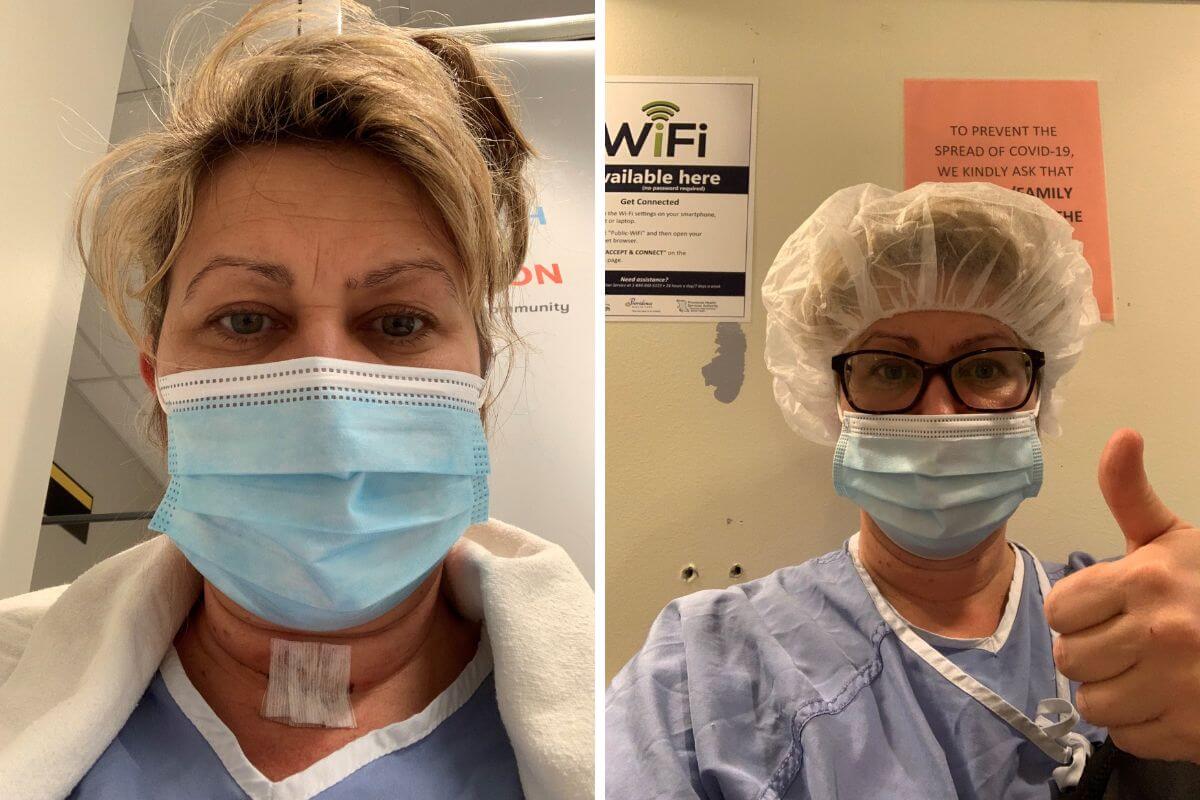 Although she had built an incredible, purpose-driven career and stayed healthy living with type 1 diabetes for over 30 years, Struss was hit with another health setback in December of 2021.
"It turns out I actually have two different cancers happening: multifocal papillary thyroid carcinoma, and a Tall Cell variant which is rarer and more aggressive," she explains. "I've had two thyroid surgeries to remove all of my thyroid, and radioactive iodine treatment so far. I'm currently waiting on a CT scan to follow-up on additional findings after the radioactive iodine treatment."
Despite the fear and uncertainty that inevitably comes along with a diagnosis like this, Struss has taken it all in stride. With strength, resilience and an optimistic outlook, she's tackling the challenge head-on — one day at a time.
"I'm focusing on what I can control, and praying for my miracle," she says. "If I keep my energy where it's supposed to be and do the things I know to do, that is all I can do. Miracles happen. Why not me?"
Living Life with Purpose
As she continues to battle cancer and face all the emotional, mental and physical challenges that come along with it, Struss is serving as an inspiring example of living life with purpose.
"My life purpose, as I've defined it for myself, is inspiring others to live inspired lives, and role modelling that every day," she says. "It's not what you say you're going to do, it's what you actually do and how you act every day that matters — even when people aren't watching. There are no guarantees in life, so don't have any regrets. Live in such a way that you're proud of who you've been."
You might also like:
Lead photo courtesy Sandy Struss.