A "binner" is defined as a person who earns money from what they've recovered from trash containers. Sometimes called dumpster divers, or waste pickers depending on where you live, binners collect bottles, cans and other items that can be redeemed for cash. It's hard and honest work that performs the valuable function of diverting recyclables from landfills. However, proving the true value of this work often goes unseen, as binners are "among one of the most marginalized groups in urban areas" according to Vancouver's Binners' Project. Find out how they're aiming to change that.  
What is the Binners' Project?
The Binners' Project operates social enterprise programs where binners earn income by sorting waste at residential and commercial buildings and events, explains Brianne De Man, manager of charitable programs. The ultimate goal is help provide work to those who face barriers to employment and destigmatize the important service that binners provide.  
The "Project," as those involved call it, was co-founded in 2014 by Ken Lyotier, Anna Godefroy and Gabby Korcheva. Once a binner himself, Lyotier founded United We Can in Downtown Eastside Vancouver in 1995, a social venture and community space where binners could bring their containers for recycling and receive additional job training.  
Binners come to the Project through outreach efforts, referrals and word of mouth, De Man says. Partnerships with several entities such as Downtown Vancouver and the Central City Foundation, plus more, also work to increase awareness about the Binners' Project. Those interested are not required to provide a resumé or referrals.  
"The minimum requirements is that binners come to three of our weekly meetings that we hold every Tuesday, and after their third meeting they become a member and eligible for income opportunities," De Man says.  
Binners Can Be Hired for Events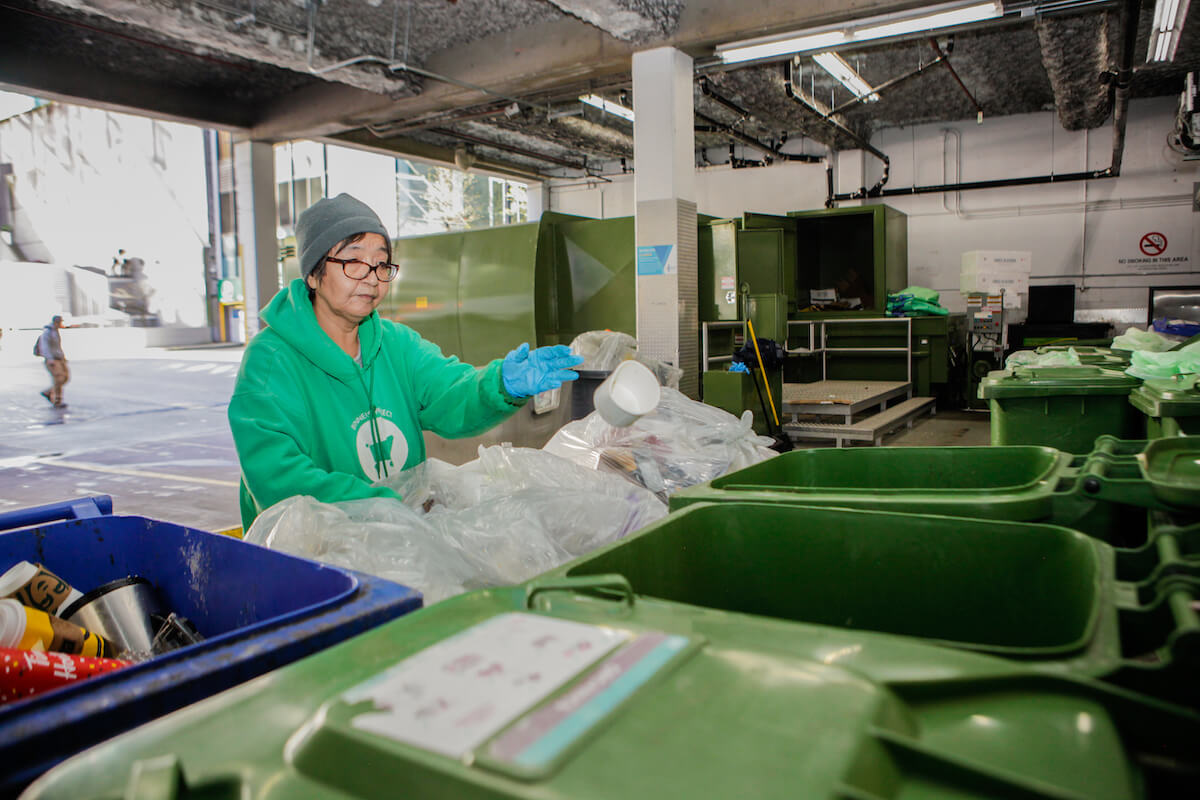 The Binners' Project runs a number of different programs, including Back-of-House Waste Sorting, where the experienced sorters visit commercial and residential buildings to ensure waste is properly separated, which assists in reducing costs for the property owners. 
Binners can also be hired for events to provide waste separation assistance, waste education and collection of all refundable containers. Major milestones noted in the Binners' Project 2021/2023 annual report includes $154,176 going directly to binners, 4,156 hours provided and 203 binners engaged.  
"Vancouver has five different waste streams: glass, compost, paper, containers and landfill," De Man says. "The binners will go in and make sure that all of those waste streams are properly sorted and clean and ready for the hauler to take it away."  
Encouraging Social Inclusion 
The appearance of binners at everyday events and residences encourages social inclusion and community mindedness. The binners can build a more stable income, along with increased confidence and job-ready skills.  
Binners' Project efforts are towards encouraging a "livelihood continuum" for the binners, rather than the classic "achievement ladder" most are used to when it comes to progression in the workforce. The livelihood continuum focuses on meeting low-income residents where they are at (perhaps they only want to be employed for four hours a week) and providing those opportunities to help them meet their own needs.   
"Four hours a week might be what their capacity level is currently at, while others may have goals to do more," De Man says. "We offer opportunities to help build that capacity through training and other types of opportunities. Volunteers are paid an honorarium, so they're not employed with us. Folks can then move through the continuum to become staff with the project."  
A Success Story
One success story is Stan, who joined the Binners' Project in the summer of 2018, quickly becoming a key part of their membership. He was hired as staff alongside a cohort of others less than a year later, moving from team lead to community coordinator.  
As someone experiencing homelessness, Stan had been sleeping in his van for many months before finding housing through connections made at the Project. Stan is now one of the Binners' Project's core staff members, working part-time for the Project coordinating sorting sites. 
The Coffee Cup Revolution  
Other interesting Binners' Project initiatives include the Coffee Cup Revolution. Once a year they hold the event in Vancouver (this year it's on Oct. 13th, 2022), and Binners' Project members design, set-up, and run the depot that serves hundreds of binners, who exchange tens of thousands of cups for 10¢ a cup, administering thousands of dollars in refunds. 
Each year they try to break the previous record for the number of cups collected. Since the event started in 2014, they've collected close to 400,000 coffee cups that were destined for the landfill.    
Other Binners' Project Initiatives  
The Universal Cart Initiative is working to provide binners with shareable, purpose-built carts for binning. And the purchasable Binners Hook makes recycling more efficient and safer.  
To support their efforts in improving economic opportunities while also destigmatizing binning and reducing barriers, you can donate online.  
More businesses doing good:
Lead image credit: Binners in action. Photo courtesy of Binners' Project.