The holiday season is beautiful, but it can generate a lot of waste.
"We have a waste problem, and it only gets amplified during events like the holiday season," says Kate Smith, zero waste program manager with Zero Waste Canada. She says that people care for their families and friends — and it's important to extend that care beyond the walls of our homes to Mother Earth, which is home to us all.
Reducing and Reusing Will Help Reduce Holiday Waste
The first step to help the environment is to reduce the amount of plastic waste that comes into our homes (for example, single-use items and items with a lot of packaging). Then, look at the items you're bringing into your home and consider how can you reuse or repurpose them, so you're not using them just once.
"It's often small steps that have a large impact, and it doesn't need to be complex," Smith says. "I like to look at it as a family activity . . . There are so many possibilities that allow us to tap into our creativity and reduce waste at the same time."
8 Simple Ways to Reduce Waste This Holiday Season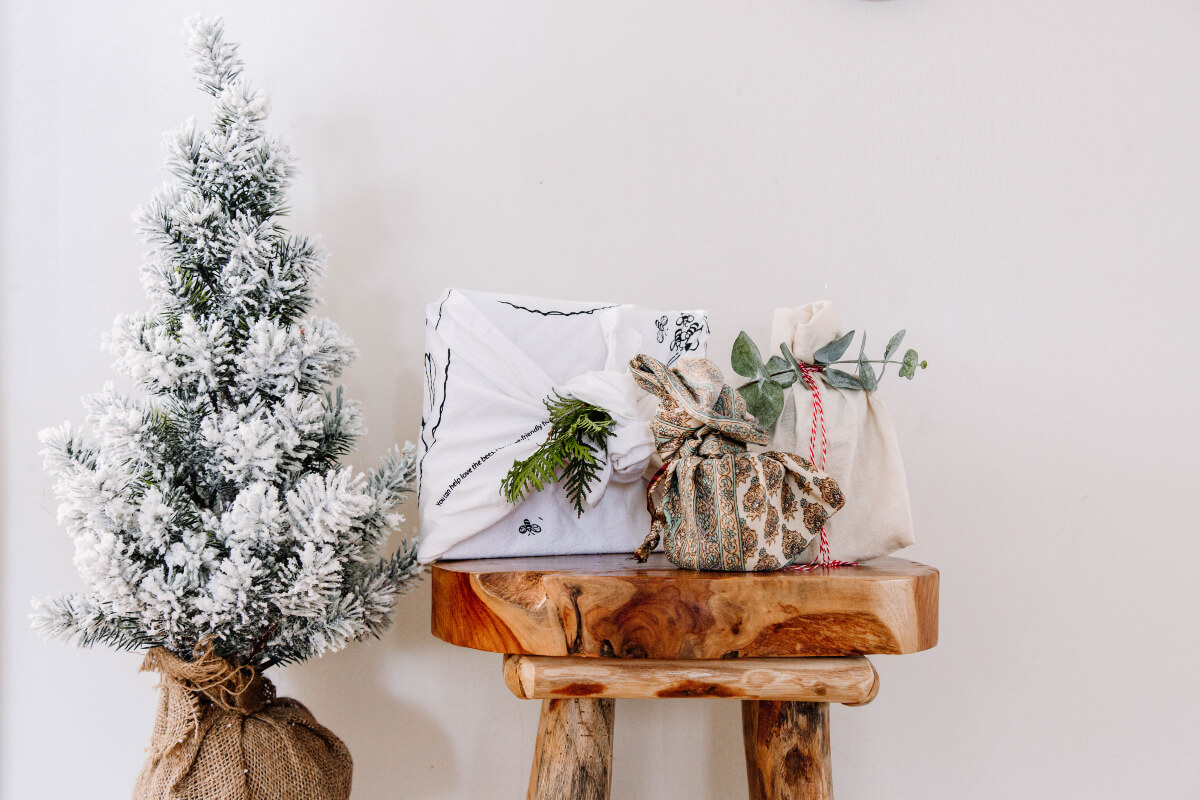 If you're hoping to keep environmental sustainability top of mind this year, here are eight tips on how to have a greener, more eco-friendly holiday season:
1.     Reduce the Amount of Wrapping Paper You Use
Buying a lot of wrapping paper can be quite natural, because "we want our presents to look lovely," notes Candice Batista, an environmental journalist based in Toronto, and founder of The Eco Hub, an online publication devoted to sustainability.
But instead of buying wrapping paper every year, Batista suggests looking for things you already have in your home to use as gift wrap – for example, everything from paper bags to the fashion or comics section of old newspapers or magazines. Wrapping presents this way is just one fun and easy way to create sustainable Christmas traditions.
2.     Consider Making Your Own Gifts
Cut down on waste with sustainable gift ideas. For someone who loves to cook, it could be as easy as sharing a copy of your favorite recipe in a mason jar, wrapping it with a beautiful hand-printed tea towel and tying it all up with string. Decorate your gifts with nature. You can pick up all kinds of things like fallen pinecones or pine needles and use them as adornment for your wrapped presents.
3.     Reduce Food Waste
Food waste is a big issue during the holiday season. From Halloween through Thanksgiving, Christmas and New Year's, 40% of all food in the U.S. alone is sent to landfills, and in Canada that figure is 45%.
"Pumpkins, uneaten turkey dinners and desserts all go to the landfill," says Batista, noting that food waste is not only expensive, costing an average family anywhere from $1,200 – $1,500 per year, but it's also directly linked to climate change. "When we send organic waste to landfills, the food can't aerate. Anaerobic decomposition – oxygen-deprived organic matter – releases methane to the atmosphere, which is 72% more powerful than carbon dioxide."  
If you find yourself with too much food, use it to make dishes that you can freeze, like casseroles, chilis or soups.
4.     Plan Out Your Holiday Meals
Even better: plan ahead and use a resource like lovefoodhatewaste.com to save your food from the bin and create less holiday waste. "They have a great planner on there where you can plan your meals, with the perfect portion sizes," Batista says.
By getting organized with eco-friendly meal prep, you'll be able to reduce food waste.
5.     Ask Guests to Bring Reusable Containers
If you're inviting guests over and expect you'll have leftovers, ask people to bring their own containers. "It's a great way to deal with leftover food," Batista says. "Most people will be very happy to take that food."
6.     Freeze Leftovers
To reduce food waste, freeze your leftovers as soon as possible. To remember what's in each container, label the container with the contents, and add the date you froze it.  
7.     Compost as Much as You Can
"Composting is so beneficial," Batista says. "It makes plants healthier and it produces incredible black soil." Add it to your garden for more benefits. If you live in an apartment and have no compost bin, consider calling local community gardens – most have compost piles and would be happy to accept your compost. And you could pop your compost scraps in the freezer to prevent odors before you drop it off.
8.     Reuse or Recycle Your Christmas Tree
Explore eco-friendly Christmas tree ideas you can reuse like a potted plant. After the holidays, if you have a real Christmas tree, you can properly dispose of it by recycling it – check whether your local municipality offers curbside pickup for recycling yard waste.
Lead image courtesy Candice Batista / The Eco Hub.