As social media platforms aim to grow bigger and attract larger audiences, Logan Gray's Nightingale Academy is exploring the idea of: What would happen if we focused on creating smaller, more intimate spaces for the queer community?
A Salon-Style Online Space for the Queer Community
Earlier in 2021, Gray asked a question on their Instagram story: would anyone be interested in a salon-style learning space for queer individuals?
"So many people were like, 'You actually have to make that. Please actually do that,'" Gray says. "It was one of those ideas that just stuck. I have so many ideas all the time, but this one just wouldn't go away."
Bringing Together Separate Conversations
The question, and the response it elicited, was prompted by Gray facilitating conversations through their Instagram direct messages with people from all over the world, with a variety of backgrounds and lived experiences.
"I would be talking about these really, really interesting topics, like relationships and love, creativity and community, gender, queerness…" Gray says. "I would just be like, 'This is just magic. I am so lucky to get to have these conversations.' But I also realized there was a limit."
The limit was that Gray was becoming the vector point for these conversations, rather than a facilitator, and the conversations were each happening in silos. Gray realized that the people they were having conversations with would benefit from having the ability to talk to each other, rather than just talking with Gray.
After they received an overwhelmingly positive response, Gray decided to start researching available platforms to create a safe, intimate space for the queer community that would facilitate video discussions and allow people to come together. What they found was Mighty Networks, which allows The Nightingale Academy to have space for conversations, both through posts and comment conversations, as well as weekly scheduled video conversations.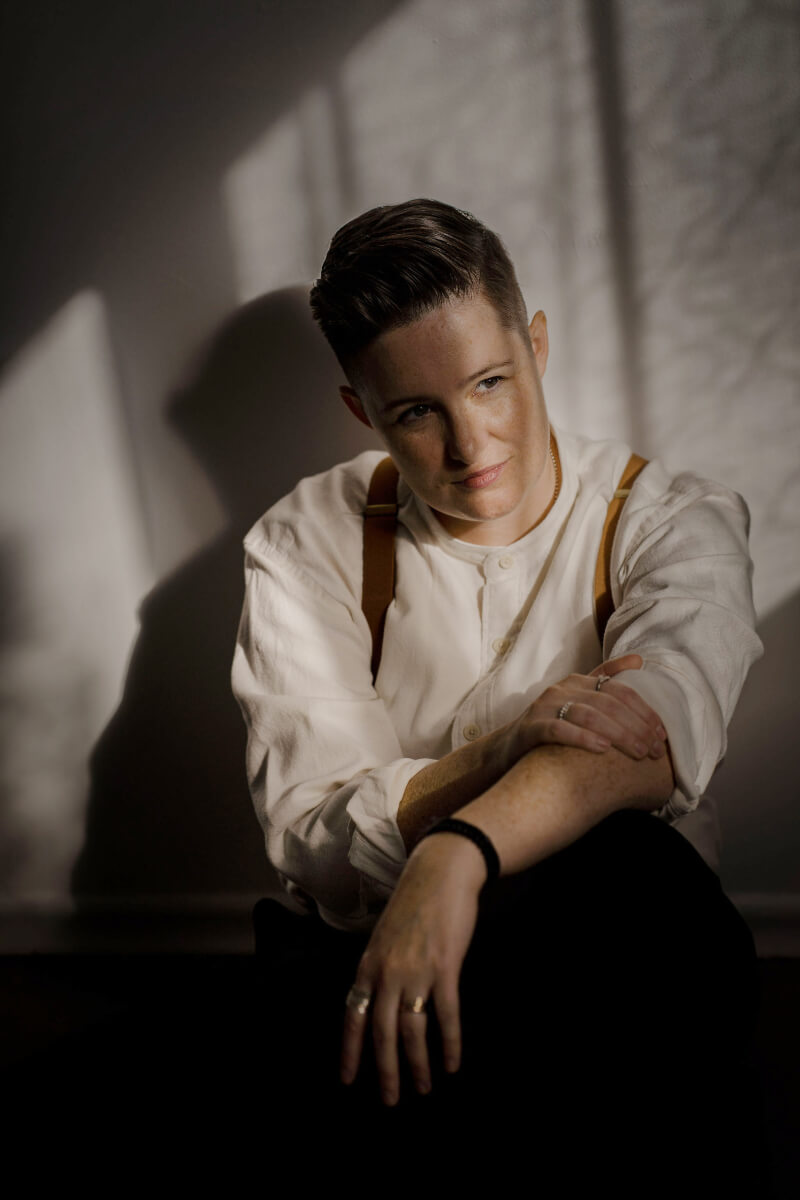 Creating a 'Secret Society' for the Queer Community
This system allows for multiple things at once: first, it creates a safe space for the queer community to be vulnerable and open with each other. Secondly, it allows for a variety of accommodations to be made for the people taking part. Participants can host live videos and post the recordings directly to the platform.
"Posting things afterwards feels important because being live on video is very, very vulnerable for a lot of people so it's not expected," Gray says. "I try to record things so they can be watched afterwards and I continue to look for different ways for people to engage without having to go beyond what feels safe for them."
As for the set-up of the space, Gray wanted to create their dream queer club, which they describe as "the secret society of queer intellectuals who come together to talk about love."
A Space That Helps the Queer Community Connect and Feel Safe
The Nightingale Academy is more than just a secret, intellectual society for Gray: it's an opportunity and a space that they haven't seen available for adult queers who may be navigating life differently than what they'd imagined growing up.
"As a person who came out later in life, I did not grow up with queer spaces the way the younger generations are," Gray says. "I didn't find myself in any queer spaces until five years ago and that was the one bar here in Edmonton, the one queer bar, so that is focused on drinking and dancing and the music is so loud you can't actually talk. It's still so wonderful to feel so free and fully be in your body and feel safe. That's incredible. But there wasn't really anything outside of that and then a few pop-up dance and drink events."
Finding a Queer Space Can Be Difficult
For queer individuals, finding any queer community spaces can be a difficult task, and finding non-partying spaces even more so. That's not to say that spaces of celebration aren't important. Gray thinks that having queer spaces focused on celebrating people being their authentic selves are equally important and serve a specific function and purpose. But they can't be the only spaces available.
"I am also so deeply committed to self-work and I know queer people, especially with what we've been through, we need so much self-work if we're going to find our power and actually step into it fully. We have to do that work on a regular basis," they said. "This was sort of my way of saying, 'If we're going to have to do this work, how can we make it fun and sexy and enjoyable?' Do it but do it together so that it feels better and we have other people to hold us if it feels scary. I think there is a little bit of a space there that I hadn't seen filled in a way that I like."
Nightingale Academy Meets Every Tuesday Night
The Nightingale Academy has a theme for every month and meets every Tuesday night for a variety of events that expand on that theme, including: an evening lecture, a book club and discussion, a Q & A session, and a salon evening for individuals to discuss, at length, ideas and thoughts they've had while interacting with the ideas presented throughout the month.
"It really connects well with people who really enjoy deep conversations and who are really open to a lot of self-reflection and who enjoy that growth process of self-awareness," Gray says. "People who want to ask themselves questions such as: 'Where do I stand? What do I think about this? Why do I think that? Is it working for me? Could I be open to new ideas?' It's that open exchange of ideas between people where we're not holding anything too tightly but rather willing to be open to other people's perspectives that can help us grow and see new things."
Exploring Friendships
October's theme is Friendships, which Gray is hoping will encourage people to look at how they approach and view their friendships and question the hierarchy they may place their relationships – both romantic and platonic – in.
"How can we undo all that stuff we were taught about romantic relationships, like your partner is 'up here' and everyone else is way 'down here?'" Gray asks. "How can we flip that? How can we make everyone important so that we get the lessons and the love and the connections and the experiences with each person that we're meant to have?"
The Meaning of the Term Queer
For Gray, to "queer" something, or to be queer, is a broad term that can mean what the individual wants it to mean.
"I think queer just means being different than what we were told we should be and that is a vulnerable place to be," Gray says. "Having that be celebrated fully and navigated in its own special, unique way, it feels really special."
Sharing Moments With an Intimate Circle
Since the creation of The Nightingale Academy, Gray's relationships with social media have also changed and shifted. Rather than needing to share the things happening in their life with all of their followers, knowing they have a smaller group of people who are actively participating and reciprocating is proving to be more rewarding.
"Yes, I have all this wonderful stuff to share, but I don't need to share it with thousands and thousands of people for it to matter," Gray says. "I can share it with a dozen and it will really, really reciprocate in such a beautiful way that I don't need to keep trying to prove that I have something really special here that's filling me up."
The Nightingale Academy is open to anyone who is interested, no matter the location,  and the information to join is currently available in a highlight on Logan Gray's Instagram profile. It currently costs $14.99 USD/month or $150 USD/year to join, though Gray acknowledges that price is a barrier for entry and they are looking at implementing a sliding scale price to accommodate as many people as possible.
More examples of inspiring people using the internet for good: why this sex educator is teaching healthy masculinity online.
Logan Gray, founder of The Nightingale Academy, envisioned the space to be a "secret society of queer intellectuals who come together to talk about love." Lead photo courtesy Logan Gray.