Smell and memory are so closely linked that a single scent is often capable of triggering a rush of memories from long ago. In Marcel Proust's loosely autobiographical novel, In Search of Lost Time, his narrator bites into a madeleine dipped in tea, which unleashes a childhood memory: "No sooner had the warm liquid mixed with the crumbs touched my palate than a shudder ran through me and I stopped, intent upon the extraordinary thing that was happening to me." That unforgettable moment sets off a deluge of remembrances for Proust's narrator that go on for more than 4,000 pages. For Alicia Tsai, the founder of sustainable fragrance brand Aerangis, she experienced her own Proustian moment as a young child.
Growing up in Taiwan, Tsai spent many afternoons beside her grandfather in his greenhouse, where he cultivated and cared for dozens of rare orchids. One day, when she was nine years old, he gifted her with an Aerangis orchid with star-shaped flowers that released a beautiful scent every night during its bloom. Smelling that orchid brings her right back to the memories of her grandfather, and the comfort she felt at his side. Wanting to capture that scent, and forever recreate those feelings of happiness, led her on the journey to launch her own fragrance company: Aerangis produces sustainable luxury candles hand-poured in small batches in the United States.
"I think a lot of people underestimate the power of scent because scent is something you can't see," Tsai says. "A lot of times, people are like, 'Oh my God, the smell of fresh grass — I just thought of my childhood home. Or like, 'Oh my God, that laundry smell — it makes me think of my mom.' I think people often say that, but we don't leverage or use that enough to enrich, enhance, elevate the little moments in our life."
A Sustainable Candle Without the Plastic Waste
Tsai moved to New York City in her early 20s to attend the Fashion Institute of Technology's cosmetics and fragrance program. She launched Aerangis in 2019. The company's line of signature scents capture her own memories. The first one, aptly titled "The Beginning" is inspired by the orchid her grandfather gave her. Another called "Seven Miles" is an ode to her birthplace and orange jasmine, a tropical plant that bloomed in the neighborhood she grew up in. The company also creates custom candles, based on a customer's own scent memory or other inspiration.
Sustainability is a focus of the brand, thanks to Tsai's upbringing in Taiwan, where eco-friendly practices were ingrained in her education. She describes how her teachers taught everyone the importance of recycling: "My whole high school, we just cannot throw trash away. Every piece of trash needs to be examined. We have to separate the trash into 10 different categories of recyclables and stuff, which is great. So, I grew up in an environment where it's very much already built in."
When she moved to the United States, Tsai was dismayed to see that any luxury product she wanted to buy, like perfume, was always shrink-wrapped. When she started Aerangis, she didn't want her sustainable candles to contribute to the literal tons of plastic waste produced each year in the United States. Here's a sobering fact: the U.S. is estimated to be the world's largest producer of plastic waste.
"The whole thing about scented candles is really to elevate your life, but you shouldn't elevate your everyday moment, but leave some kind of trash behind," she says.
Refining What a Sustainable Candle Looks Like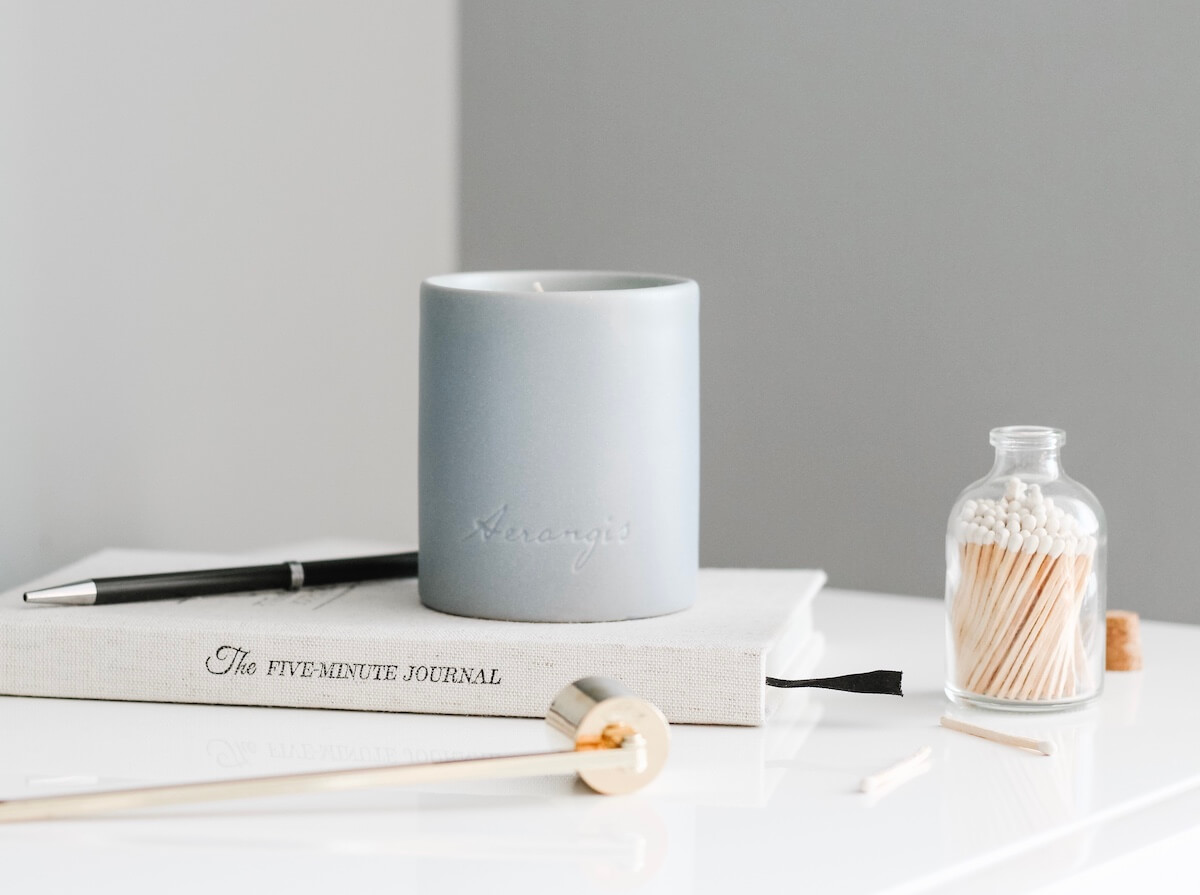 Tsai describes how sustainability can be tricky in the candle sector. While their packaging and shipping materials are recyclable and compostable, the ceramic jars they use for their candles are not. At first, they wanted to use glass jars, but she says that wasn't enough to differentiate them from other brands in the candle market. The candle market is huge — it's estimated to grow by USD 3.40 billion between 2020 and 2025, according to market research.
While on a trip to Taiwan with family, Tsai ended up visiting the Shuili Snake Kiln where they've handcrafted ceramics for over a century. The kiln ended up being their supplier for the ceramic jars that house their sustainable candles. She's hoping her customers will reuse the jars as storage containers once the candle burns to the end — she describes how in Taiwan, jars are reused to hold everything from flowers to toothbrushes.
"For a little bit, I actually struggled with the idea that glass is actually recyclable — the ceramic is not," she says. "But I think the whole idea really behind this — instead of creating a one-time use — is create something that's long-term use. Then we are not creating waste."
She says they did their best to make the jars easy to repurpose by using a plain design and subtle logo stamped on the jar, and a label that's easy to peel off. Each candle also includes a biodegradable paper dust cover infused with wildflower seeds, which you could plant in your jar. "It's just another step to almost educate people — teach people how to reuse a jar," she says.
Are Candles Eco-Friendly?
While eco-friendly packaging is one thing, what about candles themselves? While candles are usually found in most homes, they can be quite toxic.
According to the United States Environmental Protection Agency, when candles are burned, they emit trace amounts of organic chemicals, including formaldehyde, which is carcinogenic. The agency states the primary public health concern in candle emissions is lead, which is often used in wicks.
While in 1974 the U.S. candle manufacturing industry voluntarily agreed to cease production of lead-containing candles, lead wick candles can still be found on the market. The agency states that "burning candles with lead-core wicks may result in indoor air concentration of lead above EPA-recommended thresholds."
Aware of these harmful effects, Aerangis creates their sustainable candles with lead-free cotton wicks and a plant-based wax blend free from synthetic dyes, parabens and phthalates. They plan on expanding into fragrances in the future, which Tsai says will also provide a challenge on reducing plastic waste: "How do we even use a fragrance bottle with completely zero plastic? I don't know yet, but we'll find a way."
Lead image credit: "The Beginning" is a luxury candle from sustainable fragrance brand Aerangis, which was inspired by an orchid given to Alicia Tsai, the company's founder, by her grandfather. Photo courtesy of Aerangis.
Great news for toast readers: Get 10% off all items on Aerangis.com using code TOAST10. Good through Tuesday, May 31st, 2022. We don't receive any commission on your purchases – we just want to share a little treat with you. Thank you for being awesome!