I love an excellent braising recipe because it not only results in beautifully tender fall-off-the-bone meat, but it also creates an atmosphere around the entire dining experience. The aromas from the herbs and braising liquid fill your home, creating delicious anticipation for the evening's meal. And since the meat spends a couple of hours in the oven, you have ample time to pick away at your side dishes. You're sure to love this Braised Short Ribs recipe from Lionel & Hetta.
The biggest mistake you can make when braising is taking the meat out too early. So, if it feels tough, just let it be. Paired with a bright salad and some mashed potatoes, this is the perfect meal for a cozy night in!
Ingredients
5 lb. Short Ribs
1 Small Onion, halved and thinly sliced into half-moons
3-4 Cloves Garlic, minced
2 Tbsp. Extra Virgin Olive Oil
1 cup Beef Stock
1 cup Blanched and Diced Tomatoes, or canned diced
1/2 Cup Dry Red Wine
2 Rosemary Sprigs
Salt + Pepper
Instructions
Preheat the oven to 350ºF.
Heat a 4 quart Dutch Oven over medium-high heat. Once hot, add just enough oil to coat the pan (about a 1/2 Tbsp).
Pat the meat dry and season all sides with salt and pepper.
Once the oil is rippling but not yet smoking, add half of the side ribs to the bottom of the Dutch Oven (it should sizzle vigorously). Leave the meat to brown (about 2-3 minutes) before flipping each piece and searing on all sides. Once finished, transfer the meat to a plate or cutting board, wipe the bottom of the Dutch Oven clean, and repeat the process with the second batch. Once finished, wipe the Dutch oven clean one last time and allow it to cool slightly.
Return the Dutch Oven to medium heat and add 1 Tbsp. of olive oil. Add the onions and cook, occasionally stirring, until they're quite soft and slightly translucent (about 4-5 minutes). Add the minced garlic and continue to cook, stirring frequently until it is fragrant and slightly darker in colour.
Add the broth, tomatoes and wine to the Dutch Oven and bring it to a simmer. Salt and pepper the liquid to taste, but err on the side of caution, as the meat's surface will play a large role in the dishes saltiness (you can always add a little more before serving). Then, add the ribs to the liquid, place the rosemary sprigs over the meat, cover, cook in the oven for 2 1/2 hours, or until meat is fall-off-the-bone tender.
Once finished, remove the ribs from the oven, serve over garlic mashed potatoes, or your favourite side!
Bon Apetit!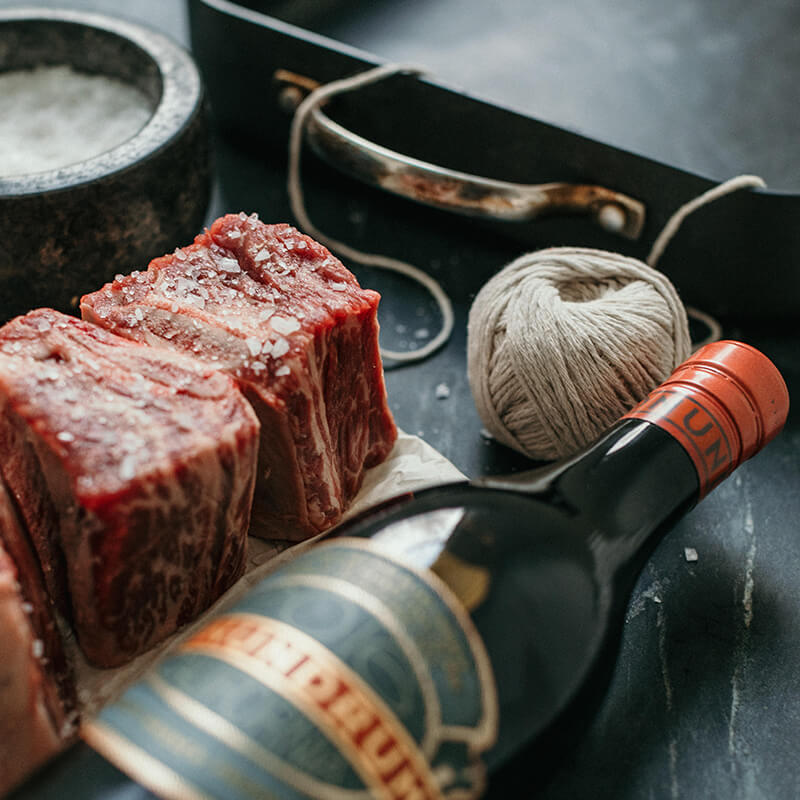 Other articles you might enjoy