Photos courtesy CJ Katz
There's a silver lining in everything; that's my belief. And while there continues to be many exceptional challenges during this unprecedented outbreak, it has made us stop! And in many respects, returning to the kitchen has been a good thing.
We have all collectively ground to a halt and have taken a long moment (it's already been about eight weeks) to bring our insane daily pace down. We have stopped to bake bread, enjoy a meal we actually prepare ourselves, and join together around the dinner table.
In our zeal to eat economically and not be wasteful, we have loaded up on bag after bag of flour, sugar and yeast, packages of pasta and legumes (and toilet paper too!), and on fresh meat to freeze. We have become creative with leftovers because we simply have no inkling how long this Saskatchewan-wide, country-wide and indeed, worldwide lockdown will last.
Just before the lockdown, I saw people returning to the kitchen. It was a strange time and it really hit me when I went to buy yeast and the shelves at the grocery store were completely bare. I mean, there was nothing there! And they weren't just bare of yeast, but also of all types of flour, all types of sugar, chocolate chips and other baking chips, baking nuts, rice of all kinds and every type of pasta imaginable.
To help people cook their way through the crisis, I began posting daily recipes on my Facebook page. It turns out that those of us isolated at home without a job and now tasked with cooking were looking for a meal idea. And in their boredom, they were looking for fun baking projects such as learning how to make hamburger buns or frangipane tarts and lots and lots of cookies. People who had never posted pictures of their home cooking began proudly displaying photos of their creations.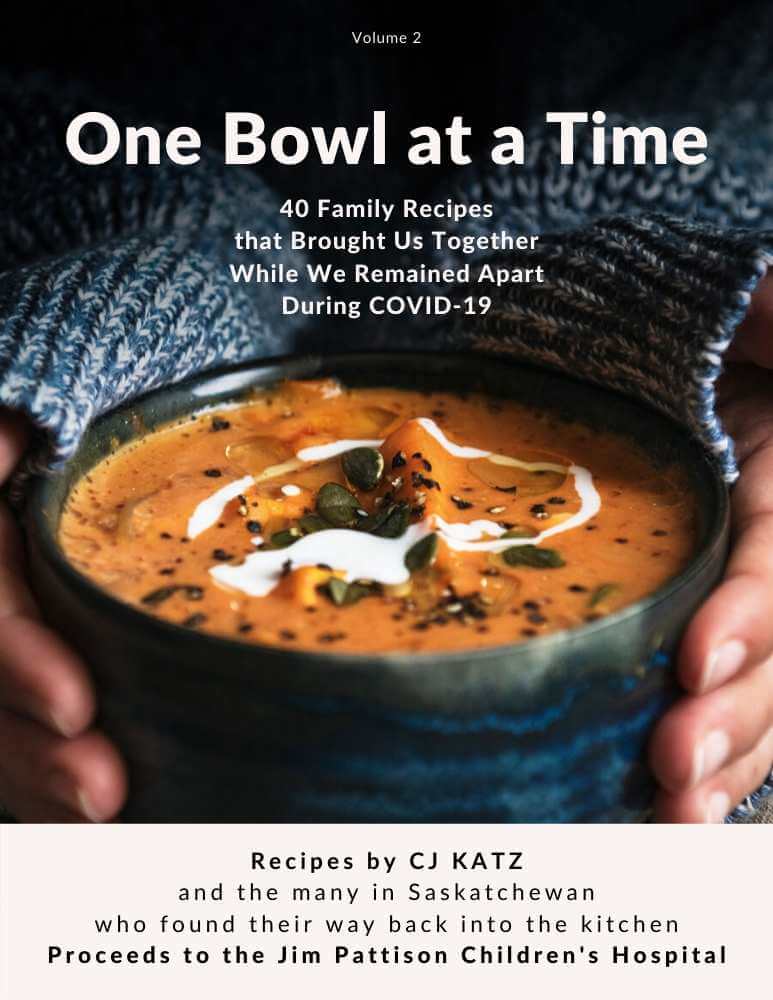 This crisis is a unique moment in time and I want to document it with the recipes I've shared and the recipes of the many in Saskatchewan who have found their way back into the kitchen. A COVID-19 Cookbook seems a great way to do that.
Later in May, I'll be releasing a two-volume set: Volume 1 One Loaf at a Time: The Baking that Brought Us Together While We Remained Apart During COVID-19 and Volume 2 One Bowl at a Time: Family Recipes that Brought Us Together While We Remained Apart During COVID-19. And in the spirit of isolation and being unable to get out and buy books, these cookbooks will only be available in electronic format (PDF), so no long waits for delivery. You'll be able to start cooking from them immediately.
In recognition of all the work our health care workers across this country are doing to keep us safe, $2 from each book sold will go to the Jim Pattison Children's Hospital Foundation.
CJ will be announcing the release date and link to purchase the cookbooks very soon. Stay tuned!
POTATO HAMBURGER BUNS
I keep a box of potato flakes and powdered skim milk on hand in my cupboard just to make these buns. Adapted from a King Arthur Flour recipe.
Makes six 4" buns
2 ½ – 3 cups all-purpose unbleached flour
½ cup dry potato flakes (such as Idaho brand)
¼ skim milk powder
1 Tbsp. sugar
1 ¼ tsp salt
2 tsp dry yeast
4 Tbsp. soft unsalted butter
1 cup lukewarm water
1 egg beaten, for brushing
White or black sesame seeds, or poppy seeds
In a mixer bowl, combine the flour, potato flakes, skim milk powder, sugar, salt, yeast and butter. Stir to mix. Add the lukewarm water. Knead for 10 minutes on low speed until you have a soft dough that is slightly tacky. Grease the bowl with oil and roll the dough into the oil. Cover the bowl with plastic wrap and let rise for 1 ½ – 2 hours.
Gently remove the dough from the bowl and roll out to ¾" to 1" thick (do not roll thinner). Cut into six 4" rounds. Place each round on a parchment paper-lined cookie sheet. Cover loosely with plastic wrap and a tea towel. Let rise for 40 minutes.
Meanwhile, preheat oven to 375F.
When rolls are ready to bake, brush tops with beaten eggs and sprinkle with sesame seeds. Bake for about 15-20 minutes. Remove from oven to cooling rack to cool completely.
READ MORE by the same author: