Based out of Regina, Saskatchewan, Brandy Jones is a trailblazer in the art world. In her biography, she describes herself as an Inuvialuit and Gwitch'in artist whose artwork is the "marriage of all Indigenous nations and the rising of a new generation that will help heal the elders, families and land."
"What the bright colors represent is unity among all Indigenous nations," Jones told toast when describing her artwork.   
Jones grew up in Williams Lake, British Columbia. As a child, she fell in love with art as soon as she picked up her first crayon. Throughout elementary school, Jones eagerly dug up her own clay and experimented with different mediums. Creating art was not only a form of self-expression for Jones, but also the only way she was able to connect with her past.
Connecting to Her Past
"I didn't know much about where I came from growing up," she says. "I didn't really know my father's side of the family at all. I did know that I was Native, and there was something inside of me that was always really yearning to know that."   
Even at an early age, she was inspired by the artwork of the Indigenous Peoples of B.C.: "I was so influenced by a lot of the Haida and the Salish and the artwork is just absolutely stunning. I have a drawing from Grade 5 where I was trying to draw this art even back then."
At school, they placed Jones in a special art program that was supposed to end after a year, but they recognized her natural talent and allowed Jones to stay in the program for three years, solidifying her passion for art: "I used to get in so much trouble in school; that's all I wanted to do. And I'm lucky that I had a couple of cool teachers that saw that."
When Jones was 12 years old, she moved to Regina, Saskatchewan and was blown away by the Indigenous artwork in the province. All of the different art forms she'd been exposed to over her life impacted her. "I would be so lost [without art] because that was the only thing for the longest time connecting me to my own heritage," she says.
Educating Others About Indigenous Culture
Jones is also a TikTok creator and shares educational videos on the platform about Indigenous culture.
"The best way to reach people is through education, rather than trying to force something onto somebody, because it leaves people in an open-minded space where maybe they want to ask questions for themselves," she says.    
Creating Community Through Art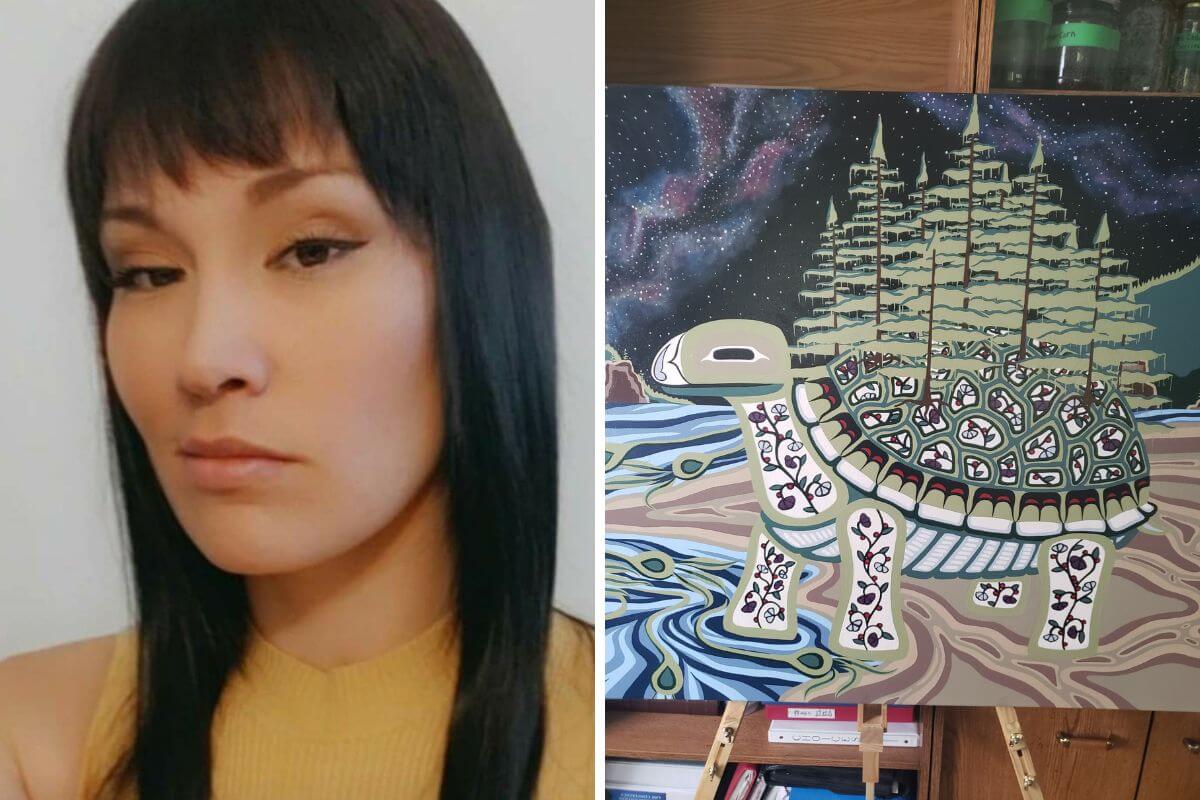 For Jones, the true power of art is in being able to connect with other people: "80% of my work is about community and being around people. And then that other 20% is the actual artwork. For example, I was just out working on a table and that day I spoke to at least 40 people." 
Artwork has functioned as a form of therapy for Jones, helping her heal from past traumas, and she says what she's most proud of as an artist is the ability to reach other people's hearts.
"I might get a little emotional, but it's the things that people have messaged me or even sent me or said to me — I've tried to use my past experience and a lot of traumatic things that have been hurtful in the past that I've healed from — I realize that I really want to try and give that back to other people too," she says.
Jones has been working full-time as an artist since early 2020, when she started painting on canvas because she was stuck at home: "I'm just going to test this out and start doing some of the art that I love and I've always wanted to do because I would've gone insane in that tiny house at the time. So I just started doing it and people really rallied behind me and they really liked what I was doing."
A Children's Book Translated Into Inuktitut
Today, her work includes logo development for various clients, including Frost, a winter festival in Regina, and most recently, an undisclosed project for the Saskatchewan Roughriders.
One of her favorite projects so far has been creating a children's book called Crow Brings Daylight, which brings to life the classic Inuit legend of how the crow brought daylight to the north. The book was released in English, Inuktitut and French (and was incorporated into the French school system). 
"It was really, really cool to see it translated into Inuktitut, because you don't see that," Jones says. "I know up in the Northwest Territories they don't actually have a ton of kids' books translated into the languages." 
Making an Impact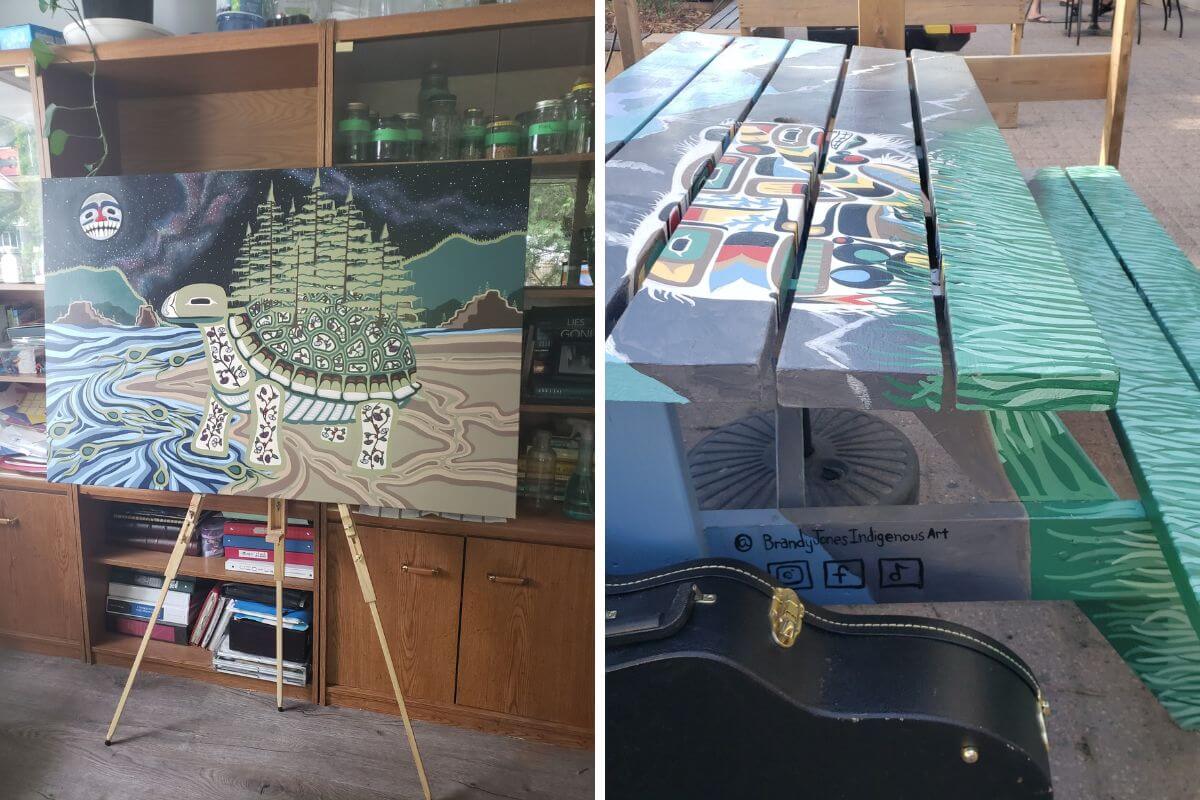 What keeps her motivated as an artist is being able to make an impact and touch the lives of others. "My artwork, what it represents is unity," she says. "And so maybe that's just childlike, but I really think that you could see people get along one day. I hope so."
For people wanting to get into art but might be afraid to try, her message is clear: go for it. "Even if it takes having a side job or something like that, just do it and don't be afraid," Jones says. "Just create. Don't be afraid to shine either." 
View her artwork under the name Brandy Jones Indigenous Art through Tiktok, Instagram or Facebook.
More inspiring artists:
Lead image credit: Pictured: Brandy Jones is an Indigenous artist whose artwork represents unity among all Indigenous nations. Photo courtesy of Brandy Jones.