With the rise of social media, we're faced with a slew of ethical issues we never could have imagined before the advent of platforms like YouTube, TikTok, and Facebook. As many of us learned from the recent Netflix documentary "The Social Dilemma", mainstream social media platforms don't always have our best interests at heart, and users should proceed with caution.  
The good news is that the average person is becoming more aware of privacy concerns, harmful algorithms, and the mental health effects of social media, which has led to the creation of new, innovative platforms that are beginning to shift the narrative. For example, TapeReal founded in 2018 by Ali Shah is an audio and video platform that offers an alternative to traditional algorithm-based social media platforms like YouTube and Facebook. TapeReal is dedicated to offering a more sustainable social networking model.
TapeReal is an Algorithm-Free Alternative to YouTube    
TapeReal is a privacy-first, algorithm-free social platform and a marketplace for exclusive audio and video content. The innovative platform is different from YouTube and other social media apps for a variety of reasons.
For one, content is shared on a chronological basis (think Instagram circa 2012), so users don't get locked into an echo chamber of their own beliefs. By contrast, apps like YouTube, TikTok, and Instagram use algorithms that pick up on the content you're engaging with the most, and serve you more of the same, which is great for personalization but ultimately functions as a microcosm of confirmation bias at work.
"Algorithms also have the potential to harm the user. For example, when Facebook noticed that polarizing, anger-fueled content generated more engagement, their algorithm surfaced this type of content more often in order to serve more ads and generate more revenue for the platform," explains Ali Shah, founder and chief executive officer of TapeReal. "Furthermore, once people figure out the signals of an algorithm and how they work, they create to appease the algorithm because they're trying to get more engagement and trigger the algorithm to further push their content. I think it's unhealthy and unfair for social platforms to operate that way."
Algorithms Favor Sensational Content Over Well-Crafted Art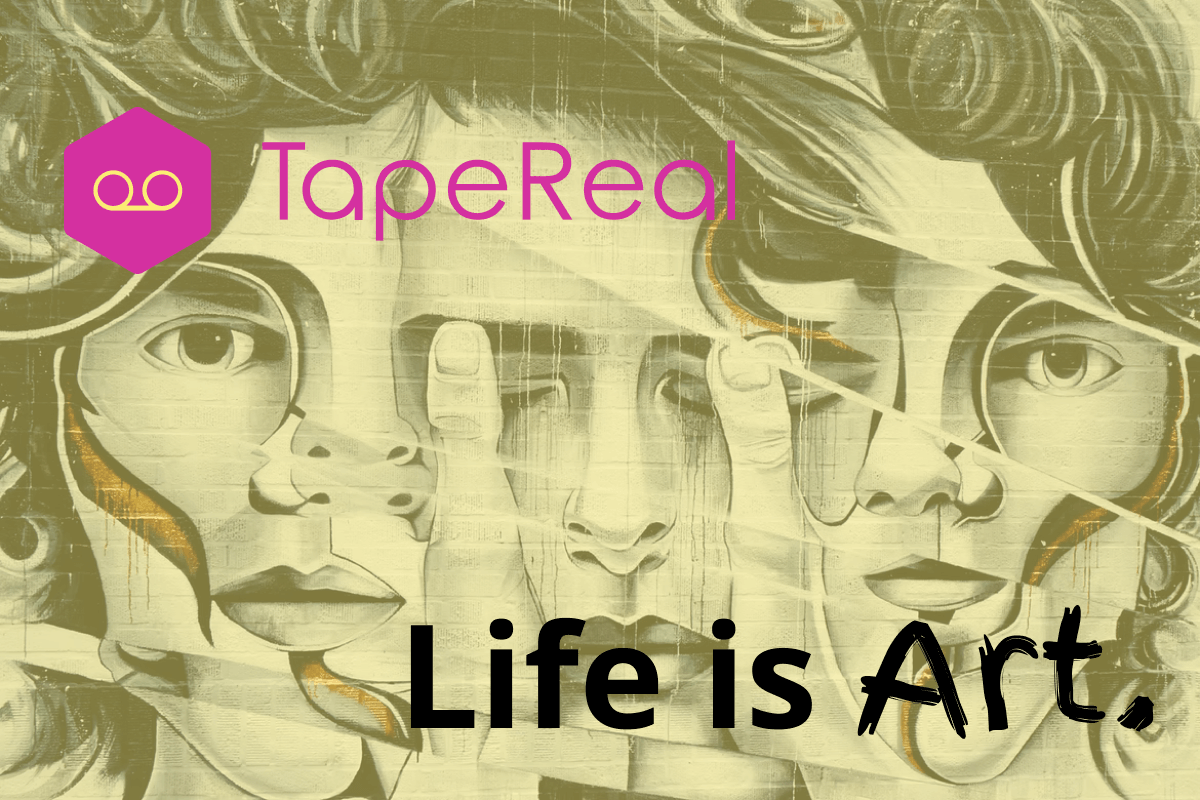 Like many people today, Shah believes algorithms like YouTube's and Facebook's can be seriously harmful. Not only do they reward sensational, salacious content rather than well-crafted art, but they can also result in mental health issues and thought distortions by leading people to believe their personal beliefs are dominant in society.
"I think it's important that we shift the balance of power and start empowering creators first," Shah says. "Traditional platforms gatekeep audiences through the use of algorithms, so creators end up putting content into a black hole and hoping the mystery of the algorithm will pick it up. What I find that does is you then start creating for an algorithm as opposed to creating for art's sake."
A YouTube Alternative with a Privacy-First Model
What may be more important to creators is that TapeReal defines itself by a privacy-first model. While mainstream social media apps focus their business models on mining personal data and selling it to advertisers for profit, TapeReal has no interest in your data (no offence) — they're more interested in supporting creators to monetize their work and connecting people with content they find useful, informative and interesting. 
"People are becoming aware of the challenges that come from social media platforms," Shah says. "That's part of the reason why we've decided to be privacy-first. We're seeing a shift towards a privacy-first world and Apple is leading the way with their new iOS14 updates —they're not allowing third parties to collect data without people's consent. Having that layer of consent is important."
How TapeReal Works
As a creator on TapeReal, you can start your own channel and begin publishing free or exclusive content right away. You can also call a friend to record an audio or video podcast together or upload pre-recorded videos right from your phone.
All content, whether free or exclusive, is published to a chronological worldwide "Public" feed for people to see and discover. Viewers can then personalize their own chronological feed by following creators and topics they're interested in.
Viewers consume a mix of free and exclusive content. When they find a piece of exclusive content they'd like to watch, they can purchase access by using RealCoins, the platform's in-app currency. Creators set the price and whenever someone pays to unlock their exclusive content, the RealCoin earnings go directly into the pocket of the creator. Once a creator has reached $100 in their wallet, they can submit a request to withdraw their earnings in US dollars.
Exclusive content can be early access premieres, your creative process, bonus content, unreleased music, knowledge and expertise — anything generally not available for free on the platform — and what the creator feels will add value to their network.
Best of all, TapeReal has disable screen-recording on the app to prevent users from pirating or repurposing creator content.
TapeReal Is Building a Thoughtful Space for Creators
Shah explains that although the model is similar to membership platforms like Patreon, it's different because instead of paying a monthly membership fee for access to a creator's selection of exclusive content, they provide an à la carte option that puts the freedom of choice back into the user's hands. In essence, TapeReal has created a social marketplace for authentic and exclusive content that you can't find anywhere else.
Having launched an alpha version of the app in 2019, TapeReal is on pace to reach 10,000 users by the end of the 2021. New features and improvements are also under development and Shah says they're well on their way to creating a safe, intentional, and thoughtful space for creators everywhere.
To learn more about how TapeReal offers an alternative to platforms like YouTube and Facebook, download the app or visit tapereal.com. You can also learn more about becoming an investor at equivesto.com.