With the goal of establishing the city as a cultural and artistic destination in the western New York area, Buffalo joined the Albright-Knox Public Art Initiative in 2014. This initiative integrates a wide range of artwork into publicly accessible spaces with the goal of expanding public interaction with artists and artworks.
Since then, Buffalo has seen an explosion of colourful street art including several murals depicting the fascinating history of the area.
Mural Art Program Brings 'New Life' to Buffalo
Not only does the art make for a beautiful addition to Buffalo's streetscapes, but more importantly, the work serves to tell the stories of the diverse communities who live there. Kim Marie McKernan, founder of Inspired Outcomes marketing and branding company, says the city's mural program has brought new life to several neighbourhoods in the city.
"Overall, I'm just in love with the mural program we have here in Buffalo," she says. "It's re-energizing neighbourhoods and making it so much more fun to both walk and drive around the city and see the artists that are part of this community."
McKernan shared three of her favorite Buffalo street murals and why they inspire her. The next time you find yourself strolling through the city and looking for fun things to do in Buffalo, be sure to stop and check out one of these impressive works of art:
1. Mark Twain Mural
Unveiled on Hertel Avenue in summer 2019, the Mark Twain mural depicts the story of the legendary author's relationship to both the City of Buffalo and his long-time friend John Lewis, who served as the inspiration behind the character of Jim in Twain's famous work Huckleberry Finn.
"Not only is this mural next to one of my favorite restaurants in the city, Lombardo's, but I love that it represents the friendship of these two men," McKernan says. "Mark Twain has a history in Buffalo, so the mural calls to this but also the friendship that he had with John Lewis. It really speaks to me."
Twain and Lewis met under unusual circumstances — Lewis rescued Twain's sister-in-law and her daughter from a runaway horse and buggy. The pair became lifelong friends and to this day, the two men are buried next to one another in Elmira, New York.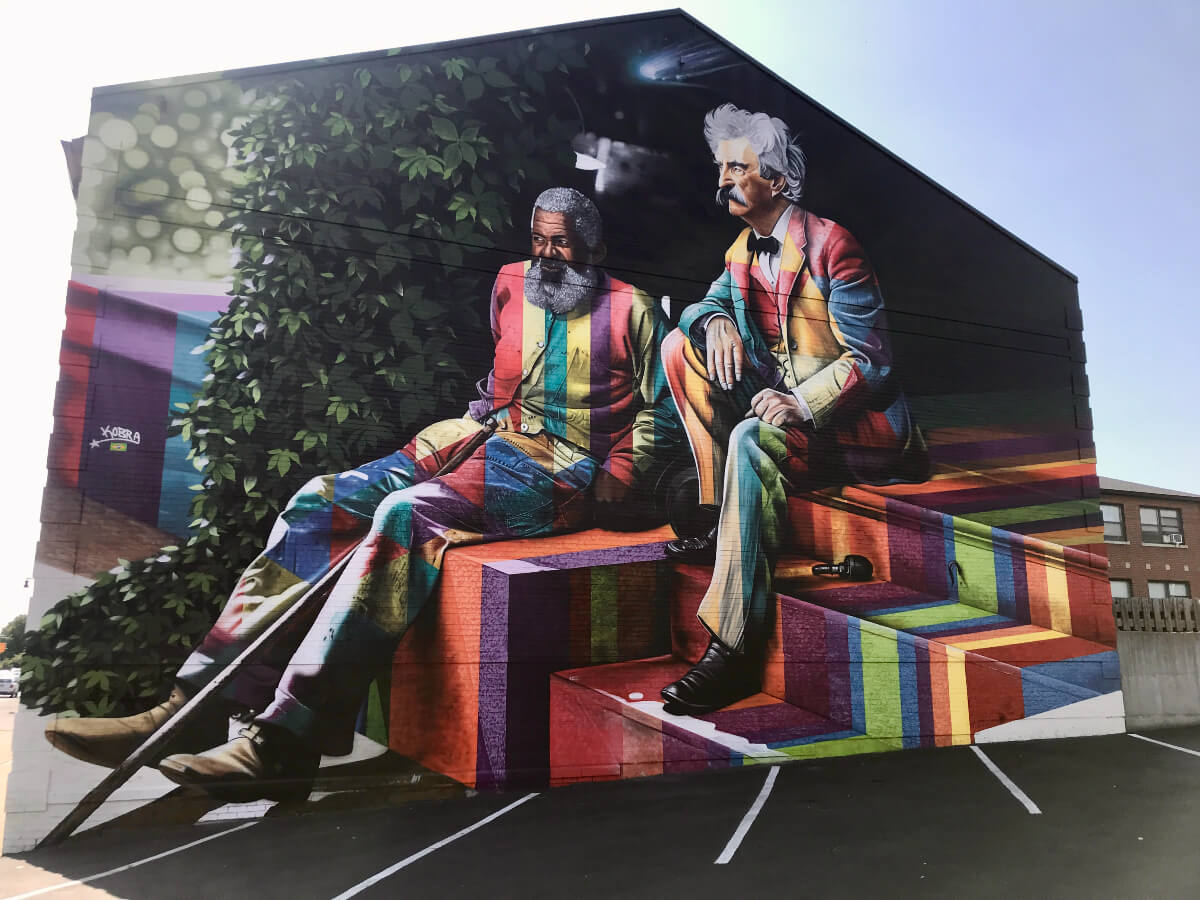 2. Harriet Tubman Mural
Buffalo has a rich and deeply rooted history of Black culture, and it's honored at the Michigan Street African American Heritage Corridor. At the intersection of the Richard Allen and Harriet Tubman Ways, the corridor is home to Bethel African Methodist Episcopal Church (Bethel AME), Buffalo's oldest Black religious institution, which served as a station on the Underground Railroad.
Harriet Tubman was a woman who was born into slavery in 1822 but escaped and dedicated her life to rescuing other enslaved people while actively campaigning for the abolition of slavery. This portrait is part of the Freedom Wall at the corner of Michigan Ave. and East Ferry St., which features portraits of 27 other civil rights leaders including Frederick Douglass, Malcolm X and Rosa Parks.
"The concept of this freedom wall blew me away," McKernan says. "All of these preeminent people in the history of our city, and its role in the Underground Railroad is not necessarily appreciated the way it should be, but this wall celebrates that part of our history."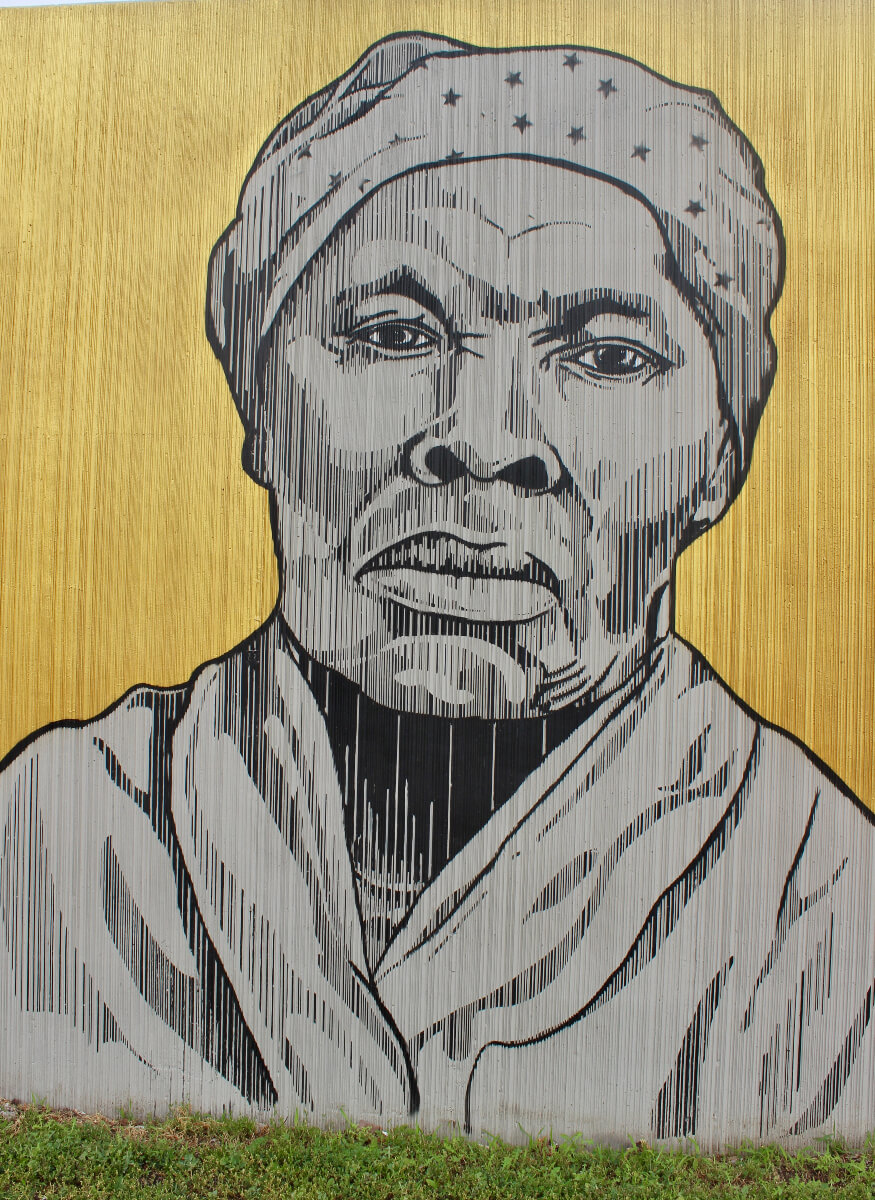 3. We Are Mural
Buffalo artist and muralist Chris Piontkowski painted this colorful mural on Niagara St. in Black Rock in 2019. Designed to celebrate the diversity and culture of Buffalo, the mural features vibrant flowers atop a black background and the words "We Are" in cheerful cursive letters.
"This mural celebrates the immigrants of Buffalo as well as the beautiful gardens the city has become famous for over the years," McKernan says. "There's this little oasis of nature in the middle of the city, and it really binds us together. One of the things I love about Buffalo is the tapestry of different backgrounds we have and all the wonderful food and culture that goes into making it such a dynamic city."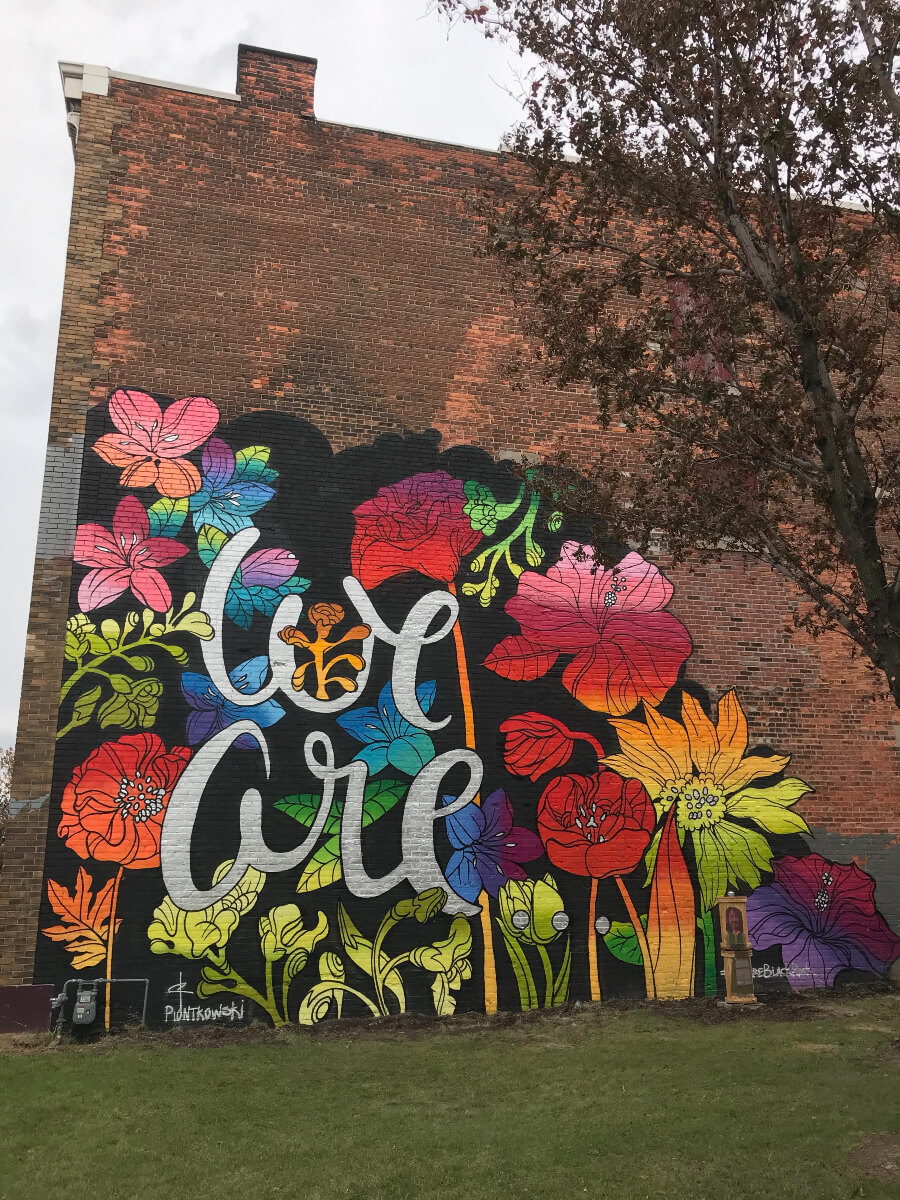 More Must-See Art in Buffalo
Another public art initiative in Buffalo includes the installation of several giant sculptures from celebrated ceramicist Jun Kaneko at Frank Lloyd Wright's Martin House. The works are installed throughout the historic landscaping and free to view until October 2021. 
For a unique and immersive public art experience, visit the 10-day PLAY/GROUND art extravaganza from August 6-15th, which brings incredible installations to multiple neighborhoods in Buffalo.
Art lovers eager for air conditioning should view the immersive Van Gogh Buffalo exhibit opening this summer, which uses sound and projection technology to bring Van Gogh's legendary paintings, like The Starry Night, to life.
Photos courtesy Kim Marie McKernan