A new mural at 201 Ellicott St. is brightening up Buffalo's downtown core. It took Austin-based artist Josef Kristofoletti four weeks and about 30 gallons of paint to complete the mural, which is titled "Golden Hour" in reference to the rising and setting of the sun.
"The building has these two different sides and each of the sides have two panels, so I thought about what it would look like to paint two different kinds of paintings on each one," Kristofoletti says. "I was thinking of referencing gradients of color because I wanted to reference sunrise and sunset, and I imagined doing a painting that would be a sunset next to a sunrise."
Buffalo Mural Part of Affordable Housing Development
The final result is a vibrant panel of rainbow colors, beginning with indigo, navy and purple at the bottom, which gives way to warm yellows, pinks and oranges as the eye wanders upwards.
The Albright-Knox Art Gallery teamed up with local developer Ciminelli Real Estate Corporation to commission the work, enlisting Kristofoletti's help to conceptualize and execute the mural. The mural is part of a mixed-use, affordable housing development project in the city's Central Business District, which also includes Braymiller Market next to the building where people can access fresh food — a significant development for an area that's notorious for being one of the city's most barren food deserts.
"It's unique in that the development itself is going to be affordable housing apartment buildings and part of the development is to have a grocery store right next to the building where people can get fresh food," Kristofoletti says. "Previously, this area was the biggest food desert in the city and so along with the developers, we hope it brings new life to the downtown so people can work downtown and have an affordable place to live and buy fresh food."
Artist Hopes Mural Brings Cheer to Buffalo Community
The artist says although he's based in Austin, his time in Buffalo has allowed him to discover the city's rich historical past, intriguing architecture and the signs of a bright, hopeful future.
"It was a really fun project to work on, and I just really loved my time in Buffalo, it's really an inspiring city to work in. I loved the old architecture and buildings, and really any time I was out exploring the downtown and older neighborhoods."
Kristofoletti also hopes the mural brings some happiness and cheer to the community, especially given how challenging the past several months have been: "I hope that it brightens up the downtown a little bit. I know that having lived in Chicago, which is a city similar to Buffalo, there are long winters that are gray and bleak, so I hope the mural brings brightness and color to the downtown area."
The residential portion of the 201 Ellicott St. project will feature 131 one-bedroom units and 70 two-bedroom units. The project is slated for completion this fall, while Braymiller Market, downtown Buffalo's first grocery store focused on fresh food, is set for an August launch.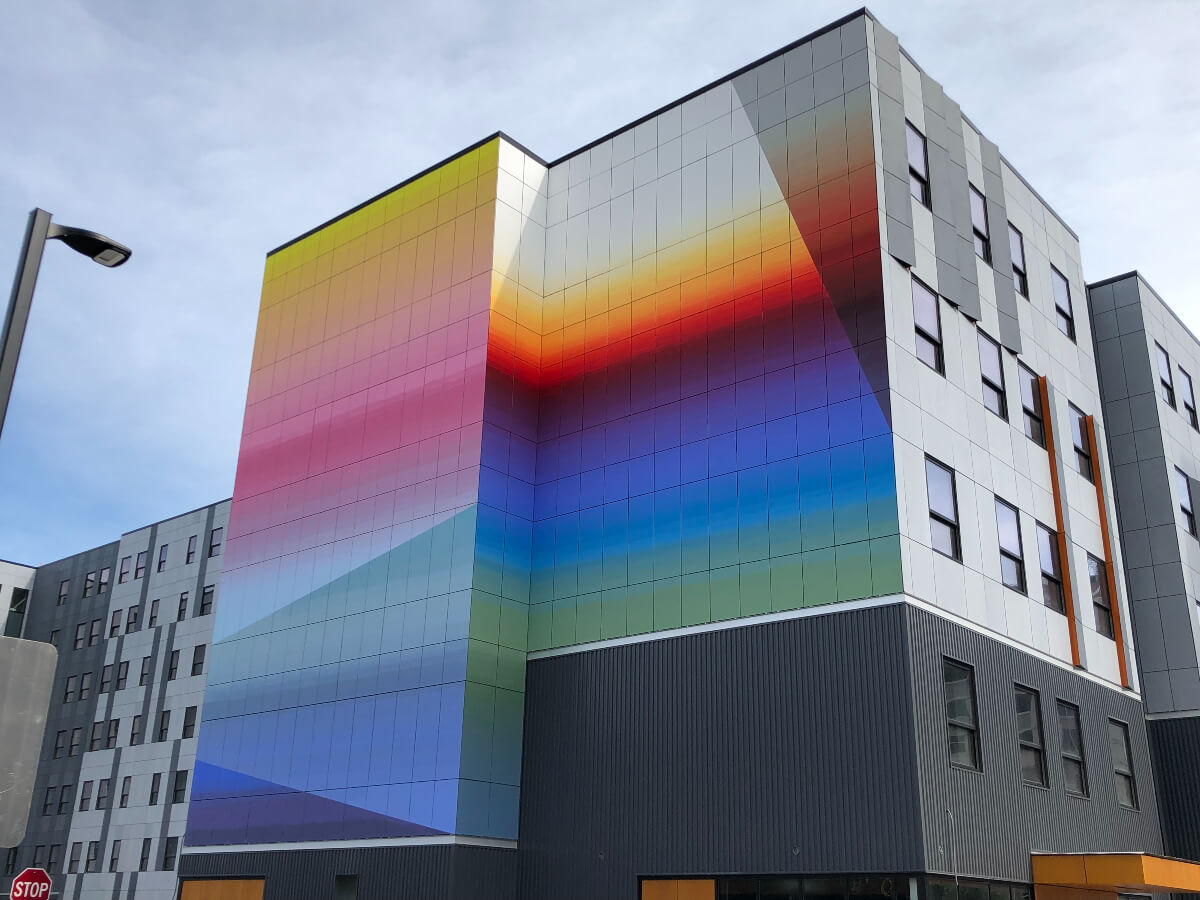 More Arts and Culture in Buffalo
Here are more ways to get your fix of arts and culture in Buffalo.
To view more Buffalo art, here are three street murals across the city that depict the fascinating history of the area.
To see sculptures that are larger than life, check out the giant works from celebrated ceramicist Jun Kaneko at Frank Lloyd Wright's Martin House. Kaneko shapes some of the world's biggest ceramic artworks. 
Get a kick out of 20 colorful, vibrant and thought-provoking art installations at the annual Play/Ground Festival.
Anyone keen on feeling what it's like to step inside a Vincent Van Gogh painting should check out the Van Gogh Buffalo exhibit. 
Music lovers should catch a show from JazzBuffalo, which is breathing new life into the city's music scene and re-establishing jazz as a popular art form.
Lead photo courtesy Josef Kristofoletti