After serving four years in prison for drug smuggling charges, Emily O'Brien made it her mission to advocate for prison system reform and an easier reintegration process for ex-convicts. She launched a popcorn business originally called Cons and Kernels, which has since evolved into a full-fledged platform for advocacy work, community support and building awareness, now called Comeback Snacks.
The idea spread like wildfire, and soon 95 stores were carrying the popcorn in addition to the booming online arm of the business. On June 14th, O'Brien brought the initial idea full circle by opening the brand's first brick-and-mortar location in Hamilton, Ontario.
"I visualized the brand having its own permanent home since I was inside prison," she says. "I visualized a way to tell the story that was more than just the popcorn and really have interactive elements to show what prison was like."
New Comeback Snacks Store Recreates Prison Experience  
The in-person store offers guests an immersive experience illustrating O'Brien's experiences in jail. This includes interactive elements like a timeline of the brand's evolution, the first Comeback Snacks recipe, her prison manual and an audio-visual station where people can listen to the music she and other inmates recorded in prison. She says it will also serve as a community hub for other events like AA meetings and job fairs.
O'Brien was released from prison in December 2018 before moving into a halfway house for six months. She says she hopes Comeback Snacks serves to raise awareness about the need for reform in the prison system and increased compassion for the struggles of many incarcerated women.
"I don't think most people know that the majority of women in prison have suffered tremendous sexual and physical abuse in their lives and have often been raised in very hostile environments, so for many of them, committing a crime was part of their survival," she says.
Challenging Stereotypes About Incarcerated People
Despite the negative stereotypes surrounding incarcerated people, O'Brien says many women end up in prison simply as a result of their unfortunate life circumstances and environments: "I don't think anyone is ever born a criminal and wants to harm other people. It's through intergenerational abuse and environmental situations and survival instincts. Sometimes it comes down to fighting for your child's life or your own life. A number of women in prison are in there because they were defending themselves against a violent partner."
Truth Be Told, a non-profit based in Austin, Texas, recognizes that trauma is a root cause of what leads women to incarceration, which is why they specifically offer trauma-based programming for incarcerated and formerly incarcerated women.    
The Struggles Incarcerated People Endure
O'Brien hopes to raise awareness about the struggles incarcerated people endure, including the financial debts that can be incurred while in prison, and the hardships involved with reintegrating into society once they're released. Comeback Snacks has partnered with several community organizations to help people affected by the prison system including the Elizabeth Fry Society, which provides essential items to women newly released from prison.
There are several challenges that face formerly incarcerated women, including finding gainful employment. That's why Comeback Snacks employs previously incarcerated women — without meaningful work, women released from prison become increasingly marginalized and are at risk of homelessness.
A coffee shop in Dallas, Texas, called Well Grounded Coffee knows how critical employment is to set women up for success — they employ women who are former felons.
Community Support Made Comeback Snacks Possible
O'Brien says while she's proud of how far she's come since her release, she owes her success to the community members who have stepped up to support her along the way.
"They're not just my accomplishments — building this business has been the result of community support, family support and even law enforcement support," she says. "It really has been built from the community — so many people volunteered or donated supplies including our first popcorn popper. If it wasn't for the positive support, we wouldn't be here. Nothing is done on your own."
With COVID-19 restrictions still in place, O'Brien hopes the team will be able to throw an official launch party by July, bringing together employers, local MPs and other stakeholders interested in reforming the prison system.
In honour of the launch of the new store, Comeback Snacks has provided a gourmet popcorn recipe for toast readers
.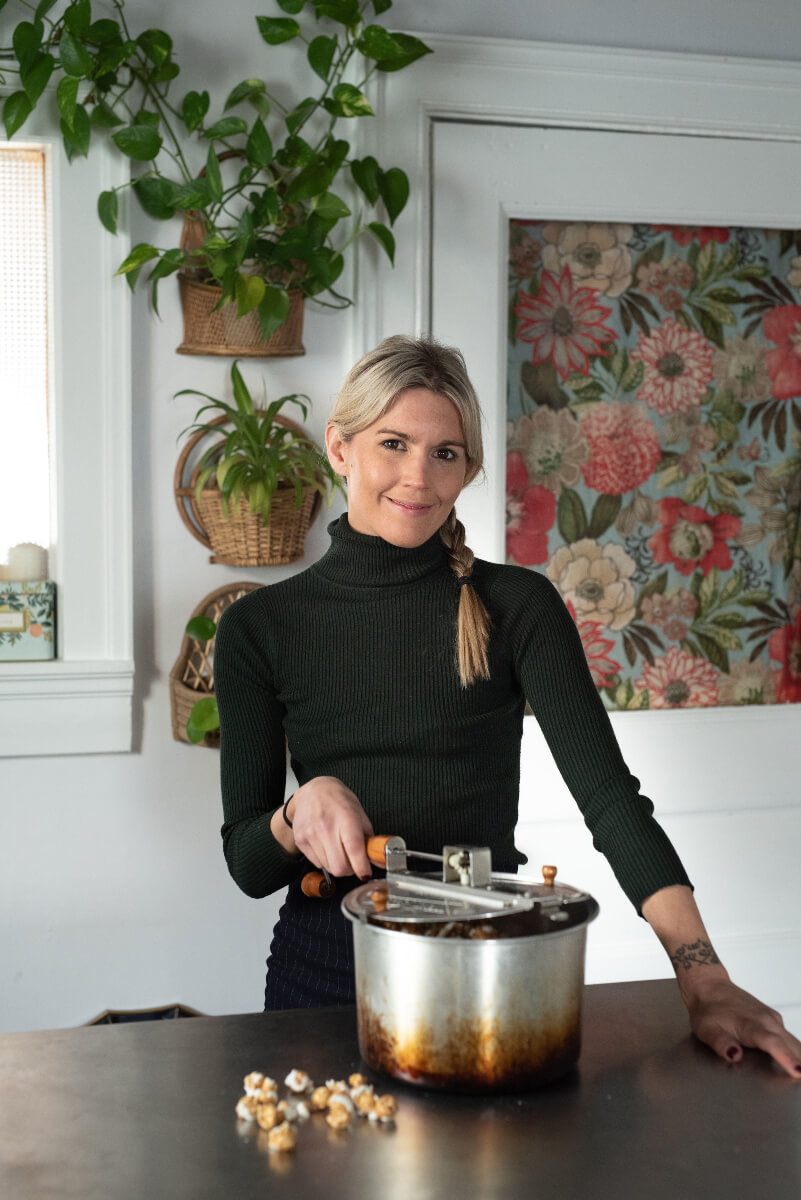 Comeback Snacks Recipe: Healthy Sweet Sriracha Popcorn
Ingredients
1/2 cup mushroom popcorn kernels  
1/4 cup powdered stevia
1/4 cup sriracha seasoning  
Instructions
Prep by mixing stevia and sriracha seasoning together in a small bowl and set aside.
Heat oil in the pot on medium-high heat for 60 seconds.
Add the kernels and cover the pot. 
Gently shake the pot so that the kernels are distributed evenly. Once popping slows to every few seconds, remove from heat and remove the lid.
Dump into a bowl and allow to cool for 30 seconds.
Add the seasoning mixture, gently shake the bowl for even distribution and voila! You have a big bowl of healthy sweet sriracha popcorn to enjoy.