If you love someone with dementia, you likely know everything about them — their favorite music, their favorite color. What they like to wear for special occasions. What food they like to eat. How they take their coffee. What they remember — and what they don't. You see them not only for who they are, but also for what they are to you: a grandparent, a parent, a spouse, a friend.
But the world doesn't always see your loved one that way. People living with dementia and people supporting someone with dementia are often stigmatized. This can lead to stereotyping, separation and discrimination. Dementia-related stigma can cause significant negative effects such as low self-esteem, isolation, poor mental health and decreased quality of life in people living with dementia.  
Carmen Davailus is looking to change that with Doggies For Dementia Foundation, her non-profit organization based in Austin.
Doggies for Dementia Captures People Living With Dementia
So what exactly is Doggies For Dementia? It's a unique organization that drives awareness around dementia by capturing candid photos of people living with dementia. In the photos, people living with dementia are surrounded by their loved ones and of course, their furry friend.
"When we add dogs to the photos, people seem to forget I'm even there taking photos," Carmen Davailus says. "It becomes a beautiful, low stress, fun time for families, which is not common for families impacted by dementia."
And the beautiful thing about dogs is they love and accept us. They never judge us: "I have a friend who has early onset dementia, and he told me that when there's a dog to play with and love, the feeling of needing to be as 'perfect' as possible and accommodate others is gone and they just get to be themselves. This is exactly what it feels like, and I believe it's a wonderful gift for all of us."
Furry Friends Bring the Fun to Their Photoshoots
If you've ever seen a dog rolling around in garbage (or worse) in utter bliss, you know they're happy and carefree creatures. Davailus says images with the family pet are more candid and joyful because dogs bring that fun energy with them.
"Humor, a basic spiritual need is also an equalizer," she says. "It doesn't matter what else is going on, if we can laugh, we are unified. We're in it together and we are all just people laughing and feeling connected. This is something really missed during the pandemic."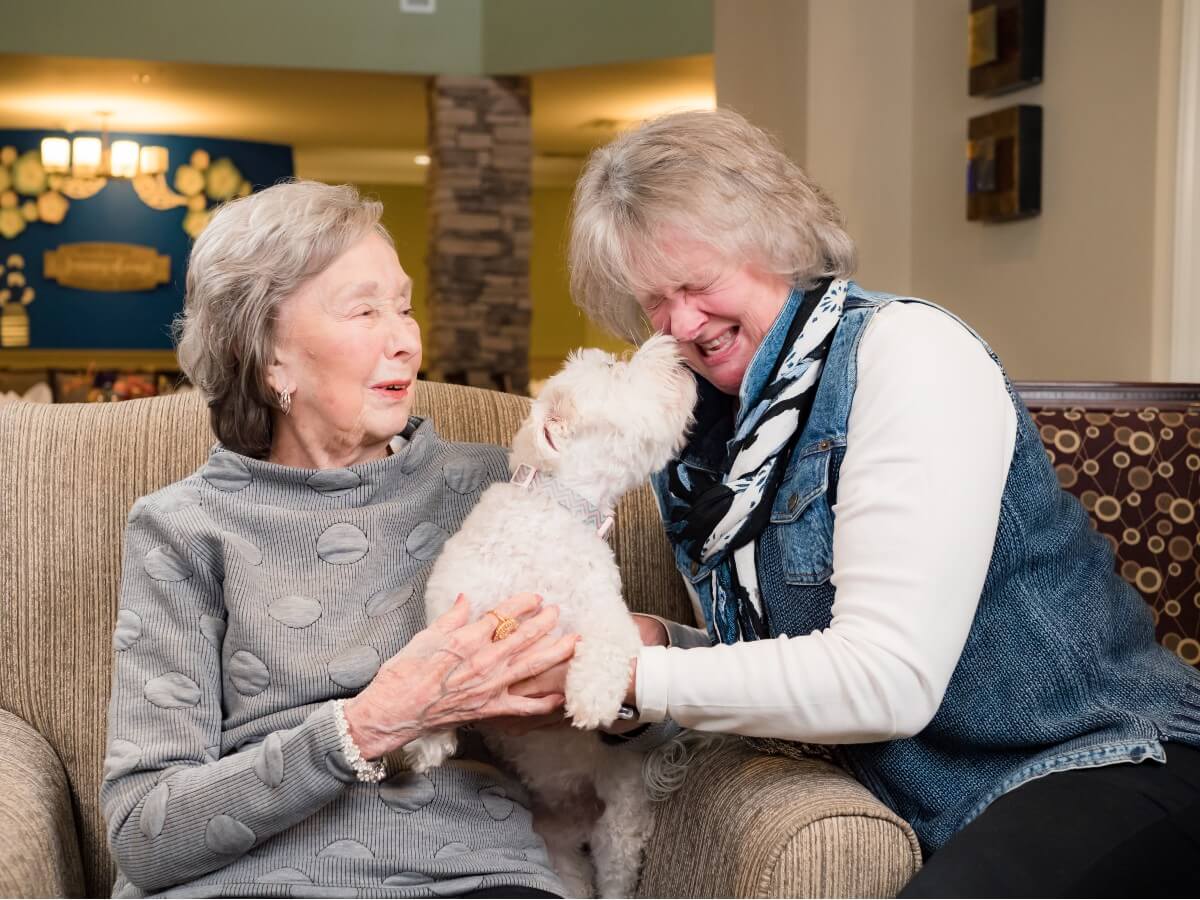 How the Idea for Doggies for Dementia Was Sparked
Davailus has a background as a nurse. In 2018, she released a book called Just See Me: Sacred Stories from the Other Side of Dementia. For the collection of stories in the book, she followed and photographed 13 families impacted by dementia.
"I began to understand the how and why families felt so isolated, alone and disconnected from others," she says. "I recognized the need to raise awareness. I wasn't quite sure until I saw the difference in impact of the images which included dogs and those with only the person with dementia."
Seeing people living with dementia interact with their beloved pets gave her the spark of the idea for Doggies For Dementia — she would incorporate dogs into photo sessions and share stories. The organization grew from that idea.  
Fighting the Dementia Stigma
Through the organization's program, each participant receives a gifted photography session, which includes a package of professional prints and a video slideshow. By sharing the images and stories from the sessions online, Doggies For Dementia hopes to reduce the stigma, isolation and loneliness surrounding dementia.
According to the Centers for Disease Control and Prevention, "dementia is not a specific disease but is a general term for the impaired ability to remember, think, or make decisions that interferes with doing everyday activities." They add that though dementia mostly affects older adults, it's not a normal part of aging.
Dementia affects millions and millions of North Americans, and its numbers will only increase as our population ages. But there's a pervasive stigma that deeply hurts people with dementia and their families.
People Afraid Of What Happens With Dementia
Davailus says there's a fear surrounding the disease along with a lack of understanding.
"We tend to run from things which scare us, and other than death, losing our cognitive abilities is one of our biggest fears," she says. "People with dementia need someone (usually more than one) to care for them, and we are an independent-minded and respecting society. When we fear something, we look away and don't want to know about it."
She believes that over time, we can change people's perceptions. She says that as recently as a few decades ago, there was a stigma facing women living with breast cancer: "It wasn't until women courageously shared their stories and images did the world become more familiar with the disease and the women's journeys. This is what we are doing for dementia."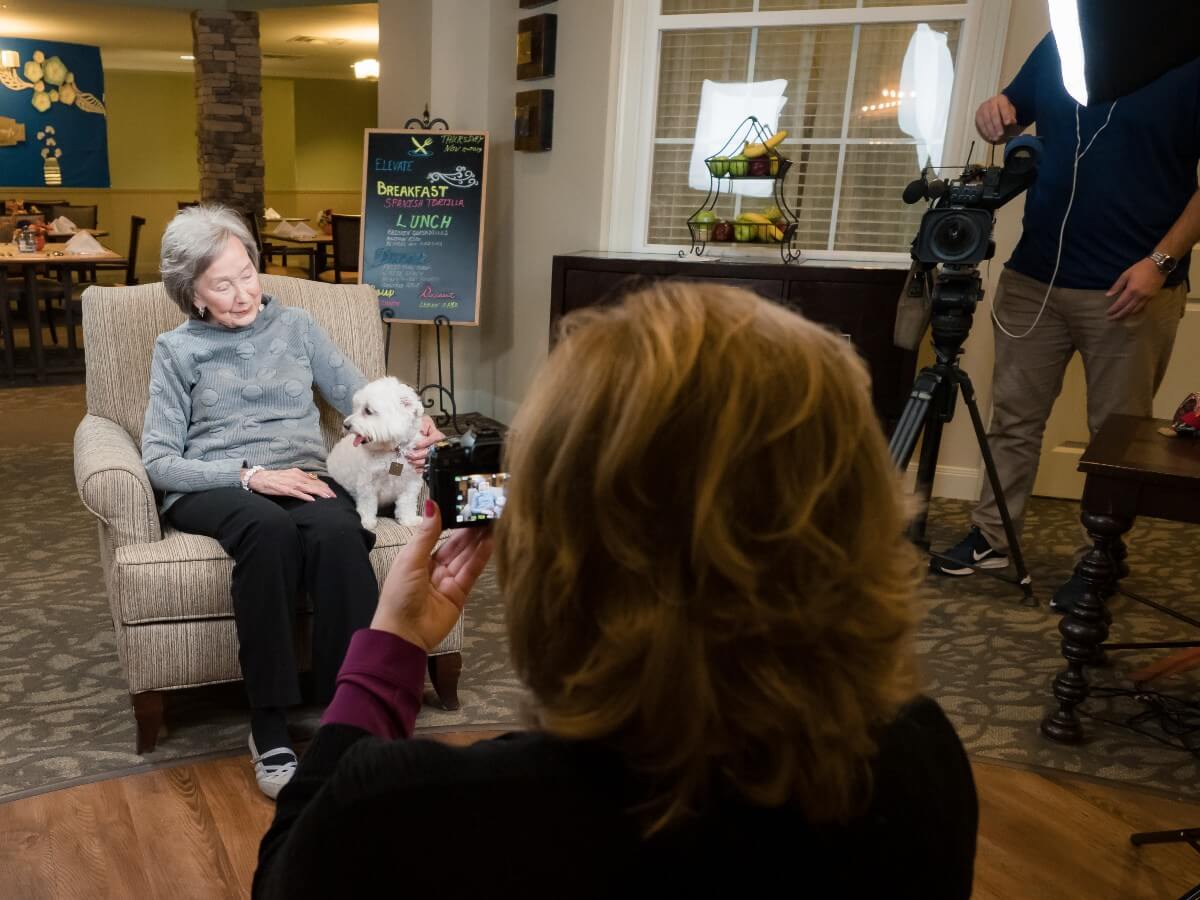 How Doggies for Dementia Gets Your Attention 
Davailus says it's not easy to capture someone's attention when they're scrolling on their phone. Notifications, ads, apps, social media, videos and flashy GIFs are all competing for our attention.
What's a way to get people to stop scrolling? With cute dog pictures, of course. And when people see photos of someone with dementia surrounded by their friends or family, and furry friend, they see the person's personality. They see a real person, not an unknown stranger to hide or look away from.
Each Photo Session Leaves a Lasting Impact
For families impacted by dementia, it's special to see their loved one's personality represented in the photographs. Davailus plans a "reveal" for each family after the initial session to share the photos and video slideshow.
"I get very big, tight hugs and tears of both sorrow and joy," she says. "I've attended a good number of memorials and funerals, and people I never met come up to me to thank me for giving the family such beautiful gifts and experiences."
The photos instantly become cherished keepsakes: "When I photographed book participants for Just See Me, families didn't really want the photos taken, but they did it for me… One wife kept the photos (packaged as a gift) and didn't look at them until Christmas because she wanted to imagine it was a gift from her husband who was at the later stage of dementia. The photos mean more than even I imagined."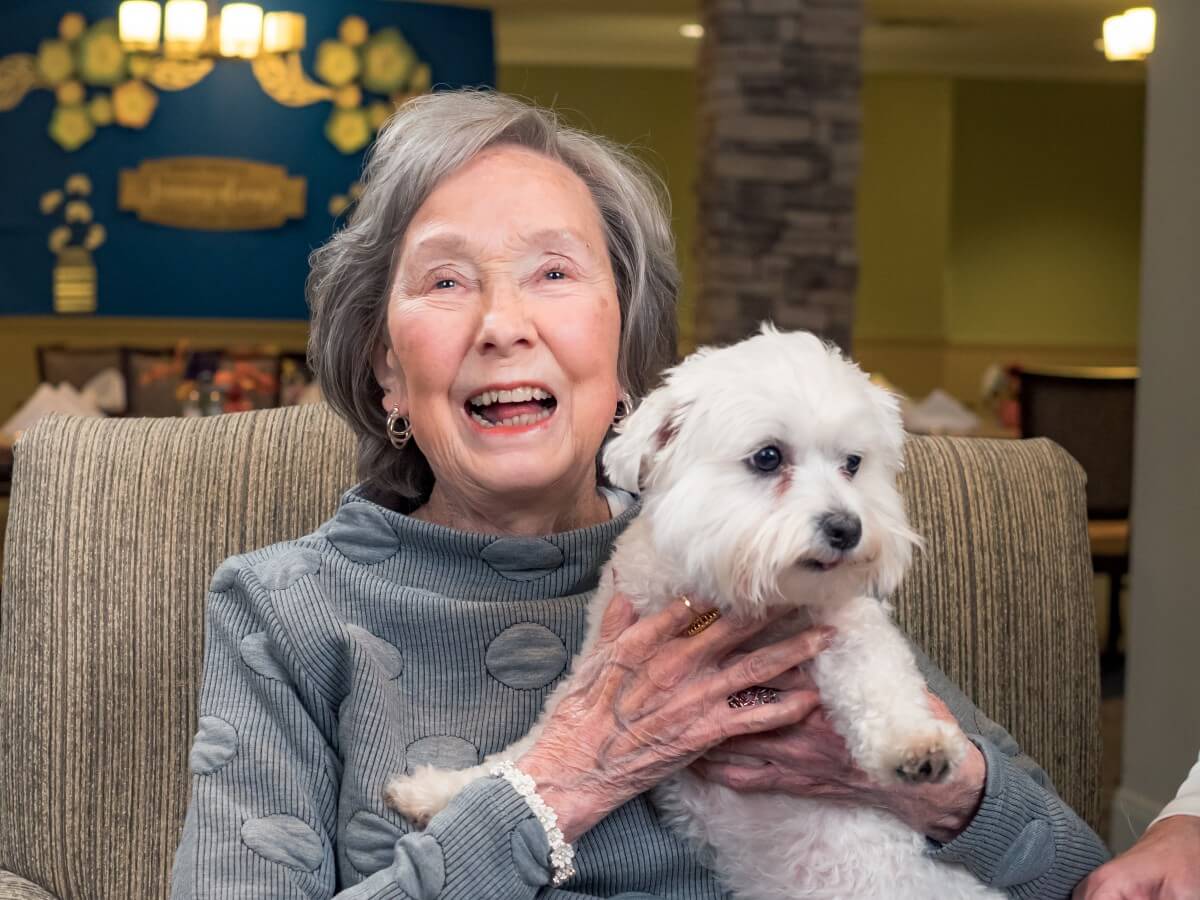 The Power of Photography in Reaching the Public
And the photos impact the general public, too. Whenever Davailus shares the images at speaking engagements, people cry in the audience: "At first I thought perhaps the material was too emotional, however almost always they approach me and what I hear is some version of the following: 'My mother, father, husband…. died and I never thought to take photos. I wish I had known about you or even thought to take photos. I thought it would be in poor taste, and I really regret it now.'"
She says her images are taken with compassion, kindness and love, which shines through when strangers see the photos online. And of course, seeing a cute pup doesn't hurt.
"They love seeing the dog interaction and then go a bit further into the stories to learn more," Davailus says.
Families Create a Legacy Through Doggies for Dementia
Many people message Davailus on social media to thank her for doing this work and share how their own lives have been impacted by dementia.   
For the families who participate, they're happy knowing their loved one and their stories can help others — whether it's by letting people in the same boat know they're not alone, teaching strangers more about dementia, or just showing their family member as a whole person, whose diagnosis is just one small part of them.
"They get a chance to create a legacy they never thought of before," she says.
Video Series Explores Caregiving for People Living With Dementia
For family caregivers or anyone who wants more information on dementia care, you catch watch their YouTube program called "Experts Dig in with Doggies for Dementia." So far the video series has featured 40 experts in the field of dementia and families impacted by dementia.  
Sylvia Worsham, an Austin-based speaker and coach, was a guest on the video series last year to talk about her experiences with caregiving for her father. 
"Carmen's foundation focuses on education and support not just for the patients, but also for the caretakers of patients," Worsham says. "It brings awareness to the struggles felt by the family of the patient."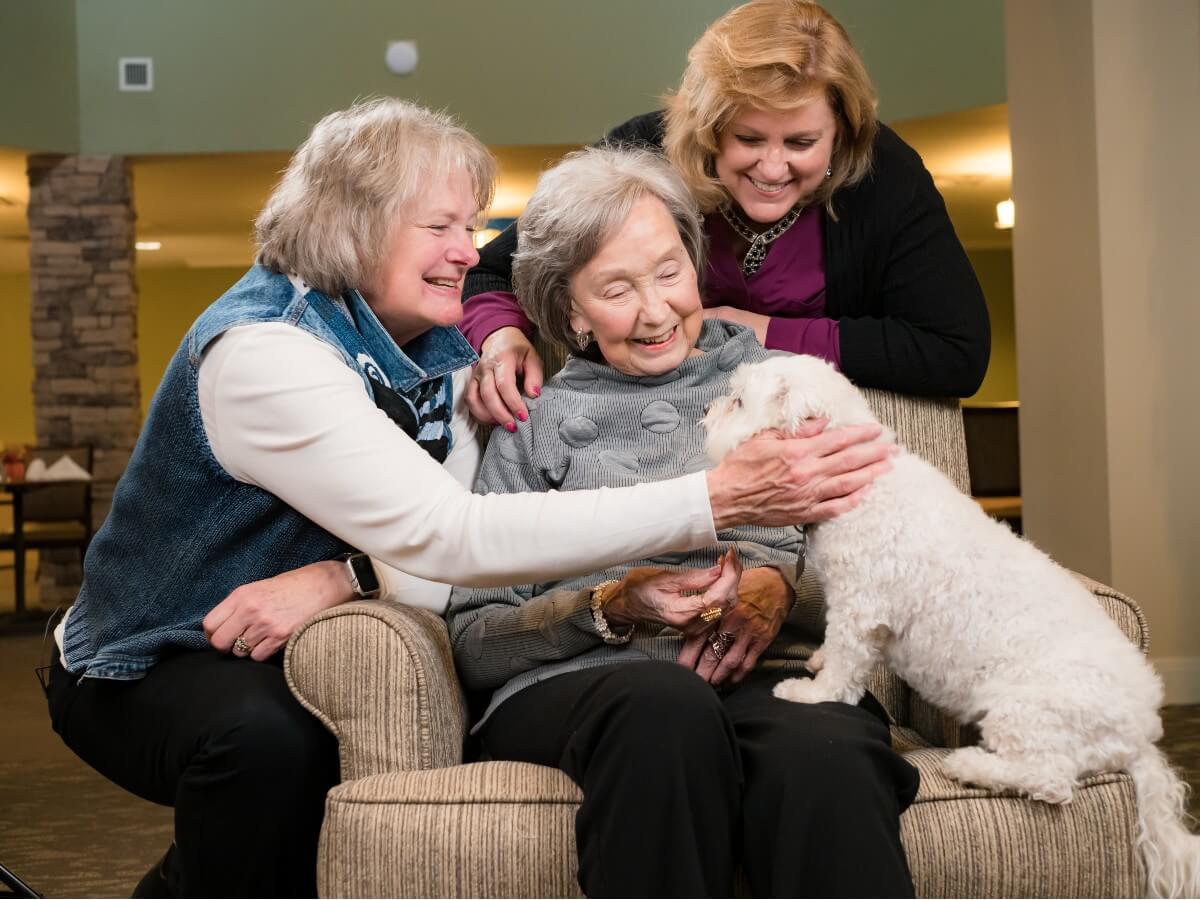 How to Participate in the Program
If you want to participate in one of their photo sessions, you can contact them online for more information. Any family impacted by dementia will receive a photo session as long as they agree with the mission of raising awareness about dementia and are comfortable having their photos and video shared online.
The organization currently serves the central Texas area, and plans to include other photographers across the country and internationally. Davailus hopes to take Doggies for Dementia on the road in 2021 and visit others parts of the United States. 
The Best Way to Support Doggies for Dementia
If you want to support Doggies For Dementia, Davailus says you can donate, share their content and comment on their social media posts, blogs and YouTube channels.
She adds that if you're impacted by dementia, simply participating in their photo sessions and letting the organization tell your story makes a big impact.  
Photos of Carol Burns with her daughter, Robbie, and beloved dog. Photos courtesy Carmen Davailus.