What started as a university project for Alexa Jovanovic has transformed into a coveted, inclusive fashion brand in just a few short years.
Jovanovic used her research on Braille and inclusive fashion design to found a clothing company featuring products adorned with phrases written in Braille. Toronto-based Aille (pronounced: eye) Design launched in January 2020 with a classic black t-shirt that reads, in Braille, "Fashion is for Everyone."
"All of our pieces are fully legible, created alongside blind and low vision communities, and are designed to be worn by everyone," Jovanovic says. "There are sometimes misconceptions that a product with Braille is meant just for someone who can read Braille, or who is blind, but what we're trying to do is create accessible clothing in a way that is desirable for all audiences. By using Swarovski crystal pearls, we are creating products that have a high connotation of beauty and desire, which then in turn helps to combat those stigmas surrounding disability and Braille and accessibility."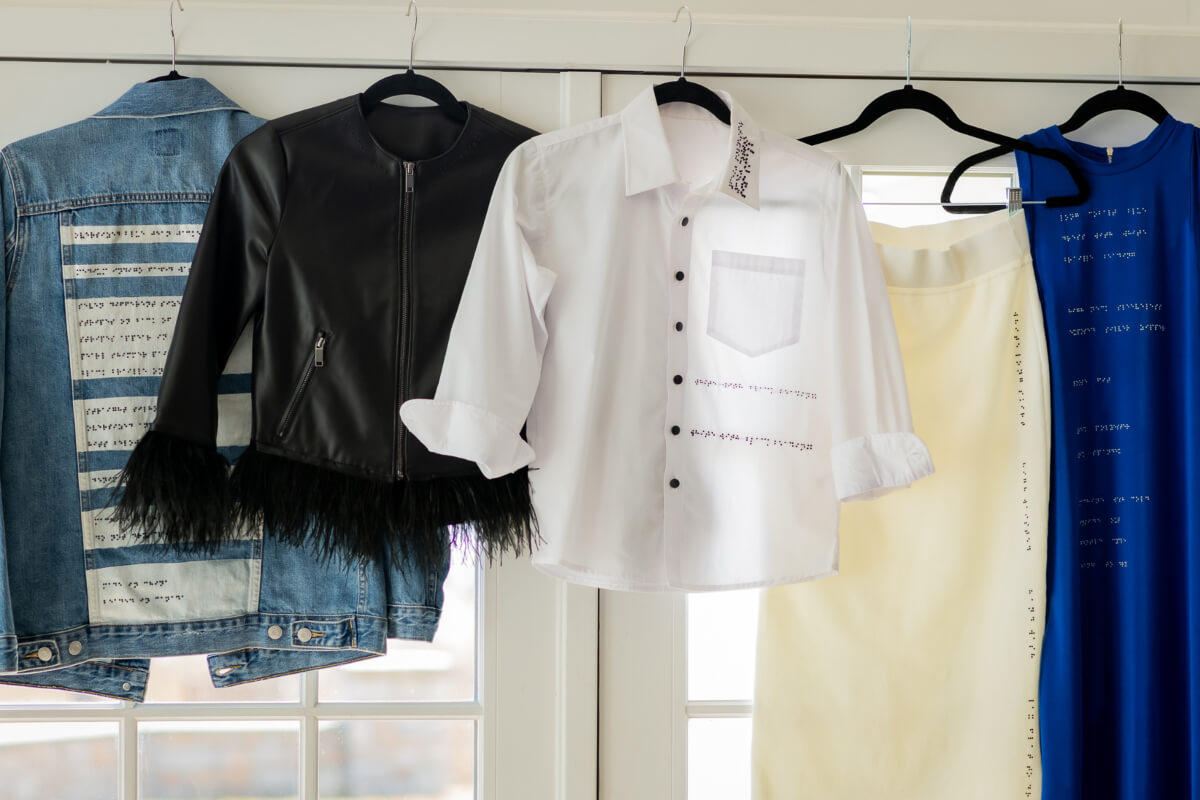 Involving Customers & Communities Key to Inclusive Fashion Design
Every Aille Design garment and accessory is created through a co-design process, with customers and communities involved in the process alongside Jovanovic and her team. This is key to inclusive fashion design — ensuring that the products are designed in a way that is useful to anybody.
"We talk really openly about what types of products and which phrases are wanted," Jovanovic says. "Every single customer has found something different about our pieces or our story or our mission that they are most drawn to. We often hear from the blind and low vision communities that, prior to our company, their demographic was really overlooked when it comes to fashion. Blind and low-vision individuals weren't included in the design process, and their needs were always assumed. When we reach out for advice or for feedback in creating these products, there's just so much willingness to participate and contribute because it's never really been done before. That real transparency and communication has been so key to our business."
Jobanovic adds that some customers have mentioned that the design process and products have inspired them to want to re-learn Braille, or to start incorporating Braille into their lives more.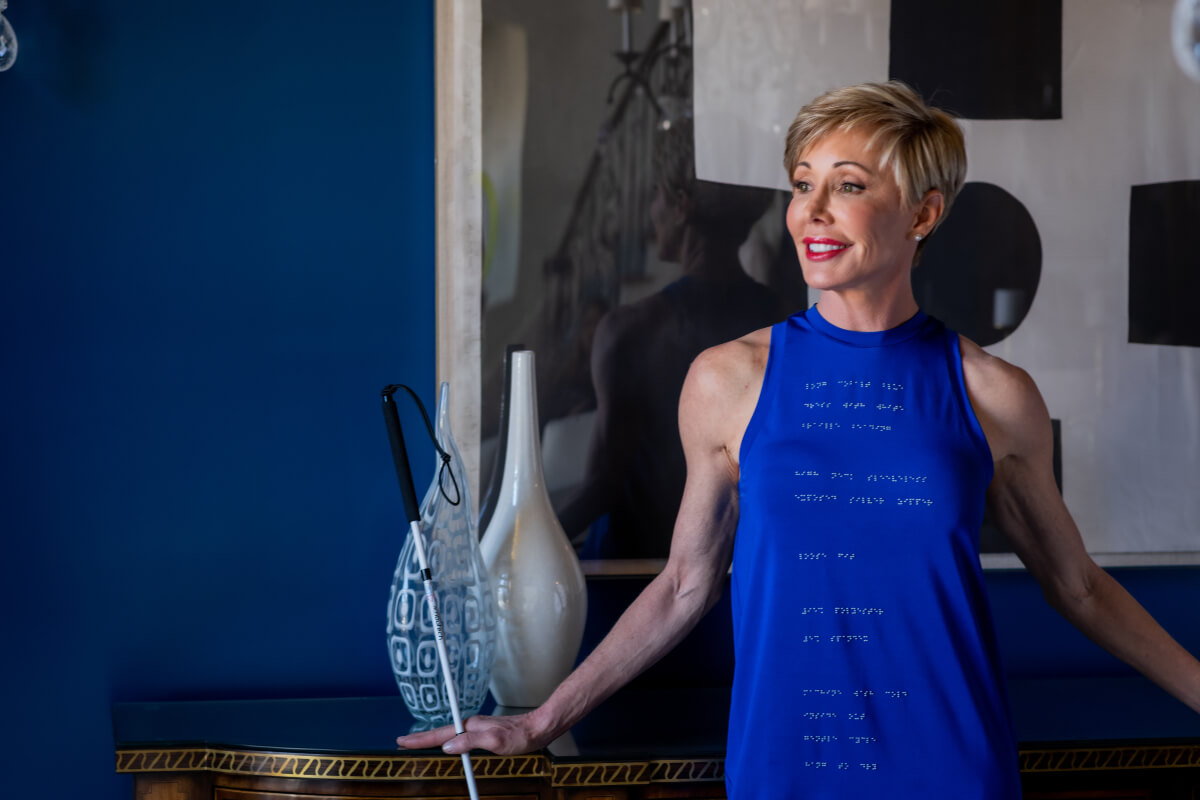 Aille Design Expanding Internationally
The pandemic affected the products Jovanovic decided to release — necessary masks and comfortable t-shirts instead of denim jackets, for instance — but did not affect the brand's ability to grow its audience across Canada.
Jovanovic says the response to Aille Design in its first year of operation has been "phenomenal," and they've made connections in the United States, United Kingdom and Japan in hopes of continuing to expand the brand's pool of collaborators.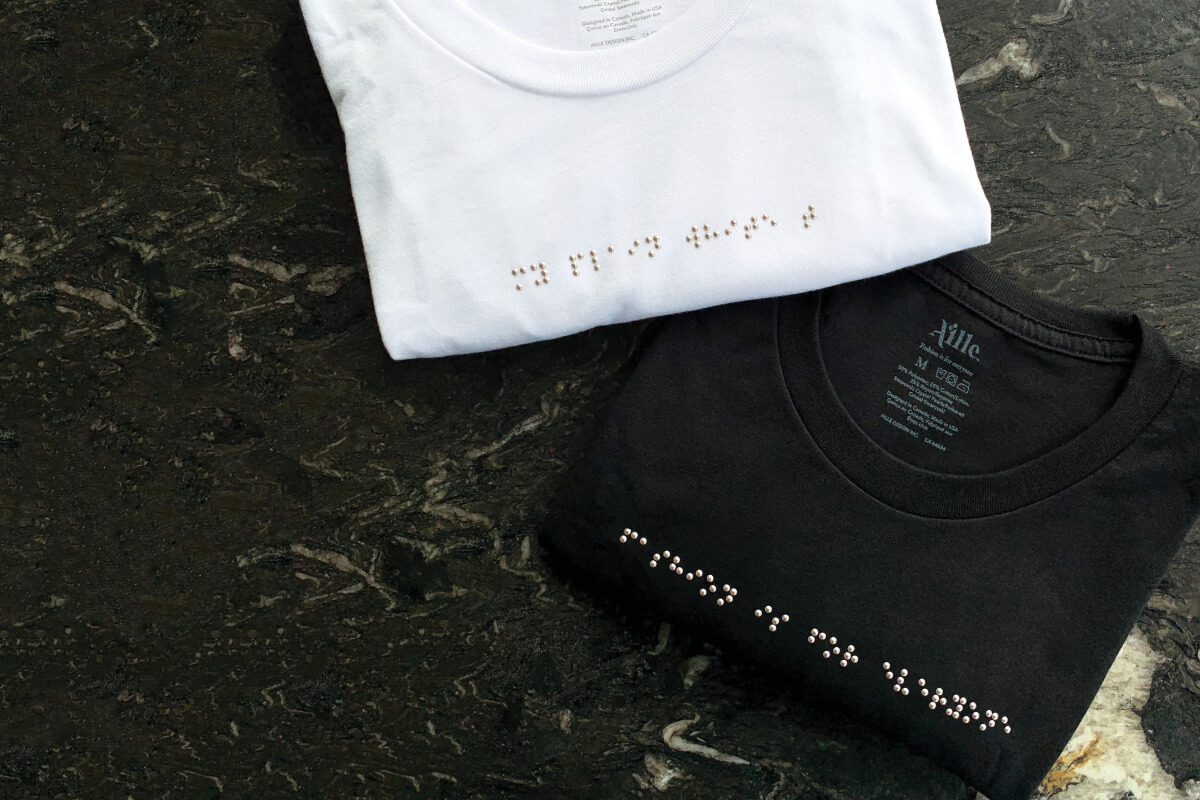 Giving Back to Blind and Low-Vision Communities 
So far, Aille Design donates 5% of all profits from t-shirt sales to the American Foundation for the Blind, the largest organization within the United States for the low-vision community. They also work with Braille Literacy Canada and the Canadian National Institute of the Blind to develop product offerings.
"As we continue to grow, being able to build these relationships and know that we are fully supported by the community is just such a fantastic feeling," Jovanovic says. "It's reassuring to know that we're on the right path and that we are able to create positive change alongside the community."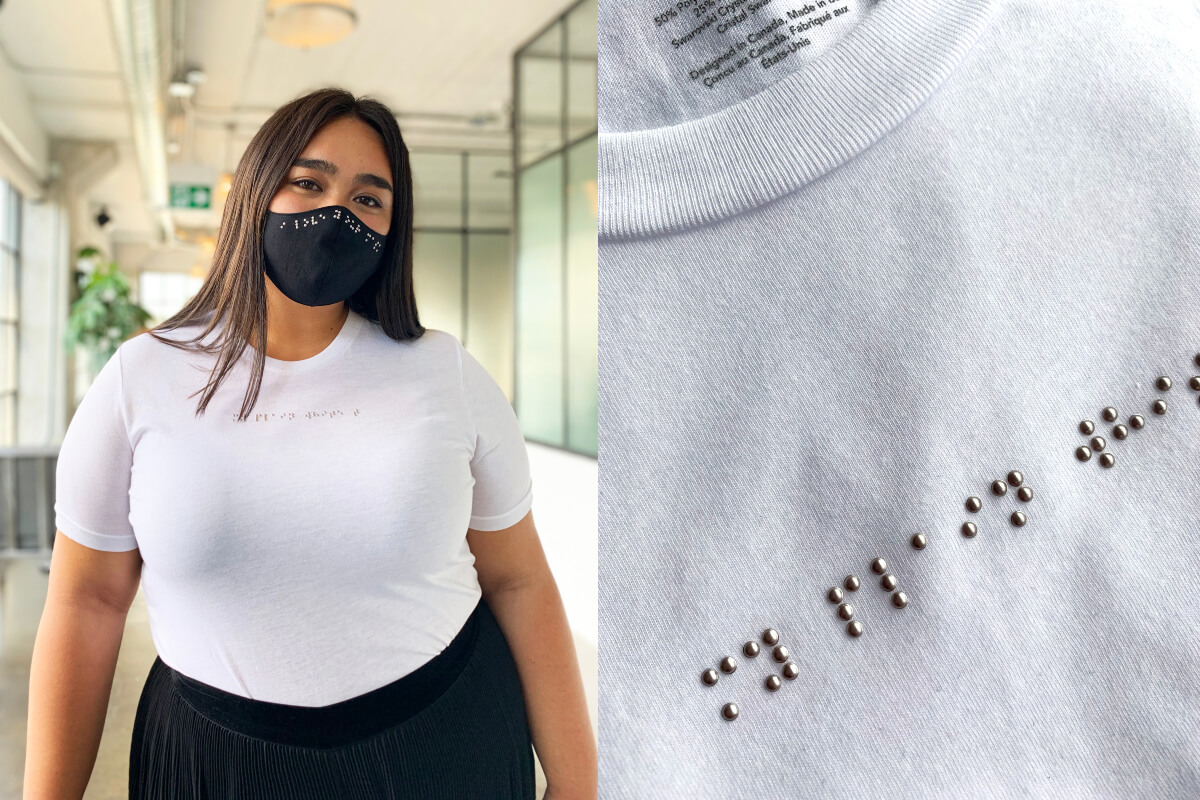 Founder's Biggest Goal is Inclusivity in the Fashion Industry
While Jovanovic has many goals and ideas for her young brand, she is ultimately motivated by creating and encouraging more inclusivity in the fashion industry.
"When talking about inclusivity in fashion, I want to make sure that individuals with disabilities aren't siloed and left out of the conversation," Jovanovic says. "Everyone should have opportunities within fashion, whether it's in the brainstorming and design processes, or marketing and photography and writing, or even the actual manufacturing. A big dream of mine is to be able to work with a manufacturer that primarily employs individuals with disabilities. Having the community involved from start to finish at every single point of the company is a really huge goal of ours, as is being able to teach other companies how they can implement those processes."
What started as a project at Ryerson University for Alexa Jovanovic is now a clothing brand leading the way in inclusive fashion design.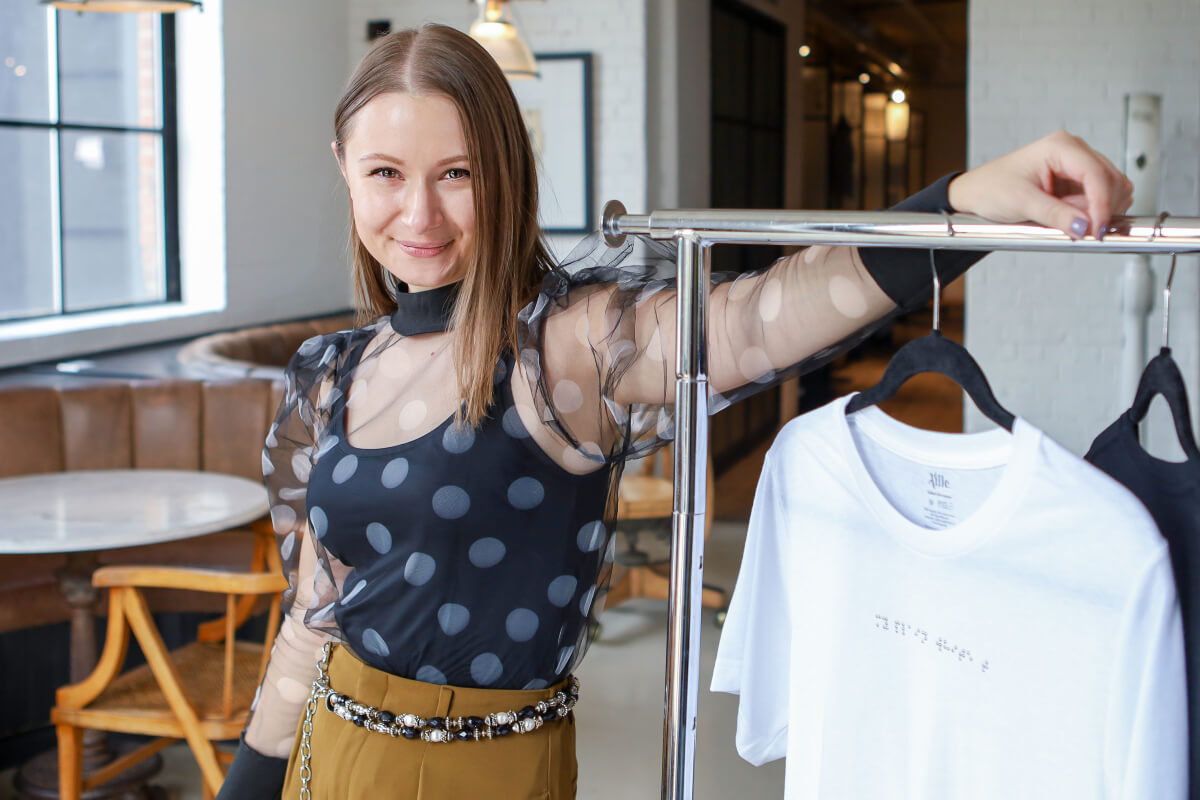 More fashion labels doing good:
Lead image: Model Kassandra Hazlehurst | Braille on black t-shirt reads: fashion is for everyone