The story behind Letters Apparel, a gender-neutral clothing company based in Calgary, is simply one about bodies. We all have bodies, they're all different, and yet there is one commonality — we just want to look good and feel good in our clothes.  
Gender has nothing to do with style, and very little to do with clothing fit, which anyone who has ever altered their clothes can attest to.   
William Hosier, Letters Apparel co-founder and operations director, explains that clothing manufacturers tend to design for the classic "feminine" and "masculine" shapes without much thought for anyone else. The issue with this, as Hosier describes, is there's actually an entire "middle ground." 
Launching a Clothing Line to 'Tears of Joy'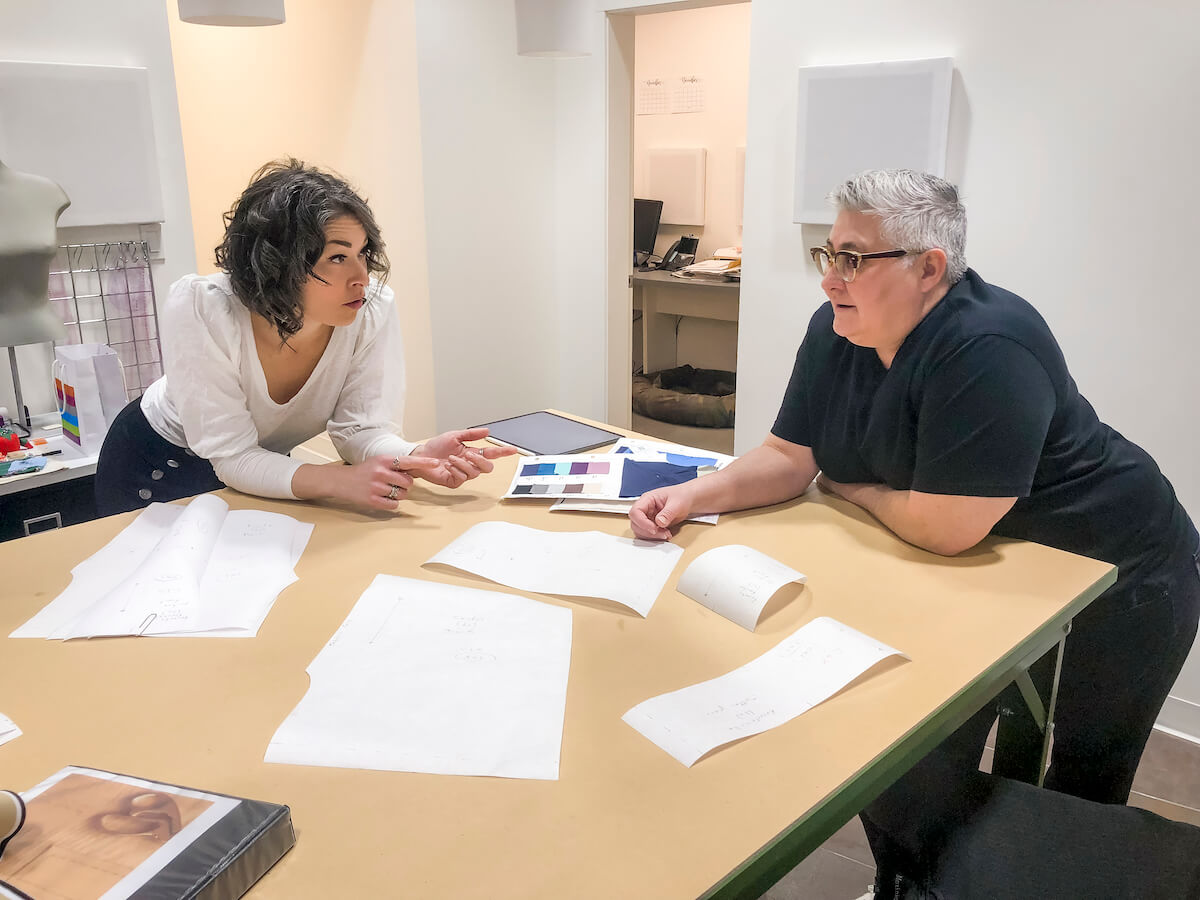 From beginning market research in January 2022 to holding their first fashion show in August, Hosier and fellow co-founders Carol Palynchuk (CEO) and Megan Szanik (business strategist and owner of espy Experience boutique) have taken Letters Apparel from concept to reality with lightning speed.
When their prototype clothing (bomber jackets, suit vests, knit sequin vests, jeans, and shirts) debuted at their fashion show, Hosier says there were cheers, laughter and even tears of joy. "We've realized that the research we did and the ideologies we have clearly hit a chord," Hosier says. 
Letters Apparel is Designing for All People and All Bodies 
The name "Letters" affectionately refers to the jumble of identities that make up the 2SLGBTQIA+ community. While Letters Apparel is for all people and all bodies, their core audience are those who just need better-fitting, high-quality, good-looking clothing.  
Instead of designing for gender, they design for body shape as well as size, so each item is designed with both factors in mind. This is not easy, and the reason other companies haven't done it, Hosier explains, is because each item needs to be designed several different ways.   
In order to achieve the best fit, shopping with Letters Apparel can take a bit of preparation. They approach clothing design through what they describe as five core body shapes that everyone shares. Here are just two examples: "A" is for those who are narrow at the top, wider at the bottom, while "X" is your classic hourglass. By using the body shapes, the company can build better-fitting clothing. 
The fit pages are a work in progress, and the Letters Apparel website includes detailed measurement instructions and fit ranges for garments so customers can determine their body shape and measure themselves for the clothes.  
Approaching a Better Fit  
"The underwear is a good example of how we're are approaching better fit," Hosier says. "There's a centre crotch and up-rise, and then there's the waistband. This indicates where the underwear is going to sit on you. Where the underwear sits depends on how big your hips and butt are. Measuring the rise lets you know they will sit in the right place." 
Currently, their briefs and vests can be bought online or picked-up locally in Calgary at espy Experience, while other clothing items like shirts, jackets and jeans are available for pre-order. All Letters Apparel products will be available online by the end of November, continuing their rapid pace of development.  
Letters Apparel Wants to 'Help Build You Up' 
The company has some very exciting things in the works: instead of measurements, they are investigating emerging technology that would allow people anywhere to provide a full body scan of themselves for "hyper-accurate dimensions," to make it even easier to buy clothes that fit.  
At the end of the day, the company is driven by supporting people. As their website states, "We want to create clothing that actually fits, is enjoyable to wear, and helps you be who you want to be. We are creating products that help build you up and support your personal choices." 
"It's about helping people and making people feel good about themselves," Hosier says.    
More fashion brands doing good:  
Lead image credit: Photo courtesy of Letters Apparel.