Connecting long-term care residents to their families
Like everyone else in the world, the COVID-19 pandemic has changed my professional and personal life.
For the past three years, I have worked as the Communications Leader for Sherbrooke Community Centre. It is a long-term care home in Saskatoon that prides itself on providing meaningful and innovative care to residents of all ages.
In 2018, I launched a podcast called YXE Underground. It features interviews with people in our community who are making a difference, but are flying under the radar. It has been a wonderful experience meeting so many passionate and caring people in Saskatoon, and the podcast has allowed me to use the journalistic skills that I built during my eight years working for CBC Radio in Saskatchewan.
Every month, I meet a new person in our community and spend an hour or so with them learning more about what they do and why they do it. It's usually easy balancing my day job at Sherbrooke with the podcast in my spare time.
That was not the case in the month of April, 2020.
When the pandemic arrived in Saskatchewan, Sherbrooke managers took immediate steps to keep Elders and staff safe. As Communications Leader, it was my job to keep families and loved ones informed about what was happening, while at the same time keeping staff and Elders updated on all the changes that were happening.
Work became all-consuming starting on March 15th, which meant the podcast took a backseat. An interview I had scheduled with a Saskatoon teacher on March 17th was cancelled, and I was struggling to find the motivation to create a new episode for the month of April in the midst of a global pandemic.
Sometimes, however, the best stories are the ones that are right in front of you.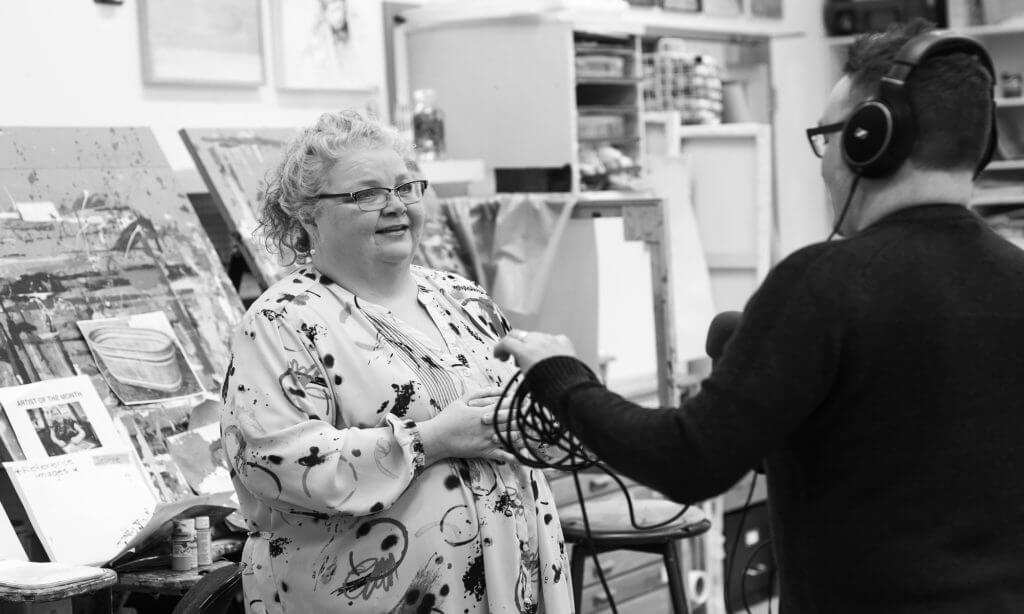 I was working next to people at Sherbrooke who were doing great things in our community and who were definitely flying under the radar. I started bringing my recording device to gather interviews and sounds and the result was an episode that takes listeners inside a long-term care home in the midst of the COVID-19 pandemic.
A view inside a long-term care home during the COVID-19 pandemic
In the episode, you will meet people like Deb Schick. Deb is the Leader of Professional Practice and has worked at Sherbrooke for more than 20 years. She is a rock in our community who every day answers questions ranging for infection control to the proper way to put on a mask. I feel lost at Sherbrooke when Deb is not there.
"I'm seeing a whole bunch of people chipping in to do things that they probably didn't do in the past. That it may not have been something they thought they might do, but they're doing it now. That's one of the things I love about Sherbrooke is that sense of community," explains Schick in this episode.
Carrie Hart is one of Sherbrooke's recreation coordinators. Normally, her job involves taking Elders out into the community for excursions to the Remai Modern Art Gallery or to a Saskatchewan Rush lacrosse game. That's certainly not the case thanks to COVID-19.
Our Elders are restricted to their respective houses and neighbourhoods. They can't go out into the community and we have closed our doors to visitors except for palliative cases.
The energy that Hart and her fellow recreation coordinators would put into community excursions is now being used to connect Elders with their family and friends through FaceTime and Skype sessions.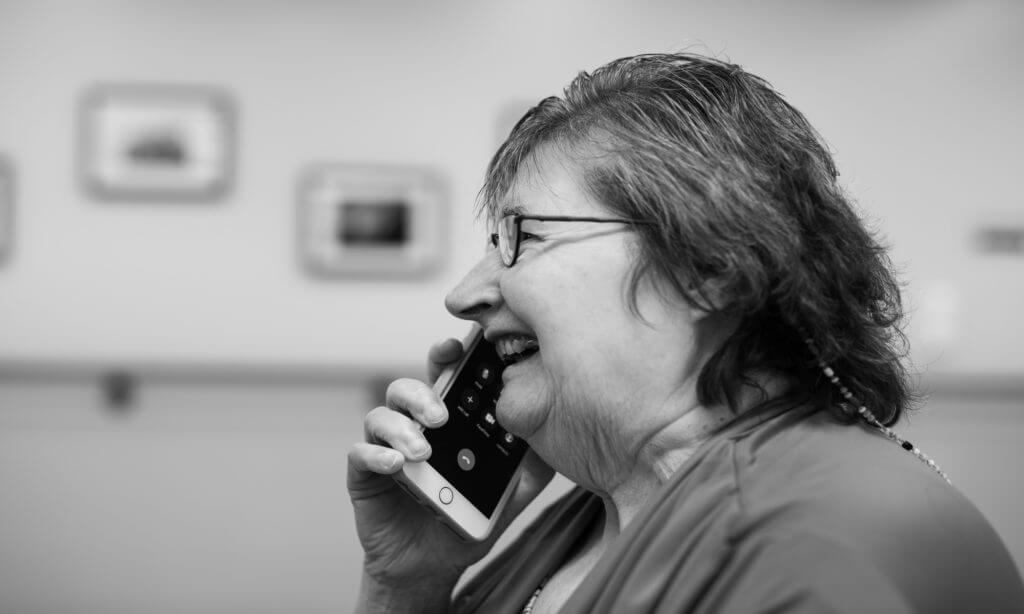 "It's so heartwarming to see Elders talk with their loved ones, whether it be their spouse or their children or grandchildren. We as a group of recreation coordinators have shed some tears while seeing the happiness of those moments," says Hart.
Since March 14th , Elders at Sherbrooke have had their lives altered in many different ways. Spaces where they normally gather for things such as concerts and church have been closed. The greenhouse, arts studio, pool, therapies gym and computer lab have also closed.
We are asking a lot of our Elders during this challenging time.
However, an Elder who I spoke with for the podcast reminded me that she is still part of a community here at Sherbrooke, and that is something worth celebrating.
I would consider Alice a friend. She is wise and kind and has a wonderful way of putting together words into cohesive thoughts. Alice reminded me that at Sherbrooke, she is surrounded by staff that love and care for her, and residents who bring her joy.
When Alice speaks to her family on the phone, she is the one cheering up her family. "They're the ones who are worrying. I'm not. I know that I'm in the best place I can be. I wouldn't dream of being in any other place right now."
This pandemic is shining a light on long-term care homes in Canada and how we view our seniors in society. I think it's long overdue. I hope this episode of YXE Underground gives you a sense of not only how life has changed at Sherbrooke Community Centre, but why it's vital for our society to value the people who call places like Sherbrooke home.
Listen to the episode on Eric's website 
Link to the episode on Apple Podcasts 
Photos Rona Andreas