In the world of fashion and beauty, it can be tricky to stay fresh, but for Toronto certified nail artist Milica Dodic, being on-trend is a challenge she is willing to face — no matter the economic climate. During the global pandemic, Milica kicked her nail artistry up a notch by offering a product instead of a service. That's how her press-on nails business came to be, and Rhymes With Pizza (it rhymes with Milica!) was officially launched.
Lead photo courtesy Milica Dodic, Rhymes With Pizza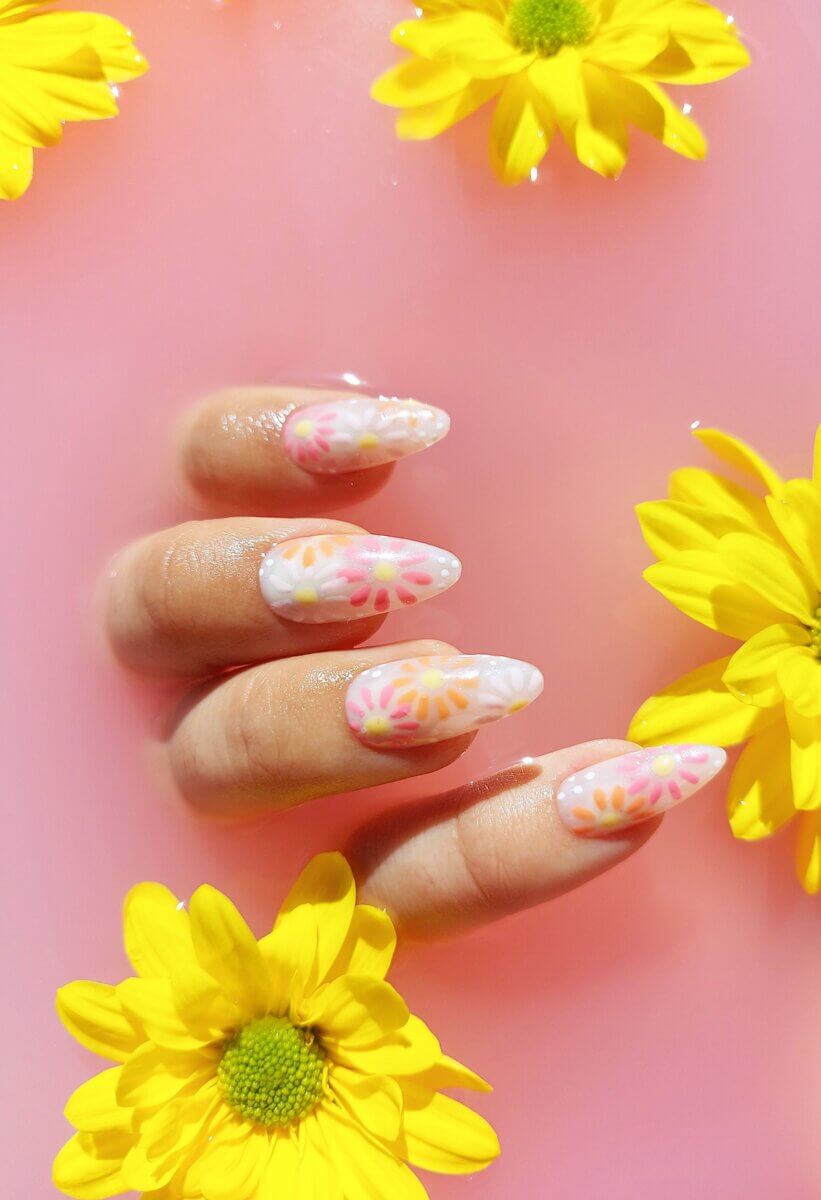 Turning art into a unique beauty product that feels personally yours
We caught up with Milicia to learn more about how she pivoted her business, what it means to be a woman entrepreneur and, of course, why press-on nails are the next big beauty trend to covet.
What drew you to such a small space to create your art?
I've been practicing nail art since I was a teen, so over 15 years now. It wasn't a conscious choice. I just started with simple things like dots or leopard print, using regular nail polish and toothpicks. I used to paint a lot as a kid, and I always equated having painted nails with femininity and being "a grown-up." I'm not exactly sure at what point I decided that this would be my medium. I guess it kind of made sense that once I entered high school, I didn't have art class anymore (I was in the IB program, so it was very academically-focused), and vanity became a bigger deal at that age. Having painted nails, and doing it my way, was a way of continuing the art practice while also trying to look nice.
What's the most difficult part of working with a small space?
The physical pain, haha. Because everything is so detailed, I sometimes feel a lot of eye and back strain. You have to crank your body in weird ways in order to get really close to the nail and create precise designs.
Where do you draw inspiration from for new designs?
About 60 per cent of the accounts I follow on Instagram are fellow nail artists. There are so many talented individuals, and with their own unique styles and expertise — inspiration is plentiful! Of course, I'm not in this to recreate other designs, so I'll use Pinterest a lot, too, for ideas. I love looking at patterns or illustrations and graphic designs and try to recreate those instead. One type of prompt I really enjoy is when a client tells me about a feeling or something abstract/metaphysical they're inspired by. It allows me to flex my creative muscles and create something unique to them and what they're feeling or going through at the time.
Did you know a lot about press-on nails before building your business?
I've actually thought about offering press-on nails a few years ago, prior to the resurgence of press-on trends from the '80s and '90s. I still have some photos from that time. I didn't end up doing it then partially because there wasn't demand and because I was working full-time in a different industry. Once I was laid off due to COVID in May 2020, I decided to take my small nail business into a full-time thing temporarily, and press-on nails seemed to be the way to go. I wanted to offer something safe for everyone.
How long do press-on nails last?
It depends on the type of glue you use and what you do with your hands. I include both glue tabs for single-day use, and nail glue, for longer wear. Certain things like hand-washing dishes or working with your hands will make for shorter wear. Generally, press-on nails will last about seven to ten days. And they are completely reusable so that you can get more than one wear from them.
Are there any special care instructions for the nails you've created?
As myself and many of my fellow nail artists/technicians will say: your nails are jewels, not tools. So even with press-on nails, don't go opening cans and picking things with them. Submerging them in warm, soapy water for extended periods will make the glue dissolve. Otherwise, they're relatively low-maintenance. There isn't much difference between the press-ons I make and the nails I would do regularly on a client.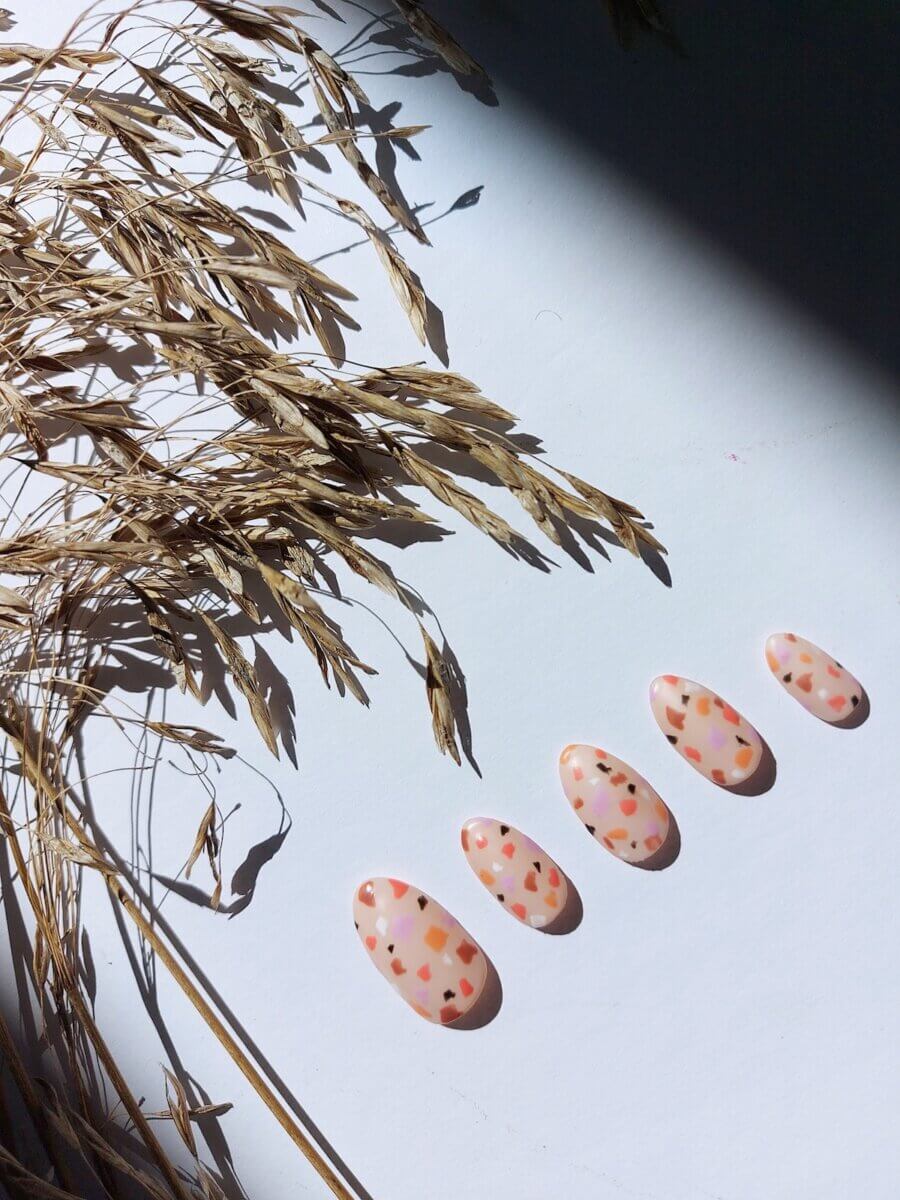 On starting a business during a global pandemic
To say that most folks were faced with career uncertainty during the global pandemic would be an understatement. Milica faced that reality during the summer of 2020, which forced her to think about how she could express herself through her art while also providing a unique product, and that's how Rhymes With Pizza came to be. We had a few questions about how the impact of COVID-19 played a massive role in reimaging her talents to create an online business.
What have been the biggest challenges starting a business during the pandemic?
Where do I start?! Doing everything on my own. I am a mini-company – I handle marketing, PR, accounting, photography, business affairs and legal, sales, product creation, etc. I find that's the case for a lot of people. And while I've had this business for a few years now, it's the first time I'm doing it full-time and the first time I'm offering a product versus a service.
The other challenge is figuring out how to stand out in a market that was oversaturated, to begin with, and with the pandemic became even more so. Everyone suddenly decided to open a business making something. I love seeing people create. And as I've said, everyone can be an artist, but not everyone can paint the Mona Lisa. Monetizing on something is hard, and it becomes frustrating when you see people selling poorly-made products without any training, just because it's trendy right now.
Have there been any positive surprises?
Since I started offering press-on nails and really putting my all into the business, I have finally been able to call myself an artist. I have struggled with that term so much over the years, partially because I worked jobs that weren't very creative (although in a creative industry) and because I'm a perfectionist. I learned to allow my creativity to flow more and to be OK with experimenting. It felt liberating.
Also, seeing how excited people get when they receive their press-ons, especially when I do giveaways. The excitement is unreal! And if I didn't have bills to pay and food to buy, I would just be doing more free giveaways!
Can you tell us a bit more about Rhymes With Pizza's charity work?
I will usually contact the charity beforehand to make sure they are OK with me creating something and donating part of the proceeds to them, and sometimes they reply, sometimes they don't. At the end of the day, I will donate money based on any sales from the particular design. I started this to bring more awareness to the different organizations we have locally in Toronto and the different causes they're associated with. Everything from breast cancer awareness, mental health, human rights awareness, and youth experiencing homelessness. There are so many great organizations and charities, and, most importantly, resources that people aren't aware of are available to them in their own community.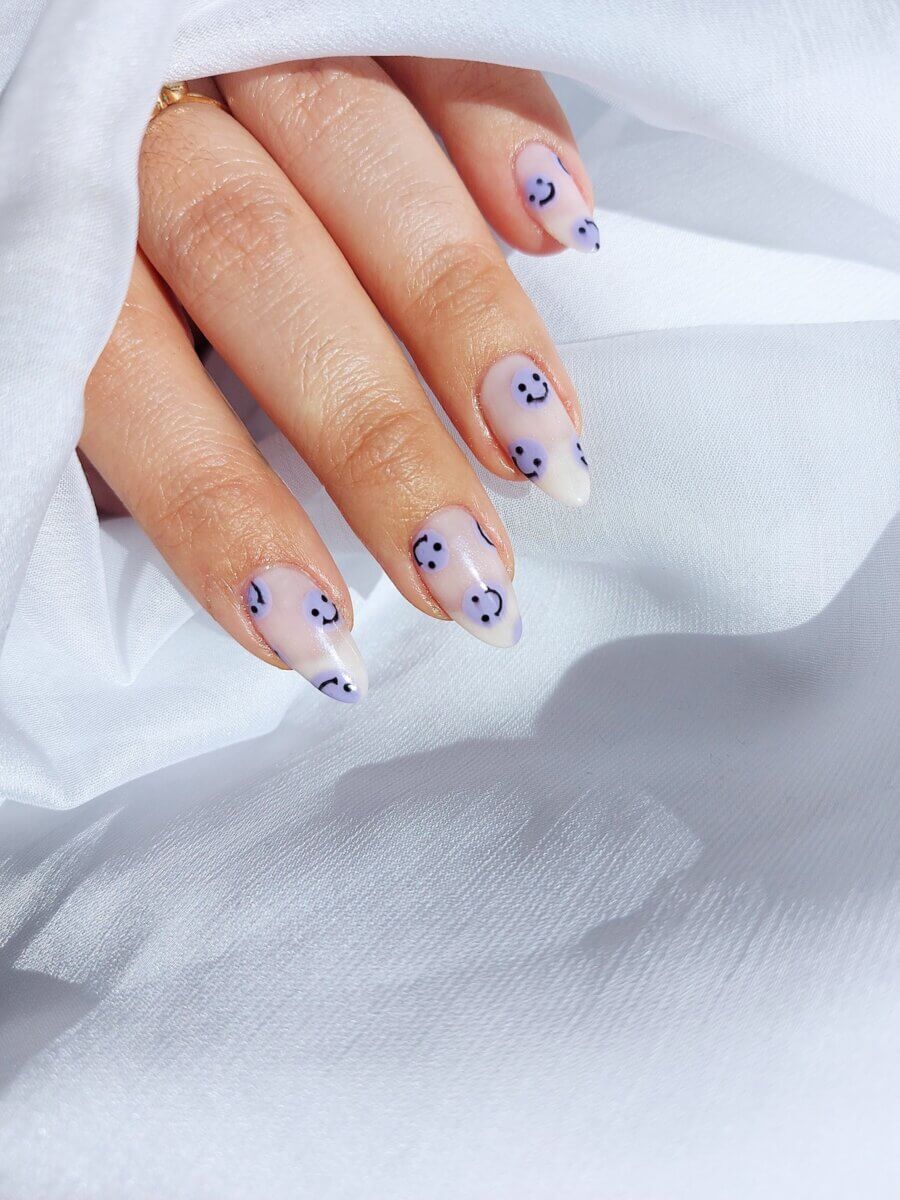 Tips on navigating entrepreneurship in a complex climate
While starting a business is an exciting endeavour, it's not without its hardships. Milica shared some thoughts on how to best approach your business, especially as a woman entrepreneur.
Do you have any advice for entrepreneurs?
CONTRACTS!!! Protect yourself and your work with contracts. Part of my professional career background is in business affairs, so I cannot stress enough the importance of having an agreement, especially as a creative entrepreneur. Whether you are working with an individual client, someone you know, or a bigger company, make sure to have a contract. And if they provide one, read it through carefully.
Any advice for women entrepreneurs specifically?
Find what works for YOU! Whether that's joining one of many co-working communities geared towards women, working on your own, or having one friend who understands your work. I've done all of the above, and I've found what works for me. Sometimes support can be masked in false gratitude and all about the "positive vibes" – but business isn't all positive all the time. You're going to have really bad days, whether personally or professionally, and that's okay. As my naturopath has said, men are on a 24-hour clock; women are on a 28-day (give or take) clock. I stopped expecting myself to be productive all the time or having that 24-hour rinse and repeat cycle when my body biologically cannot function that way. Productivity is part of a patriarchal system. So I allow myself time to work but also time to be miserable around my menstrual phase.
What's next for Rhymes With Pizza?
I launch new design collections seasonally, and I'm hoping to create some more business partnerships with local shops. I would really like to have a bigger focus on educating people on entrepreneurship and nail care, especially because it's linked to general health (bad nails = breeding ground for bacteria). I don't think any of us are entirely sure how things will change with the ongoing pandemic, so I'm always trying to create the space for myself and my business to adapt to the times.
Thinking of trying press-on nails? Shop the Rhymes With Pizza spring collection, and follow Milica on Instagram for her latest designs and general musing on everyday life as we know it.