This past winter, many North Americans have been surprised with rising utility bills. With the price of utilities and many other things on the upswing, how can people save money by conserving energy? Grace Wark, green workplace coordinator at Green Calgary, an urban environmental charity, offers the following tips on making your home more efficient to cut energy costs.  
Simple Ways to Cut Energy Costs  
Whether you're a homeowner or a renter, there are many different ways to reduce energy consumption and save money:
1.     Seal up Air Leaks and Drafts
Wark says windows and doors are common culprits for drafts and can be sealed with inexpensive materials from the hardware store (such as weather stripping, silicone caulking and window insulation film) to keep the warmth in and cold air out.
Another place to look for air leaks is around your home's ducts. An HVAC specialist can help you find and seal any leaks. You can also look around your floor vents to see if there's a gap between your floor and the metal duct, and seal it with foil tape.
Make sure your attic hatch is insulated and sealed properly, to prevent it from bringing cold air into your home.
2.     Be Aware of Your Energy Behavior
Wark says there are easy and simple ways to cut energy costs and save money on utility bills that don't require making big changes. She says by hang-drying your clothing, rather than using your dryer, you can save about $65 per year. Hanging your laundry out to dry on a rack like this one is a significant way to cut back on your overall carbon footprint. You can also wash your clothes in cold water, limit your shower time and lower your thermostat at night and when you're not home.
She recommends unplugging electronics when not in use. "By unplugging them, you're cutting them off at the source and helping save a bit more energy," Wark says.
You could also use a power bar that switches off to prevent "phantom energy" (the electricity that is drawn from your electronics even when they're off or in standby mode). Phantom energy can add up to 10% of your monthly bill.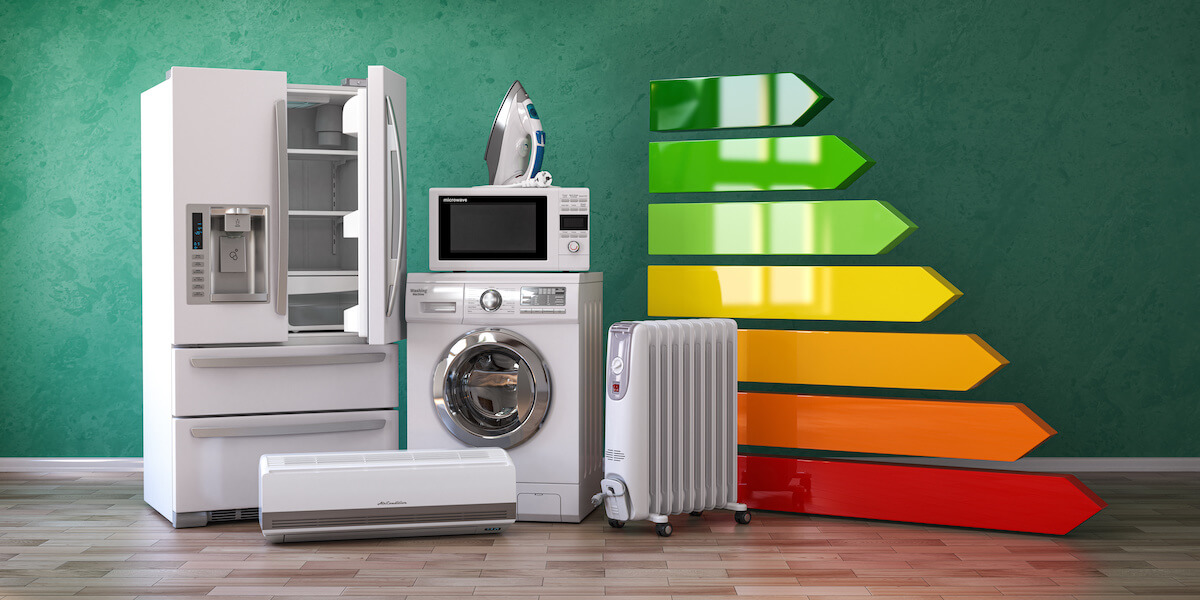 3.   Take a Close Look at Your Utility Bills to Cut Energy Costs  
Wark says to take a close look at each section of your utility bill and track your use over time. This will give you an idea of where costs are coming from and which utilities you're using more or less of throughout the year (electricity, natural gas, or water). You can use this information to decide which actions you want to take to make your home more efficient and cut energy costs. For example, you may want to upgrade to energy efficient appliances if you need a new water heater or furnace.
4.   Consider Retrofitting Your Home
There are a variety of incentives available to Americans to offset the cost of energy efficient improvements and renewable energy technologies in your home. You can search for state incentives through the Database of State Incentives for Renewables & Efficiency.
If you live in Canada, the Greener Homes Grant is available for a variety of retrofits for homeowners seeking to make their home more energy efficient.
5. Learn More About Energy Conservation
Wark encourages people to reach out to local environmental organizations in their communities, to check whether they're offering information and resources on how to be more energy efficient.
You can also visit smarterhouse.org for a wealth of information, including a home energy checklist with quick fixes that will help you cut energy costs.
Lead photo by Valentina Locatelli/ Unsplash.
All products listed in articles are independently selected and curated by our editorial team. If you buy something we link to, toast may earn a commission, which supports our mission of sharing positive, inspiring and helpful stories with everyone.