Saskatoon-based sisters Trish Cameron and Wendy Crawford, who perform under the name Cameron & Crawford, have shared a new single in advance of their debut album, which is set for release this fall. The musical duo has been writing songs together since 2014, and their latest single This Time This Place is all about appreciating the journey.
"This Time This Place is a summery song about capturing moments and appreciating them, like finding yourself under the shade of a beautiful tree, liking the dress you're wearing, or just being with the person you love," Cameron says. "It's been a very challenging time for so many of us, and we've all been affected by worries and concerns of the pandemic. We felt This Time This Place would be a little breath [of fresh air] in that. You listen to it and you feel uplifted."
New Single Part of Cameron & Crawford's First Album
The new single will be part of the sisters' first album, which is slated for release later this fall. With just one more song left to record, Cameron & Crawford have been keeping busy writing and recording throughout the pandemic.
"We have one more song to record then we're done," Crawford says. "It's kept us busy and COVID has been a good time for us to have that creative focus. It really helped us through, and we appreciated the process because this is our first album and we've learned so much."
Sometimes in September Explores End-of-Summer Feels
Released earlier this spring and exploring themes of unrequited love, Sometimes in September is another song that will be part of the sisters' full-length album. Having written the song as part of a monthly international women's song-writing group, Cameron & Crawford say it was inspired by the reflective, bittersweet feelings often experienced towards the end of the summer.
"September is such a magical month, it's the end of summer, there's a poignancy to it and it's a time of contemplation and long walks," Crawford says. "Most of us have experienced heartache of one kind or another, or love that didn't turn out. It's a universal experience."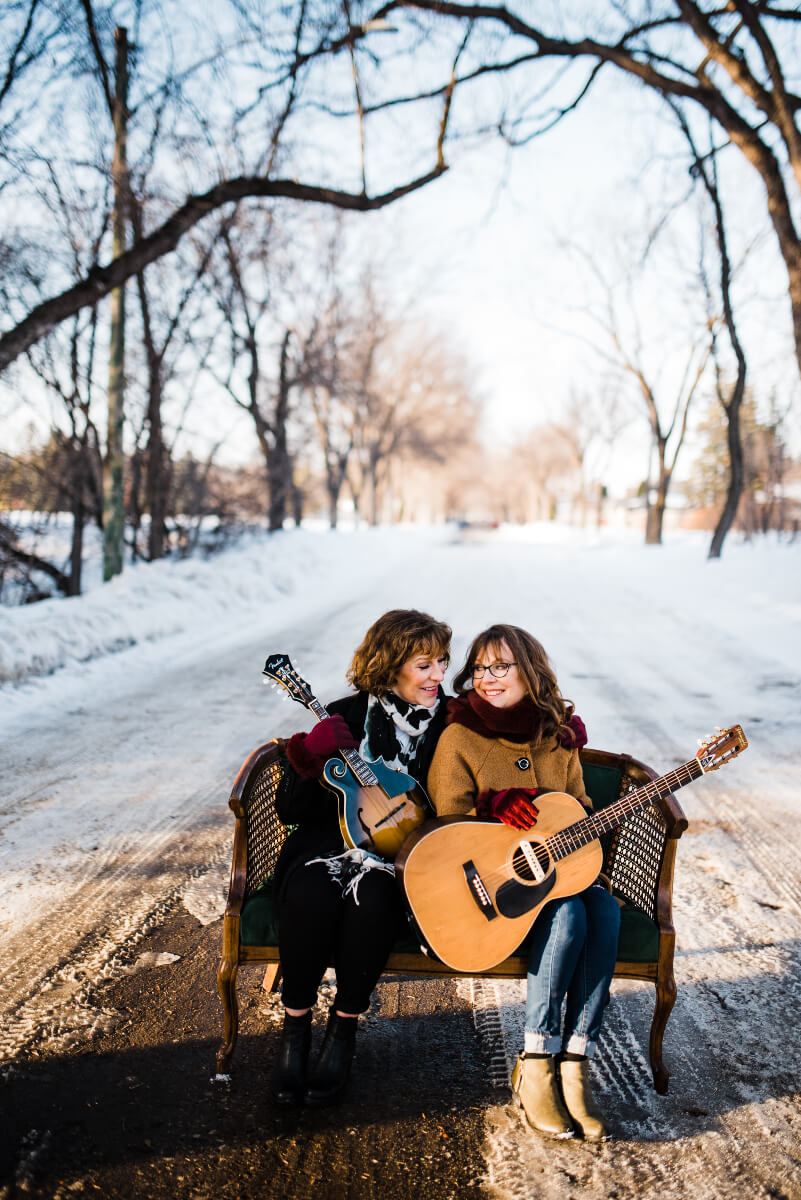 A Love of Nature Inspires Their Music
The sisters' deep love of nature serves as the inspiration for many of their ballads, and they aim to convey the feelings of peace and serenity the natural world conjures through their music.
"We have a deep love of nature and many of our songs touch on that," Cameron says. "We want our music to be uplifting to the people that listen to it serve as a reminder that there is beauty and love and connection in the world because sometimes things can look pretty dark."
Collaborating as Musicians Started a New Phase of Life
As children, the sisters grew up in a musical family and Crawford studied classical piano at the Royal Conservatory of Music in Toronto, but they didn't start creating music together until later in life. Cameron encouraged Crawford to attend a jazz camp in British Columbia, where they were immersed in writing, performing and connecting with other musicians. Crawford plays mainly piano and guitar, while Cameron plays multiple instruments including the mandolin, ukulele, violin and more.
"If Trish hadn't started inviting me to music camp, I still would've been playing piano in my living room to myself," Crawford says. "I was still writing back then but I was too shy, Trish was more forthright and bold. When she came back to Saskatchewan and we started collaborating, it started this whole other phase of my life. Creating together has been so rich and rewarding."
Cameron & Crawford Look Forward to Performing Live Again
Aside from prepping for the release of their first album, Cameron & Crawford are looking forward to getting back to performing live. It's a feeling shared by Saskatchewan folk-roots duo Jay & Jo, composed of sisters Janaya McCallum and Jolissa Trudel, who've missed the energy of a crowd at concerts. Both sister duos are Saskatchewan artists that contribute to the province's rich music culture.
Aside from prepping for live shows again, Cameron & Crawford are also eager to support other artists and spread joy through their music.
"Our mantra for creating music is that we want to create music we love and that gives us a feeling of great joy, which is inspired by Brian Wilson of the Beach Boys," Cameron says. "We hope that it reaches people."
Learn more about Cameron & Crawford at cameronandcrawford.ca.
Lead photo credit Cameron & Crawford